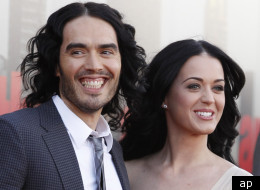 Another showbiz marriage bites the dust after British funnyman Russell Brand confirmed that he and pop star wife of 14 months Katy Perry are to divorce.
After weeks of speculation that their short marriage was on the rocks after both spent Christmas day 7,000 miles apart in different parts of the world, Russell set the record straight today after being spotted without his wedding ring two days in a row.
"Sadly, Katy and I are ending our marriage. I'll always adore her and I know we'll remain friends," Russell released in the statement, according to TMZ.
The gossip site states that Russell filed for divorce in LA citing, 'irreconcilable differences' as the cause.
This year has been quite a year for high profile divorces, so we've looked back at the most expensive divorce battles and see what we can learn from them with expert tips from Head of Family Law, Amanda McAlister.
Expert tips from a partner and the National Head of Family Law at Russell Jones and Walker, Amanda McAlister.

"A UK court would regard this seven year marriage as being relatively short-lived and this would inform their conclusions regarding the division of marital assets," explains Amanda. "However, it has been suggested Heidi will file for divorce in California which is a community property state, meaning property, real or personal, wherever situated, acquired by a married person during the marriage while domiciled in the state is community property. Therefore the court will divide the community estate of the parties equally. "The couple have children together, so there will be maintenance to be considered. Californian law states that both parents of a minor child have an equal responsibility to support their child in the manner suitable to the child's circumstances. It's known that Heidi's career has been in the ascendency during the period of the marriage - reputably earning $12M last year - and thus she may be vulnerable financially. "California recognises the legal validity of prenuptial agreements however so if the couple drew up such an agreement then things might be very different."

After being married a total of 72 days, reality TV star Kim Kardashian filed for divorce from her new husband, Kris Humphries. "This marriage took place under American family law and are therefore different to English family law, where the couple must be married for a minimum of one year before either side can petition for divorce. "Under English family law, Kim Kardashian could consider pursuing an annulment of the marriage, perhaps on the grounds of wilful non-consummation or one party not giving valid consent to a marriage because such consent was given under duress."

This is a very short marriage - around 14 months. It's known that Russell Brand filed for divorce in California but it is not known if the couple drew up a prenup. "However, many divorcing couples are influenced by factors other than financial considerations and a divorce lawyer must be sensitive to this when giving advice. Having myself recently returned from a holiday in America where Katy Perry is enormously popular, I imagine his lawyer may well be tempted to counsel him to proceed with caution regarding their joint assets."

When Madonna divorced her husband Guy Richie, she not only had to deal with a multimillion dollar divorce settlement (rumoured to be in the region of $76-92 million) but the custody of her and Guy's two sons Rocco, 11, and David Banda, 5, too. "When a married couple with children divorce, both parents have equal rights regarding parental responsibility," explains Amanda. "In the vast majority of cases, the couple will agree arrangements between them but if they can't do this, the case goes to court and the judge will decide which parent best meets the physical, emotional and education needs of the child or children (amongst a number of other considerations). "It was reported that Madonna wished to take their three children to live with her in America and Guy decided to agree to this arrangement, although there are numerous complex issues to be considered when one parent wishes to establish residency in a country where the other parent does not reside. In the past, the judiciary, particularly Lord Denning, generally took the position that the children would always be best residing with the mother. "Now the courts are now moving towards shared care arrangements, although a joint residence order does not necessarily mean the children will spend equal time with each parent. Having said that, David Norgrove, the government's legal advisor on family law, issued the long awaited Family Justice Review which ruled against giving fathers shared or equal time with their children following a relationship breakdown. "Ultimately, the courts will always put the welfare of the child before the perceived "rights" of the parent."

After the golfer's shameful cheating past was revealed, his Swedish wife Elin Nordegren decided to divorce him under unreasonable grounds - as well as walking away with a rumoured $750 settlement. "If one half a couple is unfaithful, a divorce can be sought on the grounds of adultery or unreasonable behaviour," says Amanda. "The problem with the former is establishing proof that adultery has taken place. If, for example, Elin had said her husband had committed adultery with another woman in a particular hotel room, he could respond that yes, he was with the woman in the hotel room but sex did not take place. "In the absence of irrefutable proof - a baby, for example, or photographic evidence - Elin might then have chosen to divorce on the grounds of unreasonable behaviour but include the alleged liaison in the body of her petition as she would then not be required to prove the act. Finances are unrelated to divorce petitions citing adultery as the cause of the marital breakdown. "However, it has been argued successfully in some divorce cases that adulterous behaviour has lead to a decline in the fortunes in the marital pot of money, so to speak, leading to a different division of assets."

When Girls Aloud star Cheryl Cole divorced her footballer husband Ashley Cole, it wasn't their multimillion pound Surrey home or flash cars that Cheryl wanted - but their shared Chihuahuas. Cheryl got full custody of their dogs Coco and Buster. "There is no law or legal guidance that deals with pets, although as an issue it comes up a lot," explains Amanda. "Essentially, if one half of the couple desperately wants to keep the family cat and the other half refuses to give the cat up, then in all probability there will have to be a trade-off in some other area of the divorce."

When Billionaire Roman divorced his long-time wife Irina, he had to pay her $300 million in assets, plus his various homes and monetary assets. "Firstly, be absolutely up front about disclosure. Hiding assets or lying about income simply drags out the process. Secondly, consider trying mediation or collaboration. Most importantly, go into negotiations with the attitude that the division of assets must be fair. "Unfortunately, not many couples do so," says Amanda.