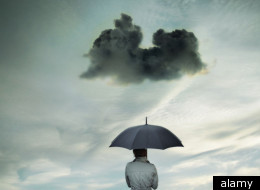 Returning to the daily grind after a week of freedom and festive merriment is not easy at the best of times but add the misery of moody skies and gale-force winds outside and it's little wonder today has been dubbed the most depressing day of 2012.
We spoke to life coach Sophia Davis, cognitive hypnotherapist Lesley McCall, health expert Tina Richards, energy coach Dr.Nerina Ramlakhan and HR consultant, Georgina Read to get expert tips on how to beat the January 'first day back' blues.
15 Ways To Beat The Back To Work Blues
"The first day back to work will be whatever you decide it will. Do you want to perceive that its a burden and miserable, or are you excited to see work colleagues, make a start to your new year, or get on with you new work related goals," says Sophia Davis, life coach.

"Everyone wants something to be excited about. How about planning a getaway. It doesn't need to be anything expensive, but it will fill you with excitement and give you something lovely to focus on," says Sophia.

"Keep New Year's resolutions at the forefront of your mind. Particularly ones relating to work. Find an image online that relates, and use it as your screen saver to serve as a constant reminder," says Sophia.

"You need to look after your immune system in the winter and a great way to naturally feed it is to snack on a mix of seeds and goji berries to stave off colds, that can make you miserable. Seeds are rich in zinc, especially pumpkin seeds, and goji berries are highly concentrated in vitamin C, zinc and polysaccharides; the latter act to boost the body's feelgood hormones," says health expert Tina Richards.

"Go somewhere nice for lunch, or make a plan after work during the week to get together with friends or family and share your news and have a giggle. This will also give you something to look forward to," says Sophia.

"If you find yourself getting caught up in a negative state of mind, pause, take a deep breath and ask, "is it really worth it?" Disengage and keep your energy and emotions intact - if that doesn't work, find a constructive way of releasing any rage: talk to someone, sing or cry it out, do a kickboxing class or go for a run ... whatever it takes. Just don't hold on to it," advises energy coach Dr.Nerina Ramlakhan.

"Lifting your shoulders and looking up instead of hunching up and staring at the floor tricks your brain into thinking that you are feeling better than you are. The mind and body are linked so if you pretend to be happy you might be surprised that it can make you actually feel better," says cognitive hypnotherapist Lesley McCall.

"Write a list of all the reasons you are grateful to be back at work, and why you are appreciative of your job. Remember, there are people who don't have a job at all and start to feel really blessed that you do," says Sophia.

"If you can incorporate some exercise into your day, then do. Its proven that you will feel happier through doing this, and will keep your body healthy and fit," advises Sophia.

"Remember the first day back is an opportunity to make changes, to begin a fresh with a good attitude and a 'get what you want' mentality. If your not happy in work, just gently affirm that you are working in a job that satisfies you and watch what happens...," says Sophia.

"Smile. If you smile, others will usually smile with you and you'll find that people will react differently to you. Its proven that we can make the people around us 15% happier just by being happy so what you waiting for" says Sophia.

"Please remember that life is really what you make it. The world is your oyster and there are no limitations apart from the ones you put upon yourself. Use today as an opportunity to ask yourself if this is the life you would choose if you had no fear and there were no consequence. If the answer is 'no'. Get busy making the life you want," advises Sophia.

"Watch something funny that makes you laugh. Mirror neurons in our brain copy emotionally what we see, so make sure what you see is happy and uplifting," says Lesley.

"Try to take everything in your stride. No doubt there will be some catching up to do, but if you plan well, and remain calm, you will be able to do it with more clarity and less mistakes. Panicking won't help," advises Sophia.