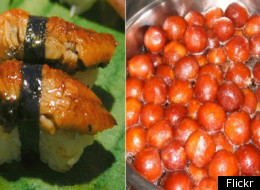 April sees New Yorkers go crazy for a certain root vegetable while the Japanese celebrate 'eel day' in July. Every country has its seasonal food traditions.
Find out what the rest of the world is eating and when with our round-up of the biggest global foodie customs.
Bizarre Food Customs From Around The Globe
Although it's a firm favourite in your local takeaway, Peking duck is traditionally eaten in the New Year in China. According to Chinese traditions, the duck symbolises fidelity and its reddish colour represents happiness. If traditions are correct, those who eat Peking duck during January up until early February, will be granted both these things for the next 365 days.

The Hakarl (or fermented shark) is an Icelandic delicacy and a food favourite among traditional folk. The unsavoury snack is rotten shark meat, which has been cured for five months after being killed. Although the dish is notoriously vile, every year in February hundreds of local residents gather around for the 'Thorrablot' celebration and encourage each other to eat the rotting fish. This is all washed down with a fiery beer called Brennivin.

In the weeks leading up to Easter, Orthodox Christians abstain from eating meat. In Ethiopia, they celebrate this by eating a delicious stew dish called 'wats' which is eaten with a porous sour bread called 'infera'. This vegetarian speciality is made of lentils, split peas, cabbage, carrots and corn, spiced with berbere - a mix of plants and herbs including ajwain, coriander and clove.

The must-have of the spring is the ramp - a root vegetable that New Yorkers go mad for when spring arrives, as they officially signal the end of the winter period. The garlic and onion tasting vegetable is used in almost everything. From pizzas, soups to being tossed in salads and pasta as well as being fried with eggs.

Asparagus season begins at the beginning of May up until June, and is encouraged to be eaten for those seeking a boost in the bedroom department. Herbalists claim asparagus 'stirs up lust in man and woman' and the debate has raged ever since. Traditionally eaten with the fingers, asparagus provides a seductive eating experience - not to mention having a rather phallic appearance.

With its weaker scent and less potent taste (not to mention less expensive price tag than its black counterparts), the 'summer' scorzone truffle goes down a treat in Italy and is the thing to eat with everything. The reason they are so popular is because they aren't easy to find, with the Italians sending trained dogs and pigs to sniff them out from the oak trees.

In Japan, on 'doyo no ushi no hi' day (eel day), Japanese residents cook up a feast of unagi - the freshwater eel. According to the seventeenth century tradition, the eel dish provides stamina and helps combat the summer heat. During this day, restaurants cook up a storm, creating variants of unagi-no-kabayaki (charcoaled eel) with a dash of sansho (a powdered spice).

Eid-Al-Fitr is a major Islamic three-day celebration as it marks the end of the Ramadan fasting. Morocco in particular, celebrates with huge platters of couscous, salads, tagines and pastries, served in multi-course feasts.

This mid-autumnal harvest festival, known as the 'moon cake festival' in China and Vietnam, is a popular food event. Traditionally, 'moon cakes' are eaten in abundance and given as gifts during this lunar worship celebration. They contain a rich, thick filling usually made from red bean or lotus seed paste and is surrounded by a thin crust, made with yolks from salted duck eggs.

India's Diwali, or the 'festival of lights', is a big date in India's food diary. Celebrating the victory of goodness over evil from the legend of the Narakaasura and Lord Krishna, Indians celebrate for five days eating almond kulfi, halwa and kheer are all sweets made with nuts and milk. Gulab jamun are a firm favourite. These are sweet dough balls in a sugar syrup, and pistachio or coconut burfi are similar to fudge.

In Mexico, 'The Day of the Dead', which runs for a few days each September, is a time to 'share' food with the deceased. People prepare their dead loved-ones' favourite food, which typically includes moles, tamales as well as a rich, sweet bread called pan de los muertos. They also make glazed egg breads, or 'guaguas de pan', which are decorated as babies, or into loaves which are moulded and frosted to look like bones.

The festive fruitcake is a foodie tradition in Germany. The shape of the cake is moulded to resemble baby Jesus in swaddling clothes and derives back to the 1400s. Although the bread comes in many different versions, the essential ingredients are always raisins, currants, almonds, rum and a coating of powdered sugar.