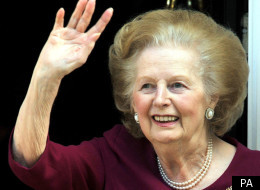 The first week of January is usually a quiet time for news. But 2012 is different - we have seen the teaching union threatening strikes, Tea Party favourite Michele Bachmann step out of the US presidential race, William Hague push for reform in Burma, Shadow health minister Diane Abbot's controversial tweet and the Cameron criticise The Iron Lady. Here is our round up of the movers and shakers in politics this week.
Tea Party favourite Michele Bachmann announced that she was stepping down from the race for the Republican White House nomination, finishing sixth place in the Iowa caucuses and falling out of the Republican race for the presidency.

Foreign Secretary William Hague met Burmese opposition politician and General Secretary of the National League for Democracy Aung San Suu Kyi today during the first visit by a British Foreign Secretary to Burma in over 50 years. During the visit Hague hailed Burma's political reform - but said more is needed.

Diane Abbott was forced to issue a humiliating public apology yesterday after Tweeting that "white people like to divide and rule".

A ComRes survey conducted before Christmas has revealed that the British public trust Nick Clegg more than Ed Balls to lead the country through the current economic slump.

Ed Balls' advocation of Keynesian economic policy throughout the duration of last year met a scathing reception from Maurice Glasman in the New Statesman yesterday when he wrote that "Labour stranded in a Keynesian orthodoxy"

Michael Gove, Secretary of State for Education, was slammed after the NASUWT (National Association of Schoolmasters Union of Women Teachers) rejected the government's proposals for the reforms of the teachers' pension scheme. Chris Keates said she would be writing to Gove requesting he meets with the union as a "matter of urgency".

Barack Obama's Republican enemies have been far too busy fighting each other in Iowa to focus their energies on the Obama's Democratic Party. This is good news for the US president as he prepares his battle-plan.

The 'Iron Lady', Margaret Thatcher's biographical film has been criticised by the likes of Thatcher biographer John Campbell for its inaccuracies and David Cameron who says it is a film less about an "amazing prime minister" and more about dementia.

Tom Watson has today been named 'MP of the Year' by labourlist.org - one of the UK's most popular left-wing blogs. The campaigning MP was nominated on the results of the site's 2011 survey.