RAF Veteran Eric Carter Banned From 'Dangerous' Spitfire Cockpit.. At A Museum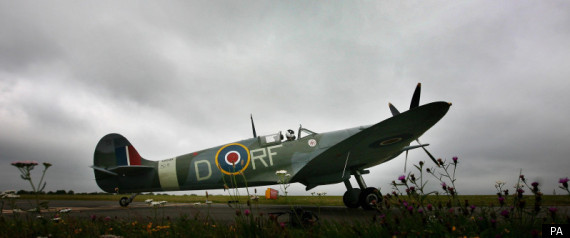 A Second World War fighter pilot has spoken out against "ridiculous" health and safety concerns which prevented him from sitting in the cockpit of a stationary Spitfire on show at a museum.
Eric Carter, now 91, was part of the secret Force Benedict in 1941, a group of pilots tasked with the covert mission of defending Murmansk port in Northern Russia.

The veteran pilot risked his life every day to defend the port and is the last surviving member of the secret operation, also known as 151 Wing.
Facing sub-zero conditions amid the ruins of Murmansk, Eric Carter told the Telegraph how the pilots had to turn their engines on every 20 minutes "to stop them freezing for good."
"Murmansk was all rubble and the Russian soldiers didn't bother to ask who you were — they killed you on sight if they didn't like the look of you. We were issued with special passes and had to hold them in front of us as we walked anywhere or we would have been shot."
The stationary spitfire at Stoke-on-Trent Potteries Museum held no fear for the brave RAF pilot, who asked to clamber on board the classic plane.
However his request to climb aboard was refused as the Spitfire because paint containing a radioactive substance had been used to refurbish its instrument panel.
A spokesman for Stoke-on-Trent city council told the Telegraph that as well as the radioactive paint "there is no proper seat in the Spitfire at the moment so I am told the people on the day thought it best he did not sit in the plane for those reasons because of his age"
But Carter said: "That wouldn't have mattered anyway because I could have stood where the seat was.
"I don't think they meant any harm, and they gave me a lovely day out at their museum, which is great.
"I think they had their reasons, and they were probably just trying to be extra careful, which was very nice - I just wish the Luftwaffe had been so caring."
Carter, from Chaddesley Corbett, Worcestershire, thanked staff at the Potteries Museum and Art Gallery in Stoke-on-Trent for inviting him to view the Spitfire and making him welcome during a visit late last year.
Professing himself to be amused rather than angry, Carter, who is still a national hero in Russia, said: "It just seemed a bit ridiculous."