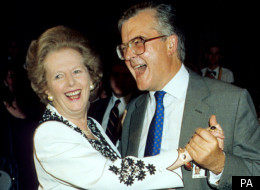 'The Iron Lady', the biographical film on Margaret Thatcher, has caused quite a lot of controversy over its historical accuracy and portrayal of the elderly former PM.
David Cameron remarked that: "It's really a film about ageing, dementia, rather than a wonderful prime minister" while Boris Johnson on Monday remarked on how "Thatcher herself emerges from this film as a far more revolutionary and inspiring figure - because she was a woman". 
Here are some of Maggie's more memorable moments.
"No, No, No". Margaret Thatcher, when speaking about the European Commission's desire to increase EU powers

"You turn if you want to. The lady's not for turning!" Thatcher's response to expectations about her expected U-turn on policy.

"If you want something said, ask a man; if you want something done, ask a woman." Thatcher speaking a Townswomen's Guild meeting.

"Defeat - I do not know the meaning of the word!" Thatcher responding to remarks that she may lose the Falklands War.

Thatcher's remarking on German reunification in 1989. "We've beaten the Germans twice and now they're back!"