Food Trend Predictions For 2012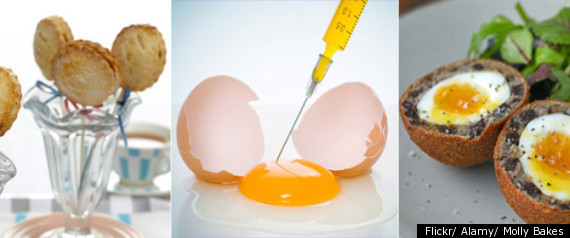 Are you wondering what the new cupcakes of this year will be? Or whether your sushi lunch will be replaced with something more exotic?
The Huffington Post have looked into the food predictions of 2012 to give you a glimpse of the upcoming edible trends that are about to hit the UK.
From molecular cooking techniques, virtual supermarkets to the revival of the party food favourite, the scotch egg - check out 2012's food trends.
Loading Slideshow
The New Cupcake?

Mini gourmet doughnuts are being subbed as the next cupcake. Leading bakeries, like <a href="http://www.mollybakes.co.uk/" target="_hplink">Molly Bakes</a>, are predicting they'll be big this year, with crème brûlée and chai latte, plus a modern twist on the coffee doughnut with hints of cardamom, cinnamon, ginger and cloves.

Multi-Tasking Dishes

With the West's appetite for exotic flavourings, this new food trend will see two or more cultural dishes merge into one. Already a growing favourite in the US, the Korean Tacos may soon be on its way to the UK, combining Asian spices with traditional Mexican dishes.

'Posh' Pork Scratchings

Traditional 'pub grub' pork scratchings haven't got a reputation of being nutritious, but this new wave of the salty snack will be pork scratchings with a difference. The Great British 'Posh' Pork Scratchings made from British pigs and no MSG (Monosodium glutamate - a common food additive), and have been created by Tom Parker Bowles and Matthew Fort, who want to bring pork scratchings back on the menu for 2012.

Edible Dirt

'Edible dirt' will start appearing on our plates this year, particularly in restaurants, predicts food blogger, Andre Dang. Using dried, dirt-like infusions of pine needles, douglas fir and eucalyptus to flavour sauces and broths, adding an earthy taste to our dinner. We'll also see edible landscapes pop up in restaurants - for example, oysters served on rock and mushrooms served in edible forests.

Taste Of Peru

Ceviche is a citrus infused dish from Peru which consists of raw, cured fish sliced in fine, pieces served with a plentiful of onion, and is set to become <em>the</em> dish of 2012. Peruvian food is going to have a moment in this year, with two restaurants opening in London as well as across the pond in New York. Also look out for other Peruvian dishes such as 'Causa' (layered mash and tuna salad), 'Aji Amarillo' (a kind of chilli pepper) and 'Cuy' (whole roasted guinea pig).

Baguettes On The Go

Already a hit in certain areas of France, the 24-hour baguette dispenser offer pre-cooked loaves of bread - and could be coming to the UK soon if predictions prove correct. "This is the bakery of tomorrow," says creator Jean-Louis Hecht.

iTakeaways

This foodie trend is already a hit in Australia and is predicted to take off in the UK as the number of iPhone takeaway eaters grow. Soon hungry phone users will be able to download an App, select their favourite dish and have it delivered straight to their door from the touch of their fingertips.

Alfajores

Forget macarons, the next sweet thing to tantilise our taste buds at tea time will be alfajores - a tasty Argentinian treat. These consist of two round, sweet biscuits joined together with mousse or jam, coated in white chocolate or powdered sugar.

Matcha Green Tea

Matcha green tea is a more powerful version of the existing tea and comes in a fine powder form in vibrant green. This will be the next big tea trend, predicts nutritionist Louise Thomas-Minn. "Matcha green tea is going to be a big hit this year. Green teas get hardcore as this powdered form is even more powerful than green tea."

Pie-Pops

Following on from the huge cake-pop trend (cakes on a stick), the latest craze will be pie-pops, with miniature pies on sticks popping up at parties and restaurants as appetisers.

Gourmet Scotch Eggs

Gourmet snacks on the go will be a busy persons port of call, according to Andy bates from the <a href="http://www.foodnetwork.co.uk/" target="_hplink">Food Network</a>, who predicts that the traditional scotch egg is set for a revival and revamp with new black pudding flavours.

Virtual Supermarkets

We've already got the option to food shop online, but soon we could visit 'virtual supermarkets'. This involves simply scanning the item you want on your phone using a QR code from the virtual supermarket shelf, and have them delivered to your home within hours. Tesco already launched a version of this in South Korea - could we soon see it popping up in the UK?

Gelantina

These gorgeous-looking gelatine deserts are set to become a hit in the UK this year. These jelly-like, fondant-stuffed paperweight type desserts are almost too pretty to eat. No-fat (but loaded with sugar) they are Mexican by origin and first gained a fan base in the US.

Modern Milk

Following recent stories that Vitamin D deficiency is leading to a rise in health problems, such as rickets and MS - '<a href="http://www.modernmilk.co.uk/" target="_hplink">Modern Milk</a>' will become the latest health drink craze for those wanting to top up their vitamin D levels.

Molecular Cooking

Heston Blumenthal's scientific approach to his culinary creations has given rise to spin-off molecular cookery that provides a gastronomic sensation to engage and excite the diner. In 2012, a noticeable increase will be seen in restaurants choosing to showcase the science behind their food, with theatrical performances and scientific processes executed at the diner's table. Keep your eyes peeled for spherification - a process of shaping a liquid into spheres, plus cold cooking with liquid nitrogen and the steady emergence of edible paper (think vegetable paper) and food packaging.