Man Rescued After Diving Into Icy River To Save Dog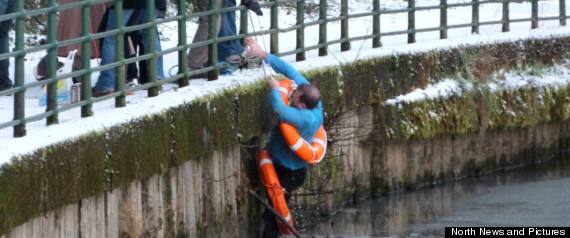 A Good Samaritan who jumped into an icy river to save a stranger's dog had to be rescued by passers by.
The 51-year-old was pulled from the River Wansbeck in Morpeth, Northumberland, after plunging in after the dog in Carlisle Park yesterday morning.
He was taken to Wansbeck Hospital for tests.
Coachbuilder John Phillips, 38, of Morpeth, was sledging with his son Cameron, seven, when he saw people running towards the river bank.
He said: "I was with my little boy when I saw someone run past carrying an orange lifebuoy.
"Other people were on the riverbank and there was a commotion, people were shouting "what is it?".
"I looked along the promenade and there was a man with two lifebuoys around his waist being pulled from the water by a rope.
"Paramedics turned up soon after but members of the public had him hauled out by then."
Sergeant Niall Mackel, from Northumbria Police's Northumberland Area Command, told The Journal in Newcastle: "Although this person was trying to help another member of the public by rescuing their dog, this only serves to highlight the dangers of going into open water, particularly with the recent freezing temperatures which can lead to even strong swimmers getting into difficulty.
"We would always warn people against going into open water and to contact emergency services so that they aren't endangering their own lives in attempting a rescue.
"Fortunately this didn't result in tragic consequences and I extend my thanks to those people who assisted this gentleman prior to emergency services arrival."
The dog emerged safe and sound.