MP Sheryll Murray, Whose Husband Died At Sea, Urges Better Trawler Safety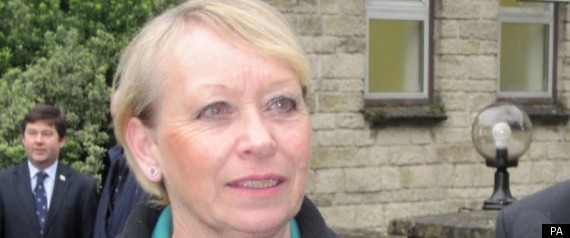 An MP whose fisherman husband died in an accident on board his trawler has made an impassioned plea to other commercial skippers to install better safety equipment on their vessels.
Neil Murray, 57, husband of South East Cornwall MP Sheryll Murray, died from multiple injuries after a toggle on the hood of his jacket got tangled in the net as he was hauling it in, an inquest heard today.
The "safety conscious" and experienced fisherman was working alone and could not reach the lever to stop the net drum on his stern trawler Our Boy Andrew, the hearing was told.
Mrs Murray, who became an MP at the 2010 general election, said after the inquest that like increasing numbers of fishermen he worked alone because he could not afford to employ a deck hand.
She urged fishermen to take advantage of grants that would pay up to 60% of the £1,300 cost of having an emergency stop button fitted and also cut the toggles from their hoods.
"This might make what is seen as an expense that can be put off for another day, affordable now," she said. "I would like to urge all working fishermen to cut their toggles off. It is better to lose the cord out of your oilskin than lose your life. Neil didn't do that and he tragically lost his life."
Father-of-two Mr Murray was found by lifeboat crew snared in the jammed mechanism around 12 hours after the accident on March 24 last year.
Mr Murray, who lived with his wife in Millbrook, east Cornwall, suffered multiple injuries including massive chest injuries and a severed arm.
The inquest in the former Caradon Council chamber in Liskeard heard that many fishermen in Cornwall and across the country increasingly operate their vessels single-handedly because they do not make enough money to employ deckhands.
Mr Murray, who had been fishing for more than 30 years, knew the risks and was described as being very safety conscious. The inquest heard that a crewman who worked on the boat with him years ago had caught clothing on the net drum and only avoided death or serious injury when Mr Murray pulled the lever to stop the mechanism.
Mr Murray was found 24 miles off Fowey in the English Channel by the town's lifeboat.
He had been due back to his home port of Looe at 7pm and fishermen from three local ports joined a massive search for his boat, named after the couple's son.
The jury of four men and four women returned a verdict of accidental death.
Michael Wright, a fellow fisherman based in Looe, said that their decision to fish alone was driven by "sheer economics".
"The catches don't justify two men. Two men cannot make a living out of catches of this size," he said.
Mr Wright added that the net drum on My Boy Andrew had a new gearbox fitted the year before the accident but that the lever mechanism was jury-rigged with a screwdriver and only Mr Murray knew how to operate it.
Mr Murray had been working alone since 2005, Mrs Murray said, because taking on a crewman would have meant chasing bigger catches in riskier weather conditions.
In a statement read to the jury, David Steinhausen, who fished with him from 2002-2005, told how Mr Murray saved him when he once got caught in the drum mechanism, pulling the lever to reverse it.
"Had Neil not reversed the drum lever, I would have been seriously injured or killed," he wrote.
Mr Murray's onboard diary showed he had planned to haul in his first catch at 11.40am and it is thought it was around this time that the accident happened.
Another trawlerman fishing nearby saw the boat moving under power at around noon but saw no sign of him on deck.
An investigation into Mr Murray's death by the Marine Accident Investigation Branch (MAIB) said a single hood toggle was found three revolutions of the drum from Mr Murray, suggesting it dragged him into the mechanism.
He was using the portside net, the furthest from the stop lever.
The inquest heard that "'dead men's switches" could be fitted which would have stopped the drum when the hand was taken off them.
MAIB investigator Captain David Wheal said they were frequently used but added: "By moving to single-handed operation you are unable to operate a spring-loaded lever because the operation will stop."
Detective Sergeant Darren Rosson, a police officer and friend who grew up near Mr Murray in Cornwall and often fished with him a few months before the accident, called him an "excellent fisherman".
"Safety was always on his mind and I'm sad he died the way he did," he said.
"It's a dangerous occupation and I'm sure he won't be the last person to lose his life fishing."