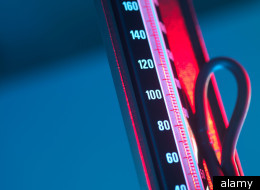 Seven in 10 Brits are putting themselves at risk of strokes and premature heart attacks because their blood pressure is too high, a recent study has revealed.
Soaring blood pressure rates among young and old, are steadily pushing Britain towards the 'red' danger zone, with 70% of adults having 'above normal' blood pressure readings.
The study, by Lloyds Pharmacy, discovered more than 60% of men and 55% of women in the UK are living with high blood pressure and just 18% of Britons have normal reading. A mere 12% of Brits have the 'ideal' reading.
High blood pressure is becoming more common among younger people, with 44% of under-35s having above normal blood pressure - 30% being in the 'high to very high' range.
A risk factor for the development of heart disease, high cholesterol, strokes and diabetes, soaring blood pressure levels affect around 16 million people in the UK, with a third of sufferers not even knowing they have it as there aren't any obvious symptoms.
Around 62,000 people die unnecessary deaths from strokes and heart attacks because of high blood pressure that can be controlled by changing lifestyle habits.
Blood pressure readings consist of two numbers. The first represents the highest level your blood pressure reaches (your systolic blood pressure), the second is the lowest level (the diastolic blood pressure).
Blood pressure levels should be below 140/85mmHG. Anything above 140/ 90mmHG is considered high blood pressure.
According to the Blood Pressure Association, for patients between the age of 40 and 70-years old, the risk of heart disease and strokes doubles for every rise of 20mmHG systolic and 10mmHG diastolic.
"Anybody with a blood pressure of more than 140/90 should be concerned and needs to make lifestyle changes," Shafeeque Mohammed, heart health expert from the study, said in a statement.
"If nothing is done, it could become a massive burden on the NHS, especially with an ageing population."
Mark Hooley, Head of Communications at the Blood Pressure Association, told The Huffington Post: "One in three adults in the UK has high blood pressure and a third of those do not know it, as high blood pressure is often symptomless.
"High blood pressure is the biggest cause of strokes and heart attacks in the UK, but blood pressure can be lowered by simple lifestyle changes and if needed medication.
"The statistics mentioned in the survey only reflect those people who had their blood pressure checked at Lloyds

. A doctor will diagnose you with high blood pressure if your readings are consistently above 140/90.
"It's important if you have high blood pressure that you make the recommended lifestyle changes and take any prescribed medication. Everyone should be aiming for a blood pressure reading lower than or as close to 120/80 as possible. 


"If you are worried about your blood pressure, make an appointment with your GP or pop along to a local pharmacy to get a free check."
Founder of heart rhythm charity, Arrhythmia Alliance, Trudie Lobban MBE, told The Huffington Post: "We all need to be more aware of our heart rate and blood pressure by being proactive and asking your doctor to check your pulse and pressure every time you visit.
"High blood pressure is a leading cause of atrial fibrillation which, if poorly managed can lead to stroke and even death. Early detection of potentially serious problems through routine heart checks can save lives. 

"Arrhythmia Alliance, the Heart Rhythm Charity is campaigning to include pulse checks in regular GP checks.
"We're also encouraging people to take more notice of their own heart through taking their own pulse. In addition to leading a healthy lifestyle, being aware of your heart can prevent unnecessary suffering that puts a strain on individuals, their families and the NHS."
Lowering Your Blood Pressure
According to the World Health Organisation (WHO) the eight key risk factors (alcohol use, tobacco use, high blood pressure, high body mass index, high choles terol, high blood glucose, low fruit and vegetable intake, and physical inactivity) account for 61% of all cardiovascular deaths and over three quarters of all coronary heart disease. "Changing your diet and lifestyle can help to achieve a significant drop in your blood pressure levels, whether or not you are taking tablets," says Linda Main, Dietician for HEART UK. Take a look at the simple lifestyle changes you can make today to help lower blood pressure and maintain a healthy heart.

Keep your weight down. If you are overweight losing just 5-10% of your starting weight will help.

Be more physically active. Aim for 30 minutes or more, most days of the week. This doesn't have to mean going to the gym, walking or gardening can count too.

Drink alcohol in moderation. No more than 3 to 4 daily units a day for men and no more than 2 to 3 units for women.

Follow the Dietary Approaches to Stop Hypertension (DASH) eating plan. Based on research findings which show that a diet low in saturated fat and salt, but high in fruit and vegetables, wholegrain foods and low fat dairy foods, can significantly lower blood pressure within two weeks. It is rich in nutrients such as potassium, calcium, magnesium and fibre.

Reduce your salt intake to a maximum of 6 grams a day (a teaspoon). Around 75% of the salt we eat is already in the foods we buy.