Twitter users have reacted in outrage to a Tesco job advert which offers "Job Seekers Allowance plus expenses" in wages.
The job is part of the government's scheme of Sector Based Work Academies (SBWA), which can last up to six weeks and is intended to offer job seekers "work experience" to improve their chances of finding long term employment.
The job, posted last week, caused a storm after Sunny Hundal, Guardian reporter and writer of Liberal Conspiracy blog wrote: "This is nothing less than modern slavery. Tesco should be ashamed of itself for exploiting workers like this."
Members of the public went on social networking site Twitter to express their disgust:
But Tesco defended the job, saying that the placements would lead to paid positions.
"If Jobcentre Plus advisers believe a jobseeker would benefit from getting some experience of the work environment they can now refer them onto a work activity placement. These placements are all about getting people into a working routine if they need an additional push to get into employment.
"This is beneficial to some jobseekers as it will allow them to develop more of a 'work orientated mindset' but it also makes them a much more appealing prospect for an employer looking to fill a vacancy, and more confident when they enter the workplace. We are determined to break the habit of worklessness and get those who can work into jobs."
However Tesco is not the only private company that is offering positions like these.
Reilly claimed she was "being used as free labour, especially in the run-up to Christmas," and told the Guardian that the "experience" was unhelpful in her job search "No one really knew what we were supposed to be doing. We were just put on the shop floor and told to tidy shelves."
The Birmingham University graduate launched legal action against the government in December, her lawyer claiming that the "forced labour" is against the European Convention on Human Rights.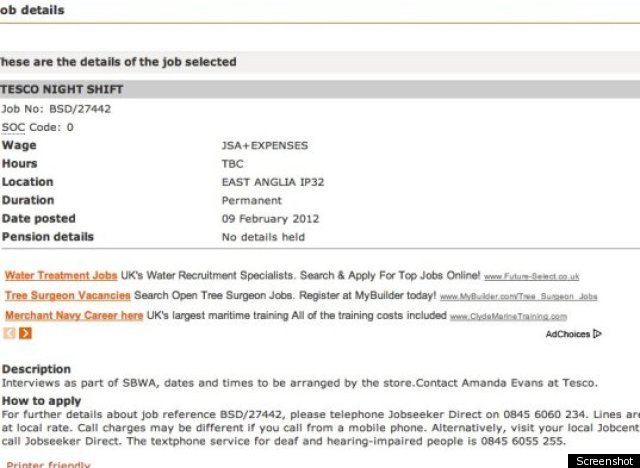 SUBSCRIBE TO & FOLLOW UK DAILY BRIEF