Rupert Murdoch has told News International employees that he intends to launch the Sun on Sunday "very soon".
In an email sent to staff in London Murdoch sets out plans to replace the News of the World which was axed in the wake of the phone hacking scandal.
Murdoch also lifted the suspensions of all arrested Sun employees who have not been charged "pending police investigations".
He added that despite the move "we cannot protect people who have paid public officials".
"Our duty is to expand one of the world's most widely read newspapers and reach even more people than ever before," Murdoch said in the email, it was reported on Twitter.
"I am confident we will get through this together and emerge stronger."
He added: "Having a winning paper is the best answer to our critics."
Murdoch says he now plans to stay in London "for the next few weeks" to help The Sun get through the crisis which has threatened the future of the country's most popular newspaper.
Murdoch is understood to have spent the afternoon on the newsroom floor. He is thought to have spoken to individual journalists but not made any formal address.
Staff leaving the building were reluctant to speak to waiting journalists but the mood inside was said to be "more relaxed".
Murdoch spoke to a number of Sun reporters on the paper's newsroom floor accompanied by his eldest son Lachlan.
A source told the Press Association that the absence of Murdoch's younger son James, who is chairman of News International, was not as significant as could be made out.
The source told PA: "James Murdoch has other commitments and is out of the country, and asked Lachlan to accompany his father."
On Twitter reaction to the news was swift, with Neville Thurlbeck, the former News of the World chief reporter, saying:
But the Labour MP Chris Bryant who accepted a settlement from the News of the World after it emerged he was a victim of phone hacking, called the move a "cynical" response to the crisis.
Murdoch left his Mayfair home and made his way to The Sun's offices on Friday amid anger at the paper over News Corporation's decision to hand over information that led to the arrests.
He arrived at the Wapping HQ in a chauffeur-driven silver Range Rover clasping a copy of The Sun and beaming at the waiting photographers.
His trip to the UK follows growing disquiet over News Corp's Management Standards Committee (MSC) - formed to clean up the company following the phone hacking scandal - which passed evidence to police before officers swooped on a number of homes.
"If all he does is say to staff that he is still committed to the Sun, it won't be enough," the employee quoted by the Guardian said. "People are furious with the MSC. What they did was extraordinary and maybe illegal."
Ten current and former senior reporters and executives at the tabloid have been arrested since November over alleged corrupt payments to public officials.
Five Sun journalists - including the deputy editor, picture editor and chief reporter - were held for questioning by Scotland Yard officers on Saturday on suspicion of making improper payments to police and other public officials. They have all been bailed.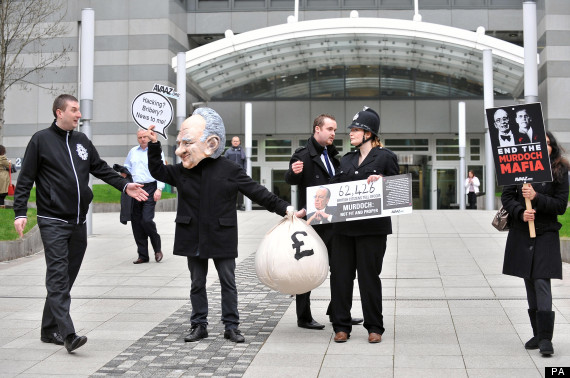 Above: protesters from Avaaz are asked to leave Thomas More Square
Tom Mockridge, chief executive of News International, the UK newspapers division of News Corp, told staff at the weekend that Murdoch had personally told him of his "total commitment to continue to own and publish" The Sun.
The National Union of Journalists (NUJ) said it had been approached by a group of Sun journalists and was exploring ways to support them.
NUJ general secretary Michelle Stanistreet said in a statement: "It is not an exaggeration to say that if journalists are not allowed to offer protection to their sources - often brave people who are raising their heads above the parapet to disclose information - then the free press in the UK is dead."
The Sunday-only News of the World, The Sun's sister paper, was closed last July after the revelation that it hacked the phone of murdered schoolgirl Milly Dowler following her disappearance in 2002.
The full email sent to staff reads:
I've worked alongside you for 43 years to build The Sun into one of the world's finest papers. It is a part of me and is one of our proudest achievements. The Sun occupies a unique and important position within News Corporation.

I have immense respect for our heritage, your exceptional journalism and, above all, you, the talented women and men who work tirelessly every day to ensure our readers have access to such a trusted news source. I believe this newsroom is full of great journalists and I remain grateful for your superb work and for the stories you uncover to inform and protect the public. None more so than over the last three weeks.

My continuing respect makes this situation a source of great pain for me, as I know it is for each of you.

We will obey the law. Illegal activities simply cannot and will not be tolerated – at any of our publications. Our Board of Directors, our management team and I take these issues very seriously.

Our independently chaired Management & Standards Committee, which operates outside of News International, has been instructed to cooperate with the police. We will turn over every piece of evidence we find -- not just because we are obligated to but because it is the right thing to do.

We are doing everything we can to assist those who were arrested -- all suspensions are hereby lifted until or whether charged and they are welcome to return to work. News Corporation will cover their legal expenses. Everyone is innocent unless proven otherwise.

I made a commitment last summer that I would do everything I could to get to the bottom of our problems and make this Company an example to Fleet Street of ethical journalism. We will continue to ensure that all appropriate steps are taken to protect legitimate journalistic privilege and sources, which I know are essential for all of you to do your jobs. But we cannot protect people who have paid public officials.

I am confident we can live by these commitments and still produce great journalism.

We will build on The Sun's proud heritage by launching The Sun on Sunday very soon. Our duty is to expand one of the world's most widely read newspapers and reach even more people than ever before.

Having a winning paper is the best answer to our critics.

I am even more determined to see The Sun continue to fight for its readers and its beliefs. I am staying with you all, in London, for the next several weeks to give you my unwavering support.

I am confident we will get through this together and emerge stronger.

Thank you,
Rupert Murdoch
-
Phone Hacking/Bribery Scandal Timeline
SUBSCRIBE AND FOLLOW
Get top stories and blog posts emailed to me each day. Newsletters may offer personalized content or advertisements.
Learn more