Most Parents Back Ban On TV Junk Food Adverts Before 9pm, Survey Shows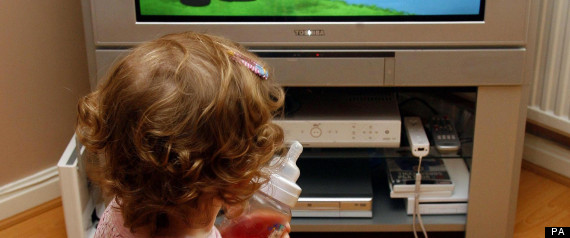 Parents are backing a ban on junk food and sugary snacks being advertised on television before 9pm, a survey published on Wednesday reveals.
Nearly two thirds (59%) believe advertising foods high in fat, sugar and salt make it harder for parents to feed their child a healthy diet.
The poll, commissioned by the Children's Food Trust and conducted by ComRes, reveals many parents are succumbing to "pester power" when it comes to junk food, with the majority admitting they could do more to make their child's diet healthier.
More than four in five of the 1,015 parents questioned said that advertising has an impact on whether their child asks them for chocolate, while around three-quarters said it has an effect on whether their youngster requests fast food, such as burgers, crisps and salty snacks, and sugary cereals.
Two-thirds (65%) said there should be a ban on TV advertising of products which are high in fat, sugar or salt before 9pm, regardless of whether the programming was intended for children or adults.
The poll also reveals that 40% of parents think that "pester power" - children pestering adults to buy certain products - make it harder for them to buy healthy foods.
Almost half (45%) admitted that they do let their child influence them when buying food for the family.
Nearly seven in 10 (69%) agreed that they could do more to make their child's diet healthier.
Children's Food Trust chairman Rob Rees said: "Parents have such a tough job to encourage their children to eat healthily - and what's clear is that they think there are lots of ways we could make their lives easier.
"This isn't about a 'nanny state' - it's about what will help rather than hinder parents in feeding their children well.
"If we're serious about reducing the crippling costs to the NHS of poor diet, we need to get behind parents on this."
The poll was commissioned to mark the inaugural Children's Food Conference, launched by the Children's Food Trust and the School Food Trust to look at how better food for youngsters is at the heart of improving public health.