Manchester United 2-3 Athletic Club Bilbao: Is This One Of Sir Alex Ferguson's Worst Teams? (PICTURES) Not since 1996 have Manchester United lost back-to-back European games at Old Trafford. Fenerbahce and Juventus were, astonishingly, the first foreign clubs to inflict defeat in Manchester, but 16 years on the fortress factor has been stripped from Old Trafford.
From the A's to the B's, the Reds have come unstuck. Besiktas and Ajax have won at the Theatre of Dreams in the past three years, and Athletic Club Bilbao were the latest to trip the light fantastic against opponents they hadn't faced for 54 years.
Packing panache and gusto, unlike the blueprint of Barcelona and the Spanish national team, this is not a collection of brittle yet talented midgets, but one capable of withstanding physical or skillful duels.
Not that United offered much of a fight. This was the club's fifth home defeat of the season, and their ineptitude in nocturnal midweek matches has been dismal.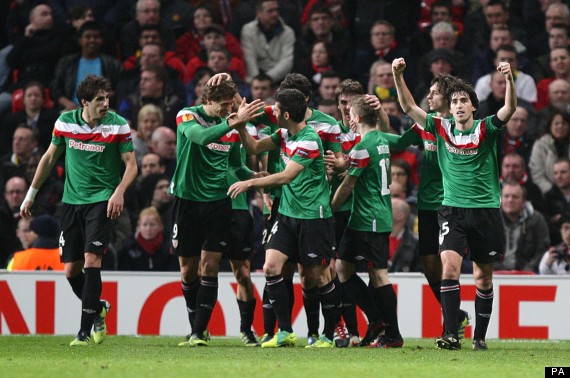 Athletic celebrate Fernando Llorente's equaliser
For as brilliant as Marcelo Bielsa's Athletic were, this is the worst United side in nearly a decade. Their sole goalscorer last night – Wayne Rooney – was wretched in possession and it was telling that he was shifted to the left-wing to accommodate Ryan Giggs' switch into the middle. Ostensibly one of the biggest clubs in the world, United are reliant on a 38-year-old.
It was painful to watch in a literal sense for Sir Alex Ferguson. Assistant Rene Meulensteen dropped the substitute's board on to his foot to add injury to the insult his players had served up, but Ferguson is highly culpable for this unsavoury concoction.
Prior to the game, he spoke of how "we are making too many changes" and again stressed how too young the defence was in the previous round's defeat to Ajax. But it is he who makes the selections and he who contradicted his defensive avowal with a defence of young 20-somethings and an out-of-form left-back, resting Rio Ferdinand.
As rare as a mea culpa is from the Scot, it was the wrong one. This Reds midfield hasn't been in a worse state under the Ferguson era, and even with the energetic Phil Jones shielding the back four, it got easily overran.
David de Gea made several exceptional saves but Fernando Llorente's 44th minute equaliser was overdue, as was the second half lead. When it arrived, it was as worth the wait as a Scalextric at Christmas.
The build-up to Oscar de Marcos' adroit volley consisted of one or two-touch football, before Ander Herrara flicked a defence splitting pass reminiscent of Ronaldinho in his pomp for his team-mate to hit past De Gea. That De Marcos was offside should not taint the gorgeousness of the goal or that it was merited.
More controversy came when the referee gave Athletic a free-kick because Evra's boot had come off. The comedy of errors then culminated in some of the worst individual defending in modern times when the resultant free-kick was taken. De Gea expertly parried De Marcos' shot to the side for Rafael da Silva to clear. But the 21-year-old waited… and waited… and waited… for what? For the exceptional Muniain. Who raced past the dithering Brazilian to slam the ball past his under 21 international colleague, deservedly doubling the lead.
Uncomfortable though it may be for United supporters, this team is getting stagnant. Athletic are – not were – a technically superior outfit who press incessantly. United meanwhile were bereft of Dimitar Berbatov - one of their most gifted players in possession - and opted for an outdated formation that began shape-shifting as ugly as The Thing.
Often Ferguson's tactics – never his strongest suit – are being ridiculed by all-comers in Europe, and it may be that he has passed his expiry date. Last season's league win, as satisfying as it was, came effectively by default due to the shocking standard of the Premier League, and United have resembled a withering, if stubborn, beast since the departures of Cristiano Ronaldo and Carlos Tevez three seasons ago. It is testament to the mediocrity served up in M16 that as young a squad as this one is in need of freshening up.
Premier League superiority also took a hit. The league has become a better spectacle this season because it has got worse, and United were outplayed by the fifth-placed side in the Primera Liga. Spain's top tier is belittled for its two-horse race, but how bad must English club football be if its champions are outwitted so consummately?
Ferguson talks about value misguidedly, but Athletic's squad cost as much as Jordan Henderson with a wage bill a third of United's. That's value.