Alcatraz TV Series Hits UK: Britain's Most Notorious Prisons (PICTURES) Alcatraz prison, one of America's most notorious jails is the subject of a new TV series that follows two modern day detectives as they investigate the imagined disappearance of 300 inmates and 40 guards from the island prison in March 1963.
In the show, the guards and the prisoners, known as "the 63s" keep appearing one by one, and even more mysteriously, can offer no explanation for where they have been, or why they appear to have not aged at all.
Although the plot is a fictional one, stories about the maximum security prison, perched on rocky Alcatraz island have long fired up the popular imagination.
Shrouded in mist and surrounded by freezing currents, the San Francisco jail was the final stop for some of America's most famous criminals.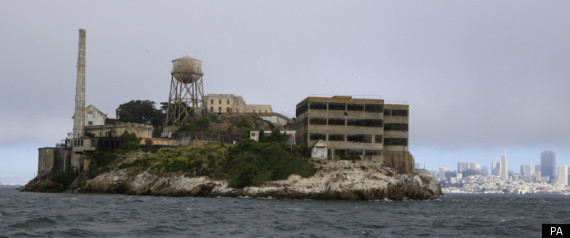 Alcatraz island is one and a half miles from the mainland.
The violent felons were often transferred to the isolated lock-up after causing trouble at other facilities.
Al Capone, Robert Franklin Stroud ('the Birdman of Alcatraz'), and Gangster George "Machine Gun" Kelly, have been among some of Alcatraz's most notorious inmates.
All of these men were known for being terrifyingly violent. Stroud, already serving time for murder, was moved to Alcatraz in 1942, after stabbing a prison guard to death.
Diagnosed as a clinical psychopath in 1943, Stroud's agressive and manipulative streak was in stark contrast to his obsession with raising birds, on which the film The Birdman of Alcatraz was based.
Already a terrifying place by virtue of its violent inhabitants, Alcatraz was made even more frightening through its harsh punishment of misbehaving criminals.
The solitary confinement cells were pitch black inside, and known inside the prison as "the hole."
Solitary confinement cells at Alcatraz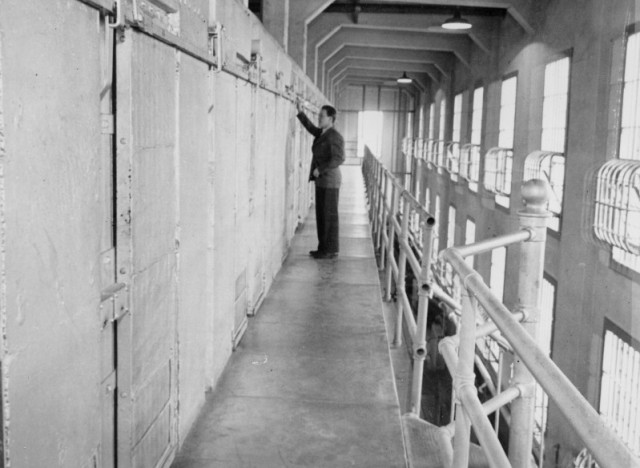 Alcatraz is also known for its inmates' ingenious attempts to make it across the one and half miles of freezing currents to the bay area. Of the 14 escape bids, all 36 men were either shot or recaptured, although some bodies have never been officially found.
Some smeared themselves with grease to slip through bars, while others collected hair clippings from the barbers to avoid being spotted after they had crept from their beds.
In one of the most famous escapes, brought to life by the film starring Clint Eastwood, Escape From Alcatraz , four escapees constructed a raft made from rubber raincoats to make it to the other side, as they knew it would be difficult to swim.
But though America's rugged terrain lends itself to more isolated jails, Britain also has a number of notorious prisons, many of which are still in operation.
Famous both for its criminally insane inmates, as well as its high security measures, Broadmoor is well known for being Britain's most secure psychiatric hospital.
It counts Kenneth Erskine, the Stockwell Strangler, and Peter Sutcliffe, the Yorkshire ripper, among its patients. Kenneth Erskine, the Stockwell Strangler
The Victorian institution has seen Robert Maudslay, Britain's 'real Hannibal Lector' shuffle through its gates as well as the infamous Kray twins.
Serial killer Daniel Gonzalez, who confessed he was desperate to be "the real Freddie Kruger" tried to kill himself upon arrival by 'ferociously' biting himself to death.
Giving evidence at his trial, Broadmoor psychiatrist Dr Edward Petch described how on his arrival, Gonzalez was accompanied by an "unusually large" number of prison officers, all wearing riot gear. Nurses had to stay by his side (at arm's length) for the 18 months he was there.
"Within Broadmoor I have never seen anything like it." he told the Old Bailey Daniel Gonzalez
In 2008, an embargo on Broadmoor's files was lifted to reveal what goes on behind the hospital's Victorian portcullis. At 10am every Monday, a piercing siren sounds from the hospital's watchtower. If it goes off any other time, neighbouring residents know to be alarmed. Broadmoor
The top security measures, which connect the alarm bell to telephone lines in 13 neighbouring villages, were installed after serial child killer John Straffen escaped in 1952, and reputedly strangled a five-year-old girl, Linda Bowyer, who had gone for a bike ride. John Straffen, upon his recapture in 1952
HMP Wakefield, nicknamed "Monster Mansion" is similarly notorious for the sex offenders and murderers locked behind its walls.
Serial killer Dr Harold Shipman killed himself in the West Yorkshire facility, while Ian Huntley had to be transferred after being assaulted in the showers, kicked in the face, and covered with boiling water.
Charles Bronson, one of England's most vicious offenders, is currently being held there.
Held in solitary confinement for most of the 36 years he has spent in prison, Bronson has repeatedly hit the headlines even from behind bars, since his first stay at Her Majesty's Pleasure in 1969. He has been involved in a dozen crazed hostage situations, including an incident in 1994, where he held a librarian hostage in return for a cup of tea, a helicopter and an inflatable doll. Charles Bronson in 1992
The last incident reputedly involved the ex-boxer stripping naked and covering himself in butter, before attempting to attack 12 prison officers, the Daily Mirror reported in 2010.
Charles Bronson has previously been held at HM Full Sutton, another category A prison in the north of England, where Abu Qatada also resided before being bailed, as well as Dennis Nilsen and Howard Hughes.
Child killer Colin Hatch was killed at the facility just over a year ago, and last month an inmate's neck was slashed by a homemade shank - razor blades melted onto a piece of plastic - after an argument involving a ping pong ball.
Take a look behind the bars of some of Britain's most notorious jails, known for their criminals, their crimes and their conditions.
Alcatraz is being shown on Watch at 9pm on Tuesday evening.