A sound-wave machine, hailed as the new Viagra, is promising to eradicate flagging libidos for good.
The revolutionary ED1000 treatment for erectile dysfunction has the ability to reverse the cause of impotence by blasting the area using sonic therapy.
The treatment involves sending 100 blasts of low-intensity shock waves per minute through the penis, stimulating the growth of new micro blood vessels inside the penile tissues.
The sonic therapy is said to break up hardened arteries or narrowed blood vessel pathways, which restricts the blood flow through the penis – a common problem in a quarter of men over 40 suffering from ED.
The ED1000 Shock Wave Therapy, created by Medispec, is an "innovative approach to vasculogenic ED (erectile dysfunction) using acoustic technology," according the company website.
"The machine utilises low-intensity shock waves, focusing on blood vessels and encouraging neovascularisation in the penis shaft and crus. The low-intensity shock waves help relieve vascular deficiency, a common cause of erectile dysfunction."

In order to turn love lives from flaccid to fabulous, patients would need to endure 12 quarter-hour sessions over a period of nine weeks. Although the treatment sounds painful, it's claimed that the patient will only experience a tingling feeling shortly after.
It's been two years since the first trials of the ED1000 machine, and according to Medispec, patients have reported long-lasting effects following the treatment.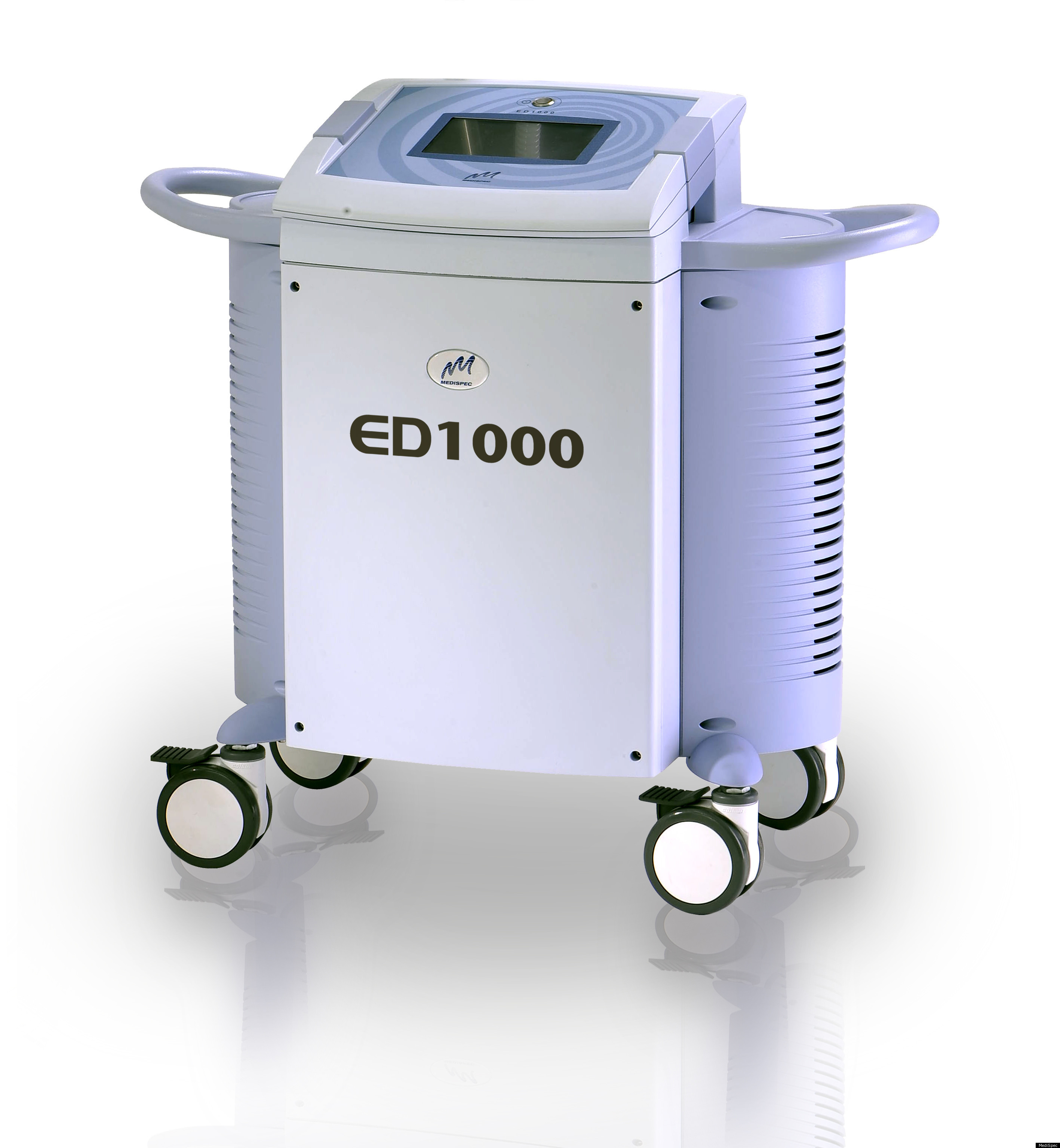 Over half of men aged between 40 and 70 years old suffer from some degree of ED, while transient erectile dysfunction can affect men of all ages.
Viagra (otherwise known as a 'PDE5 Inhibitor'), treats ED symptoms on a temporary basis but does not tackle the cause, which is why the ED1000 is bringing fresh hope to ED sufferers wanting to cure the condition.
The treatment is now being offered to men for the first time in the UK at the Spire Murrayfield Hospital in Edinburgh, for the price of £1,500 for 12 visits over nine weeks.
"This treatment is a revolution is the management of erectile dysfunction. For the first time we are able to cure some patients with ED rather than treat them symptomatically," Dr. Roland Donat says on the hospital website.
The treatment claims to work on men who've previously failed to respond to PDE5 Inhibitors like as Cialis, Viagra or Levitra. It is considered among urologist the biggest revolution in the past 15 years.
What is erectile dysfunction (ED)?
ED is the inability to get and maintain an erection that is sufficient for sexual intercourse. ED can be caused by a range of physical and psychological factors, but is mainly due to the narrowing of the blood vessels through the penis. This could be linked to high blood blood pressure, high cholesterol or diabetes. Psychological factors include anxiety, depression or relationship problems.
Lifestyle is a major contributing factor to the problem of erectile dysfunction. The NHS recommends making the following lifestyle changes to help treat the condition.
Natural Alternatives To Viagra
Feed your libido with these superfoods for sex...

If you struggle to get into the mood with your partner, eat a stick of black licorice, as it's proven to increase blood flow around the body, providing a surge of excitement. It's also a great aphrodisiac for women as according to recent research by Smell and Taste Treatment and Research Foundation in Chicago, just the smell of it increases sexual desire. Licorice also strengthens adrenal glands to boost energy levels and minimise the effects of stress, which always benefits flagging sex lives.

If you're always tired and struggle to raise a smile let alone anything else, try eating more fatigue-fighting foods packed with Thiamin - the B1 vitamin renowned for its energy-boosting properties. Swap the coffee and red bulls for tuna, sunflower seeds to reap the benefits.

Adding zinc to your diet is as easy as whipping up a dish of delicious oysters to get the blood flow working - in all the right directions. Zinc helps aid the production of testosterone hormones involved with healthy genital function and helps women, in particular, to sustain their sex drive. For men, zinc can work to increase the sperm count, and in women, zinc works to increase fluid secretions, which increase sexual pleasure.

Tackle the pre-coital nerves and stress with foods containing muscle-relaxing vitamins magnesium and calcium. These soothing ingredients help relax the muscle fibres in the body and also aids a healthy blood flow around the nether regions. Spinach, swiss chard and orange juice are the most potent foods to get your juices flowing.

There's a reason some women say chocolate is a substitute for sex... Cocoa flavanols in chocolate helps the body to release nitric oxide, found in the inner lining of blood vessels that helps normalise blood flow through the arteries and relaxes blood vessels. Eating chocolate instantly boosts production of phenylethylamine, a chemical that directly affects the brain's pleasure centre, which makes you feel calm and satisfied. Since sex drive is affected by stress and nerves, it's easy to see how chocolate could aid a healthy sex drive.

If you're going through a dry spell and are starting to see your sex life suffer as a result, boost your feel-good mood and your confidence with Omega-3 packed foods, such as flax seeds, walnuts and salmon. These foods increase the levels of serotonin in the body, which is a natural 'love hormone' that helps the body relax, be happy and more in the mood for passion.

Having lot's of lingering kisses is the key to a good sex life, but if you're suffering from bad breath, it will most definitely dampen your passion. Avocado is a great fruit for combating halitosis as it effectively kills enzymes that cause bad breath by releasing a powerful germ killer. Another great, natural freshener is parsley, which contains chlorophyll - a natural fresh breath saviour.

What you eat not only affects your mood but the taste of your body's secretions, like semen and vaginal lubricant. If you want to smell (and taste) your best during your love making session, stock up on sweet, acidic foods like citrus fruits like mango, oranges, lemons and pineapple. Steer clear of spicy, pungent foods.

Bananas help to boost male libido largely due to the presence of the enzyme 'bromelain' (and not because of its phallic appearance!) Bananas are also a good source of B vitamins like riboflavin and potassium, which increase the body's total energy levels. They are also very rich in potassium and B vitamins, which are vital for sex-hormone production.

Chilli's are a great way of heating up your sex life, due to capsaicin substance that gives the 'kick' to peppers, curries and other spicy foods. Triggering the release of endorphins, capsaicin is therefore a feel-good chemical for your brain. It also stimulates nerve endings and raises your heart rate.