Vatnajökull, Iceland's Largest Glacier, Reveals Beauty Of Frozen Landscape (PICTURES)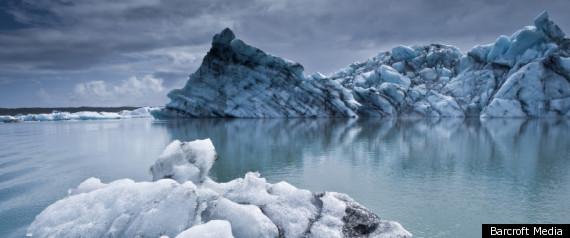 Source: Barcroft Media
Beautiful images of Iceland's largest ice cap reveal the ancient forces of nature at work above and below the mammoth glacier.
Covering eight percent of the country, the spiky scenery was created as subterranean volcanoes erupted under the ice, melting the giant mass of frozen water.

Scroll down for a gallery of icy snaps
The results were spectacular enough to be used in two James Bond movies, Tomb Raider and Batman Begins.
With tourism forming over 30 percent of the island's income, visitors to the area are treated to wonders such as the Jökulsárlón lagoon, dramatic ice walls and ominous icebergs.
"Vatnajökull is the largest ice cap in Iceland and is located in the south-east of the island," said photographer Ragnar Sigurdsson.
"In 2008, it became a part of the Vatnajökull National Park and in the surrounding area is Jökulsárlón a large glacial lagoon in southeast Iceland, which borders the national park.
"The lake has grown at varying rates because of melting of the Icelandic glaciers. The size of the lagoon has increased fourfold since the 1970s. It is considered as one of the natural wonders of Iceland."
Littered with glacial lagoons filled with striking icebergs, the areas around Vatnajökull are essentially a picture postcard advertisement for Iceland.
"Fjallsárlón is a glacier lake at the south end of Vatnajökull," said Ragnar.
"The glacier reaches down to the water of the lake and some ice-bergs are drifting by on its surface. The lagoon is visited less than the Jökulsárlón glacier but worth every minute spent there."
With some operators offering guided boat tours, the beauty of the national parks ice walls and loud crashing icebergs are readily available for eager photographers.
"Some of the icebergs at the Jökulsárlón glacier lagoon are large and imposing," said Ragnar.
"Floating icebergs melt and roll over with a lot of noise, splashing and wave-making, commonly crumbling as they do so.
"The stranded icebergs that exist in the Breiðamerkurfjara beach area of the national park tend to melt, crumble and disperse into rolling ice chunks in the water."
Since the Eyjafjallajokull eruption of 2010, Iceland and its volcanoes have become notorious, especially for international air travellers.
"The area is still covered with ash from the Eyjafjallajokull eruption which was in the spring of 2010," said Ragnar.
"And all across the icecaps of Iceland there is activity from Hyaloclastite formations caused by volcanic activity from under the ice.
"They cause wondrous rippling formations."