Venus And Jupiter Conjunction Separated By Just A Cat's Ears (PICTURE)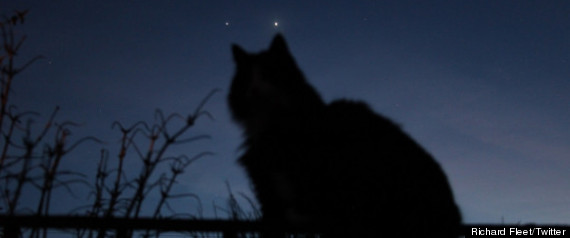 As stargazers across the world held their collective breath to witness Jupiter and Venus cuddling up in the night sky, this charming snap shows just how closely the planets appeared to align.
Taken in Britain by Richard Fleet, the vice-chairman of Newbury Astronomical Society, the image reveals Jupiter and Venus separated by just the width of a cat's ears.
The spectacle came to be on Monday evening as the planets appeared to creep closer towards each other in what is known as a planetary conjunction.
Occurring roughly every 13 months, the phenomena saw the pair appearing to be separated by only a tiny distance when viewed from Earth.
Of course the planets are millions of kilometres apart, but nestling beween this pussycat's ears like some sort of celestial crown, they couldn't seem closer.
Last Monday, Mars made its closest pass of earth in more than two years, and in June Venus will appear to cross in front of the sun from some positions on Earth.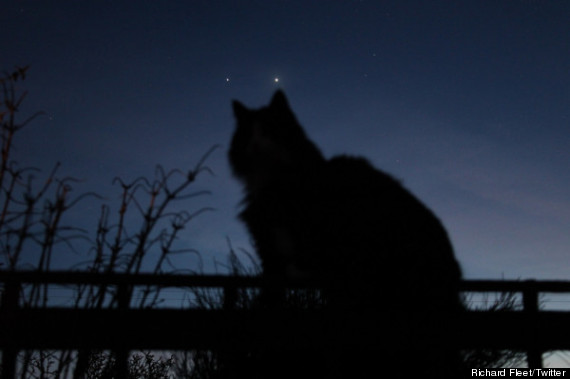 Feline stargazing, as captured by Richard Fleet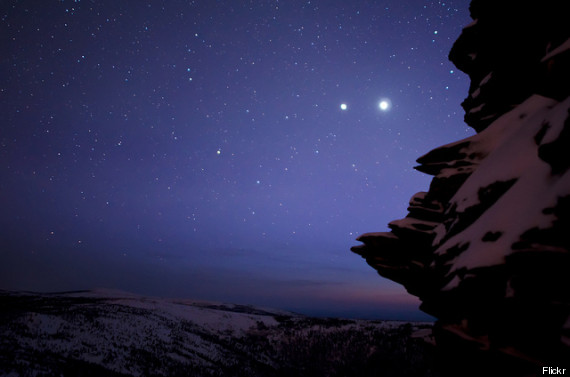 This amazing image of the Jupiter/Venus pass was taken by Flickr user Musubk
View our slideshow of Venus and Jupiter conjunction images taken from Twitter