Rihanna, Brooklyn Decker Bask In London Sunshine At Battleship Junket (PHOTOS)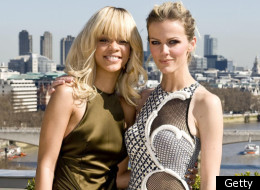 Rihanna has left her love controversy (is she/isn't she dating Ashton Kutcher?) behind to hang out with her Battleship co-stars in London, ahead of the film's release in a couple of weeks.
Rihanna and co-star Brooklyn Decker (Mrs Andy Roddick to the uninitiated) took advantage of the unseasonal warmth to bask in the London sunshine - two blondes together...

Rihanna is seen at a photocall for new film Battleship at the Corinthia Hotel in London.

Rihanna attends a photocall for Battleship at The Corinthia Hotel on March 28, 2012 in London, England. Picture Credit: Joanne Davidson / The Picture Library

Rihanna and Brooklyn Decker are seen at a photocall for new film Battleship at the Corinthia Hotel in London.

Rihanna and Brooklyn Decker are seen at a photocall for new film Battleship at the Corinthia Hotel in London.

Rihanna is seen at a photocall for new film Battleship at the Corinthia Hotel in London.

Rihanna and Brooklyn Decker are seen at a photocall for new film Battleship at the Corinthia Hotel in London.

(left to right) Rihanna, Taylor Kitsch, Brooklyn Decker and Peter Berg are seen at a photocall for new film Battleship at the Corinthia Hotel in London.

Rihanna is seen at a photocall for new film Battleship at the Corinthia Hotel in London.

Rihanna is seen at a photocall for new film Battleship at the Corinthia Hotel in London.

LONDON, ENGLAND - MARCH 28: (UK TABLOID NEWSPAPERS OUT) Rihanna attends a photocall for Battleship at The Corinthia Hotel on March 28, 2012 in London, England. (Photo by Dave Hogan/Getty Images)

LONDON, ENGLAND - MARCH 28: (UK TABLOID NEWSPAPERS OUT) Rihanna attends a photocall for Battleship at The Corinthia Hotel on March 28, 2012 in London, England. (Photo by Dave Hogan/Getty Images)

LONDON, ENGLAND - MARCH 28: (UK TABLOID NEWSPAPERS OUT) L-R Rihanna and Brooklyn Decker attend a photocall for Battleship at The Corinthia Hotel on March 28, 2012 in London, England. (Photo by Dave Hogan/Getty Images)

Rihanna attends a photocall for Battleship at The Corinthia Hotel on March 28, 2012 in London, England. Picture Credit: Joanne Davidson / The Picture Library

Rihanna attends a photocall for Battleship at The Corinthia Hotel on March 28, 2012 in London, England. Picture Credit: Joanne Davidson / The Picture Library

Rihanna attends a photocall for Battleship at The Corinthia Hotel on March 28, 2012 in London, England. Picture Credit: Joanne Davidson / The Picture Library

Rihanna attends a photocall for Battleship at The Corinthia Hotel on March 28, 2012 in London, England. Picture Credit: Joanne Davidson / The Picture Library

Rihanna attends a photocall for Battleship at The Corinthia Hotel on March 28, 2012 in London, England. Picture Credit: Joanne Davidson / The Picture Library

Rihanna attends a photocall for Battleship at The Corinthia Hotel on March 28, 2012 in London, England. Picture Credit: Joanne Davidson / The Picture Library

Rihanna attends a photocall for Battleship at The Corinthia Hotel on March 28, 2012 in London, England. Picture Credit: Joanne Davidson / The Picture Library

Rihanna attends a photocall for Battleship at The Corinthia Hotel on March 28, 2012 in London, England. Picture Credit: Joanne Davidson / The Picture Library

Rihanna attends a photocall for Battleship at The Corinthia Hotel on March 28, 2012 in London, England. Picture Credit: Joanne Davidson / The Picture Library

Rihanna attends a photocall for Battleship at The Corinthia Hotel on March 28, 2012 in London, England. Picture Credit: Joanne Davidson / The Picture Library

Rihanna attends a photocall for Battleship at The Corinthia Hotel on March 28, 2012 in London, England. Picture Credit: Joanne Davidson / The Picture Library

Rihanna attends a photocall for Battleship at The Corinthia Hotel on March 28, 2012 in London, England. Picture Credit: Joanne Davidson / The Picture Library

Rihanna attends a photocall for Battleship at The Corinthia Hotel on March 28, 2012 in London, England. Picture Credit: Joanne Davidson / The Picture Library

Rihanna attends a photocall for Battleship at The Corinthia Hotel on March 28, 2012 in London, England. Picture Credit: Joanne Davidson / The Picture Library

LONDON, ENGLAND - MARCH 28: (UK TABLOID NEWSPAPERS OUT) Rihanna attends a photocall for Battleship at The Corinthia Hotel on March 28, 2012 in London, England. (Photo by Dave Hogan/Getty Images)

LONDON, ENGLAND - MARCH 28: (UK TABLOID NEWSPAPERS OUT) L-R Rihanna, Peter Berg, Brooklyn Decker and Taylor Kitsch attend a photocall for Battleship at The Corinthia Hotel on March 28, 2012 in London, England. (Photo by Dave Hogan/Getty Images)

LONDON, ENGLAND - MARCH 28: (UK TABLOID NEWSPAPERS OUT) L-R Rihanna and Brooklyn Decker attend a photocall for Battleship at The Corinthia Hotel on March 28, 2012 in London, England. (Photo by Dave Hogan/Getty Images)