Widows of soldiers killed in the Falklands conflict gathered on Monday for a service of remembrance.
On the anniversary of the Argentinian invasion of the islands in which 255 UK servicemen were killed, a single candle was being lit in Staffordshire's National Memorial Arboretum's Millennium Chapel and will be left alight for the 74 days of the conflict.
Initiated by the South Atlantic Medal Association (SAMA 82), a memorial to the 255 UK servicemen who were killed during the conflict will be unveiled at the Arboretum on 20 May, in front of more than 600 veterans.
Margaret Allen, who lost her husband Able Seaman Iain Boldy when he was killed in an Argentinian attack on HMS Argonaut on 21 May 1982, will be at the service.
She suffered post traumatic stress disorder from her loss, but it was not diagnosed for many years.
Now, having worked through it, she is part of the education team at the Arboretum, which has enabled her to turn her pain and grief into something positive.
Sara Jones, widow of Lieutenant-Colonel "H" Jones VC, commanding office of 2 Para who was killed in action during the battle of Goose Green on 28 May 1982, will also be at the site.
Speaking to The Daily Telegraph, Jones, now 70, maintains that the Falklands conflict was a war worth fighting.
She is involved with many charities supporting the armed forces, including the National Memorial Arboretum Appeal, which is set to create a world-class centre for remembrance.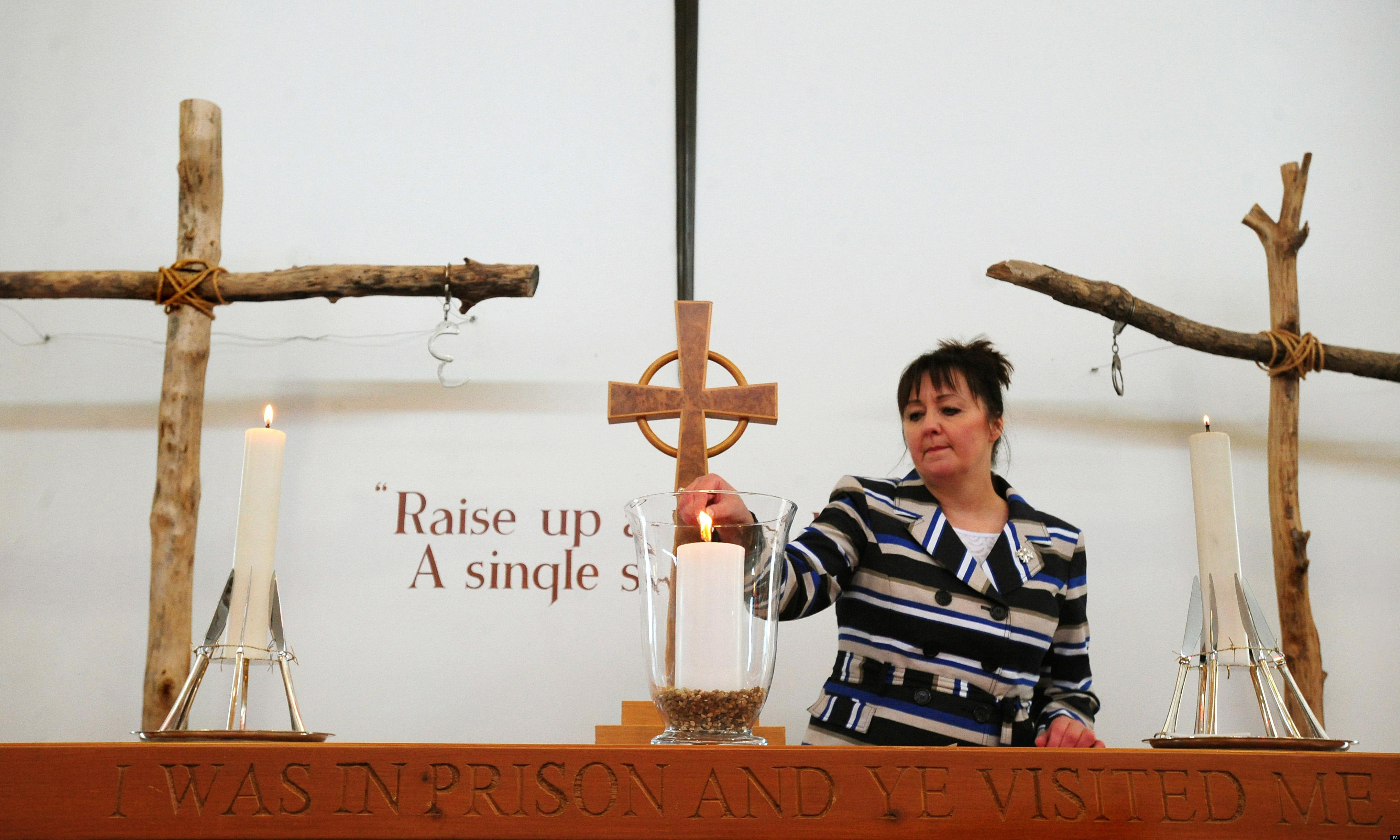 Margaret Allen, widow of Able Seaman Iain Boldy, lights a candle in the Arboretum Millennium Chapel
In a statement to mark the occasion, David Cameron said that Britain would not compromise on the central issue of the islanders' right to self-determination.
"Today is a day for commemoration and reflection: a day to remember all those who lost their lives in the conflict - the members of our Armed Forces, as well as the Argentinian personnel who died.
"Today, we salute the heroism of the Task Force which set sail to free the islands.
"We are rightly proud of the role Britain played in righting a profound wrong. And the people of the Falkland Islands can be justly proud of the prosperous and secure future they have built for their islands since 1982.
"Britain remains staunchly committed to upholding the right of the Falkland Islanders, and of the Falkland Islanders alone, to determine their own future.
In a letter to The Daily Telegraph, Foreign Secretary William Hague was equally strident in defence of the islanders' sovereignty, while criticising the "intimidation" tactics latterly used by Argentina, including the closing of ports to British shipping.
Hague also reaffirmed Britain's "absolute commitment to preserve the right of the Falkland Islanders, some of whom have lived there for nine generations, to determine their own political and economic destiny."
SUBSCRIBE TO & FOLLOW UK DAILY BRIEF