The claims by a Portuguese taxi driver who said police ignored the possibility he may have had Madeleine McCann in his cab the night she went missing is the latest in a string of "sightings".
Following her disappearance on 3 May 2007, a vast search began across Europe, although police have still to establish any lead.
In Portugal, sightings in Nelas, Portimao, Lagos, Silves and Cartagena were made within weeks of the toddler's disappearance and all were investigated - including one man seeing her being taken to a gypsy camp in a cart and another of a couple in a petrol station with a child resembling Madeleine.
The Moroccan city of Marrakech was combed through by Interpol and Leicestershire Police after two sightings led police to believe she may have been taken to the city, as well as potential sightings in rural villages in the north of the country.
In more far-reaching countries, such as Malta, Bosnia and New Zealand, police have been called to investigate similar claims.
Public police presence in Malta was increased after 29 sightings of Madeleine were reported within a week, although nothing came of them.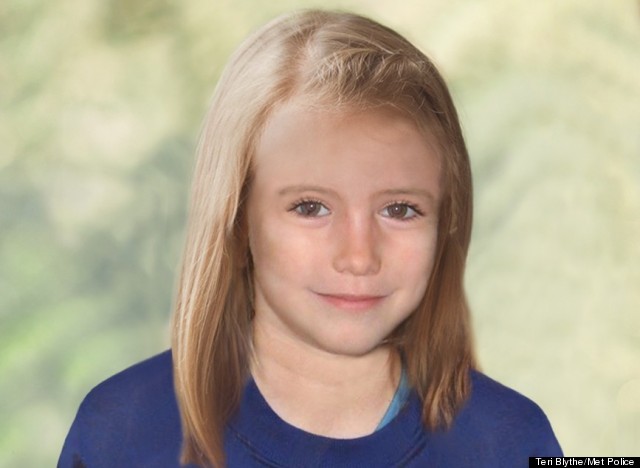 Above: How Madeleine McCann may look now
The number of sightings eventually declined although occasional reports in Brazil, Sweden, France, Belgium and Australia filtered through. But, a new report of a potential spot of the girl on the Costa del Sol which emerged, in early April has sparked more rumours about the child's disappearance.
Specialist officers followed up a tip-off received last month of a girl resembling Madeleine was spotted in Nerja, 30 miles east of Malaga.
Despite the end of any investigations into their daughter's disappearance, Kate and Gerry McCann have never lost hope or faith in the face that their daughter may one day return home.
Their call for help was aided by the generation of a new image released by Scotland Yard of how Madeleine McCann might look now.
Redwood, the officer leading the Scotland Yard review, spoke last week of his belief that the case can still be solved and launched a fresh appeal for information.
"Based on the former we are releasing the age progression image today with a specific appeal," he said.
"If you know where Madeleine McCann is now or you have new direct information/evidence about what has happened to her then please contact us.
"The second point of appeal today is in relation to those who were at the resort of Praia da Luz between 28 April and 3 May 2007.
"If you were either on holiday or in residence in the resort during this period, particularly in the vicinity of the Ocean Club, and you have not been spoken to by police either here or in Portugal then please call us on 0800 0961011 if you are within the UK.
"The number for non-UK residents is +44 2071580 126. Alternatively if you do not want to speak to us directly you can contact Crimestoppers on 0800 555 111."
SUBSCRIBE TO & FOLLOW UK DAILY BRIEF