A council candidate dressed as a penguin called Professor Pongoo has received more votes than the Liberal Democrats in Edinburgh.
Professor Pongoo (real name Mike Ferrigan) was an independent candidate who had pledged to wear the penguin outfit to every council meeting if he was elected.
Prior to the election, he told STV that he wanted to bring some "lightness and humour to the affair."
It was reported in the same article that Pongoo was "a six foot penguin from planet Piper [who] stands little chance of getting elected."
As results came in, it was revealed that Professor Pongoo polled 444 votes, beating the Liberal Democrats' 370 and the Green party candidate's 322 in the bid for Pental Hills Ward for the City of Edinburgh council, reports STV.
And with support for Liberal Democrat turning distinctly frosty, Twitter users wouldn't let this humiliation go unnoticed. Pongoo's triumph marched on to Twitter in an explosion of penguin jokes.
Even Larry the cat, a spoof account for the Number 10 feline, joined in, writing: "A penguin named Professor Pongoo got 74 more votes than the Lib Dems in Edinburgh How embarrassing; he should have beat them by at least 500"
On Pongoo's Facebook page 'Vote for Professor Pongo' the description reads "I'm standing as a candidate because I'm confused. You see, I'm a penguin called Professor Pongoo.
"On the planet that I come from humans do things differently and us penguins, polar bears and all living things have the food we need and the humans leave us alone by respecting our rights to co-exist alongside them in harmony. "
Seemingly Professsor Pongoo was not the only arctic animal to bring embarrassment to the coalition on Friday. BBC radio 5live reported that the Conservative Mayoral Candidate for Liverpool came 7th, behind an independent candidate dressed up a polar bear. However this is unconfirmed.
Labour's Joe Anderson became Liverpool's first elected mayor.
05/05/2012 00:34 BST
41-hours after polls opened Boris is mayor and we can all go to bed
So over 41 hours after polls opened on Thursday morning, Boris Johnson is mayor of London and we can all go to bed to dream analytical dreams about what the results mean for the country.
04/05/2012 22:45 BST
London Elects: 'Several Hundred' votes to be manually checked
Probable ETA of a declaration is about an hour, hopefully less (please)
04/05/2012 22:44 BST
Statement on the count delays from London Elects...
London Elects statement:
We have results in from 13 of the 14 constituencies in the Mayor of London and London Assembly election.

The final constituency is Brent & Harrow. The Greater London Returning Officer has been in touch with the CRO for Brent & Harrow to establish the reason for a delay.

All batches of ballot papers were registered and scanned. Two batches went to storage without some ballot papers being manually entered as required. Manual entry is required when a scanner cannot read a ballot paper – for example if a ballot paper is damaged. It is not an issue with the scanners.

The issue was identified during the verification stage. These two batches are being re-processed. To make this happen as quickly as possible we have separated out into several smaller batches. This is why the progress screens appear to show a changing number of verified ballot papers.

We will declare as soon as possible but it is obviously important that every vote is counted.
04/05/2012 22:29 BST
What's happening at City Hall?
Well we don't entirely know. The latest is that at least two ballot boxes were found unscanned at the Brent count, and they're now being counted by hand, for some reason.
There are rumours that Ken's team has asked for a full recount in Brent, which would delay things for another few hours.
London elects thinks it'll be only another 20 mins, but they've been saying that for nearly two hours.
04/05/2012 19:44 BST
YouGov are calling it for Boris..
@ tnewtondunn :

The Sun's pollster Peter Kellner of YouGov calls it - "Boris has won. He has too big a lead for Ken to overturn".
04/05/2012 18:24 BST
Ken-supporting constituencies now coming in...
It's leading to a sharp narrowing in the polls between the two candidates. On 1st preference votes Boris now has 44% and Ken 40% - 8 out of 14 constituencies have now declared.
04/05/2012 17:07 BST
London Mayoral Vote Getting Tight...
Here's the latest.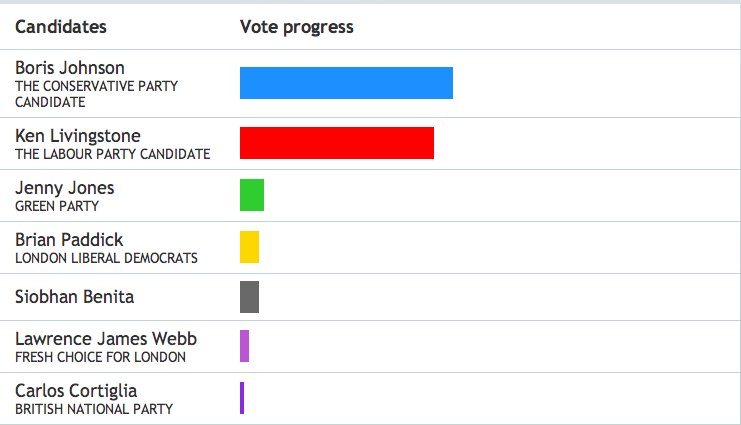 People are talking about 50/50 odds between Ken and Boris. The atmosphere at City Hall has changed dramatically in the past half hour.
04/05/2012 16:40 BST
Ed Miliband: We're coming back
Ed Miliband, speaking in Southampton, has declared that Labour is "coming back".
This comes after Labour took control of Southampton from the Conservatives.
He railed against the "out of touch government in Westminster".
"David Cameron promised change, not for the better but for the worse. Today in Southampton, it is a rejection of the economic failure of this government, and the unfairness of this government". he added
He also boasted that Labour is "beating back" the SNP in Scotland.
He recognised the low turnouts, saying it showed there was "still more to do".
04/05/2012 16:35 BST
Peter Bone MP - 'This is the beginning of the end of the coalition'
Conservative MP Peter Bone has said that the PM has 'one hand tied behind his back'.
"Worst of all, we've got the Liberals holding us back" he added
The results signified the "beginning of the end of the coalition", he told the BBC.
"We're seeing Boris winning as a Conservative in London, yet the Coalition losing against Labour. So the message must be let's come out of this coalition as soon as possible." he said
04/05/2012 16:25 BST
Liam Byrne optimistic despite Birmingham no vote
Liam Byrne, who quit the Shadow Cabinet in preparation for running for Birmingham Mayor, has just tweeted this
@ LiamByrneMP :

A huge thanks to ALL who supported Yes2Mayor, Albert and me: our job now is to get 4-square behind our brilliant new Lbr council #brummayor
SUBSCRIBE TO & FOLLOW UK POLITICS