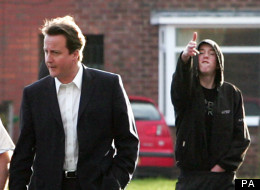 When they say politicians should stay down to earth, we're not sure this is what they meant.
But following Rebekah Brooks' revelation over David Cameron's text speak fail - when the prime minister thought LOL meant lots of love rather than laughing out loud - we thought we'd look at other instances of politicians trying and failing to get down with the kids.
From Nick Clegg inspiring a hip-hop musical to Ken Livingstone performing with Blur, to Lembit Opik's appearance in a pop video, there are plenty of examples.
Let us know what your favourite is in the comments:
Getting down with the kids
Here's Blair, pictured during his time as PM, strumming it like he was still in Oxford band Ugly Rumours.

The Labour leader was ambushed when Tom Hounsome whipped out this bong as the snap was taken, and then posted it on his twitter page. Hounsome told The Sun: "My mate offered me £20 to do it. Now everyone thinks I'm the world's biggest stoner, but I don't even smoke. It was just a laugh."

Liberal Democrat MP Sarah Teather's stand up routine was hailed as one of the worst in history - even by politicians' standards. Watch it for yourself and see what you think.

The foreign secretary Hague posed for snaps in his baseball hat at a theme park in Cornwall during his time as Tory leader.

Our prime minister is one of the few people to have completed EVERY level of ipad and iphone game angry birds.

Here's Cameron at a festival with former Blur member Alex James and Jeremy Clarkson.

Here's Tony Blair in Number 10, at the height of the Cool Britannia era, with Oasis member Noel Gallagher.

Here's Gordon, just hanging out with his mate Blair.

Just Lembit.

Business minister Norman Lamb is also known as the man who remortgaged his house to help rapper Tinchy Stryder kick start his career.

Through her friendship with Naomi Campbell, Gordon Brown's wife Sarah ended up at at this charity fashion show in 2008 in aid of Fashion For Relief.

Did this really happen? Here's Ken Livingstone performing with Blur in 2000.