Shares in social network Facebook immediately jumped 13% to $42.99 on their first day of trading before crashing to close just above its initial public offering (IPO) price.
Trading of the shares on the Nasdaq stock exchange was initially delayed by around half an hour, and the first trades were not seen until around 11.30am eastern standard time.
After a quick jump above $43 the shares began to steadily decline, before settling at $38 - the company's IPO price. After another brief rally, the shares closed at $38.27.
Analysts for Bloomberg said the price had to be supported by underwriters.
Investors appeared nervous about the trades, and some feared that 'flippers' - traders looking to buy the shares and sell them for a quick profit - were affecting the price.
Shares in other social networks and companies with close ties to Facebook, including social games developer Zynga and corporate social network LinkedIn fell heavily after Facebook began trading.
Facebook's shares were initially offered to the public for $38, giving the company a valuation of $104bn. The company took in $18.4bn from the sale.
In a recent Bloomberg survey of 1,250 global investors, analysts and traders, 79% said Facebook's valuation was not justified, with only 7% deeming the valuation fair.
Zuckerberg opened the stock exchange by remote control from Facebook's HQ at 1 Hacker Way in California.
He pressed the button in front of a cheering crowd of employees, surrounded by Facebook execs and to the soundtrack of an apparently slightly-warped loop of dramatic music.
Before the opening bell Facebook hosted its 31st 'Hackathon' event to develop new ideas and products.
Investors such as U2 frontman Bono stand to make huge sums, with music magazine NME predicting the singer will become the richest rock star on the planet when the company floats.
Shares of professional networking company LinkedIn Corp's doubled on their first day of trading but despite the hype, scepticism remains in some quarters, with murmurings that the stock is overvalued.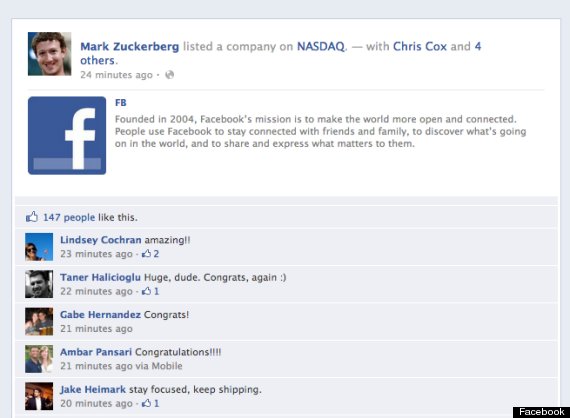 SUBSCRIBE TO & FOLLOW UK TECH