Tony Blair will be back at centre stage today when he appears at the Leveson Inquiry to be questioned about his relations with the media.
The former prime minister is likely to be asked about the nature of his and his government's links with Rupert Murdoch's media empire during his 13 years at the helm of the Labour Party, including a decade in Downing Street.
He can expect questions over whether he allowed his relationship with Murdoch and News International to become too close, as his former lieutenant Lord Mandelson told the inquiry on Monday.
Lord Mandelson said it was "arguably the case... that personal relationships between Blair, (Gordon) Brown and Rupert Murdoch became closer than was wise".
Blair famously flew to Hayman Island in Australia to address News Corp executives in 1995, as part of a Labour strategy to gain a hearing with newspapers which had savaged previous leaders Michael Foot and Neil Kinnock.
And it emerged last year that he formed a close enough relationship with Murdoch to become the godfather to one of the media tycoon's children in 2010.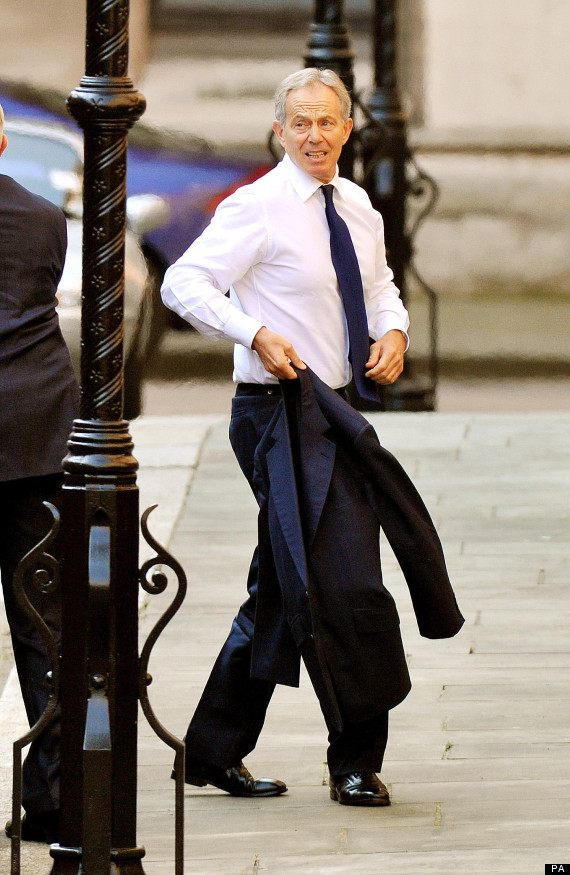 Tony Blair outside court as he prepares for his appearance at the Leveson inquiry

Blair's appearance comes at the start of a high-profile week for the Leveson Inquiry, with beleaguered Culture Secretary Jeremy Hunt set to give evidence on Thursday.
Hunt will also face a grilling over his office's links with Mr Murdoch's News Corp, particularly during its bid to take over the satellite broadcaster BSkyB.
He will be challenged over whether his public expressions of support for the bid were compatible with the quasi-judicial role he was given by Prime Minister David Cameron.
There was unconfirmed speculation this weekend that Cameron himself is due to appear two weeks later, on Thursday 14 June, and that Chancellor George Osborne could yet be called to give evidence in person.
Education Secretary Michael Gove and Home Secretary Theresa May will appear on Tuesday and Justice Secretary Kenneth Clarke on Wednesday.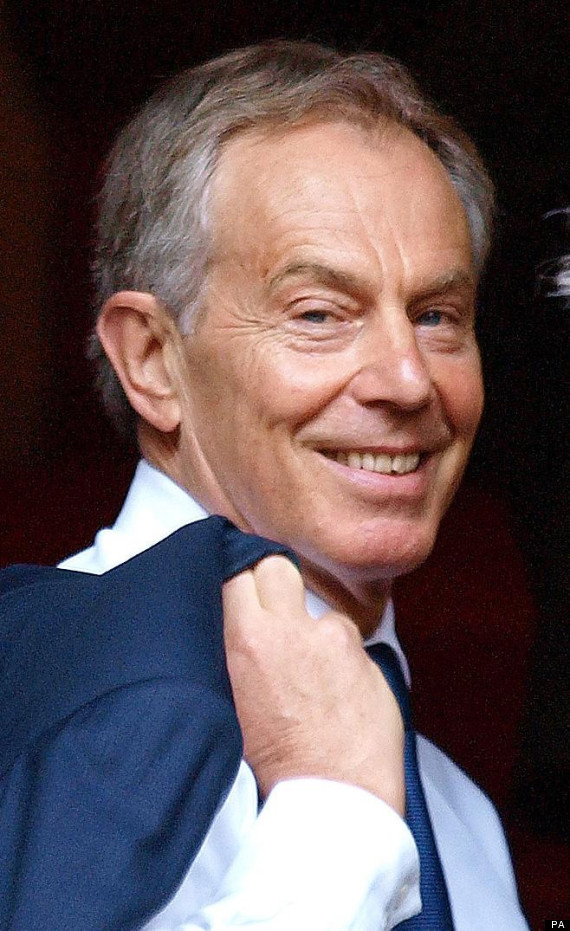 Tony Blair pictured arriving at the Royal Courts Of Justice in London

Also due to give evidence on Wednesday is Business Secretary Vince Cable, who was stripped of the role of deciding whether the bid could proceed last December after he was secretly recorded saying he had "declared war" on Murdoch.
Hunt had asked for his appearance before the inquiry to be brought forward so he could give his side of the story as soon as possible, but was rebuffed by Lord Justice Leveson.
The inquiry has been presented with a cache of emails showing that News Corp lobbyist Fred Michel received inside information about the Department for Culture, Media and Sport's handling of the bid from Hunt's former special adviser Adam Smith, who quit last month after admitting he went too far in acting as a point of contact with the company.
Last week, the inquiry published a memo sent by the Culture Secretary to Cameron in November 2010, weeks before he took on the quasi-judicial role, in which he appeared to be making the case for News Corp's bid to go ahead.
Hunt insists that he oversaw the process "with scrupulous fairness throughout" and has received strong backing from the Prime Minister.
But Cameron has also said that if anything arises from the inquiry that suggests the ministerial code might have been breached, he will call in his independent ethics adviser Sir Alex Allan or take immediate action himself.
A decision on whether Sir Alex should investigate the Culture Secretary's behaviour is expected shortly after Hunt gives evidence.
Cable is likely to face questions over whether he approached the BSkyB bid with a pre-conceived hostility towards News Corp.
Gove, a former journalist on the News Corp-owned Times whose wife is a writer on the paper, is likely to be questioned about the frequency of his meetings with the company's executives, including Rupert Murdoch, his son James and former News International chief executive Rebekah Brooks.
The Education Secretary last year recorded 11 meetings with senior News Corp figures between the May 2010 general election and July 2011 and has publicly described Rupert Murdoch as "a great man" and "a force of nature".
Earlier this year, he spoke out about the danger of freedom of speech being harmed by the "chilling atmosphere" created by the Leveson Inquiry.
SEE ALSO: Will The Inquiry Find A Chink In The Former PM's Armour?
Questioning the need for additional regulation of the Press, he cautioned against allowing "judges, celebrities and the establishment" to become the arbiters of where the limits of free speech should be set.
May will probably be asked about the police handling of phone-hacking allegations and the issue of the closeness between the police and the media.
28/05/2012 15:18 BST
That's it, the end.
Blair's time in front of Leveson has come to a close. Towards the end it was less of a grilling more of a cosy fireside chat.
Join us tomorrow when we will hear from education secretary (and former Times journalist) Michael Gove and home secretary Theresa May.
28/05/2012 15:07 BST
Lord Justice Leveson just asked Blair what may have been the longest question ever asked. The line that will come as a relief to many was "I have absolutely no interest in imperilling the freedom of the press".
28/05/2012 15:01 BST
Tom Watson responds
Tom Watson has posted a quick response on his blog to Blair's answers about his resignation. You can read it here:
28/05/2012 14:59 BST
Protester led away
Here is a picture of the protester, named as David Lawley-Wakelin, being led away by police. 28/05/2012 14:50 BST
@ BBCNormanS :

TB extolling the virtues of US papers over UK press. Er..but have u read them ? Dullsville Central #leveson #blair
28/05/2012 14:49 BST
Blair is comparing the British media to the US media. He says American papers are capable of having a editorial line while at the same time reporting the "facts" as facts.
The collective response from many British journalists on Twitter is to argue that US papers are "dull".
28/05/2012 14:43 BST
Blair has moved on to talk about the nature of news in an era of Twitter and 24-hour news channels. He says there is a "race to the bottom" which is damaging to the political debate.
"These guys have got to say something and they just say the same thing they were saying a few moments ago," he observes.
28/05/2012 14:34 BST
Blair says one cabinet minister once came to him to resign as he had read in the newspapers that he was going to be sacked.
He says he had to spend half an hour persuading him that he was never going to be fired in the first place.
28/05/2012 14:25 BST
Blair says he sometimes made ministers resigned even though they had done nothing wrong as the press coverage was becoming too damaging.
He specifically cites the second time Peter Mandelson was forced to quit the government.
28/05/2012 14:18 BST
Blair: I was going to fire Watson
Tony Blair is asked about Labour MP Tom Watson, who resigned from his government after calling on him to resign.
"I was prime minister, he had effecievely taken part in the coup in 2006 against a prime minister," Blair says.
Blair says Watson resigned "literally moments" before he fired him. "You can't remain a minister if you called for the PM to go"
Blair says that his allies wanted to "go on the attack" but he said he decided he would have to announce when he would leave No.10 in favour of Gordon Brown.

Pictures of the Day 28 May 2012
SUBSCRIBE TO & FOLLOW UK POLITICS