An MP from Greece's far-right party Golden Dawn faces arrest after slapping a female MP on live television.
In the shocking video Ilias Kasidiaris throws a glass of water at left-wing MP Rena Dourou then slaps Communist MP Liana Kanelli three times during a televised debate with the two politicians.
During the fracas the show's host Giorgos Papadakis attempted to quell the violence, running towards Kasidiaris and shouting "no, no no."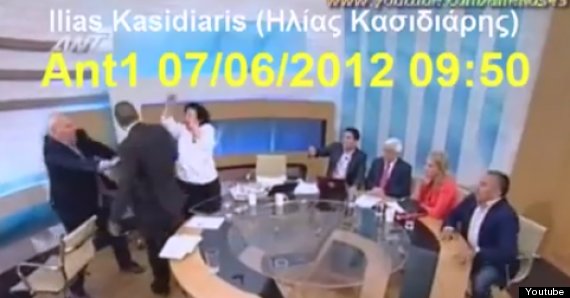 "The government condemns in the most categorical way the attack by Golden Dawn spokesman Ilias Kasidiaris against Liana Kanelli and Rena Dourou."
Golden Dawn, which has been described as a neo-Nazi party, won almost 7% of the vote in May's elections.
"There were no ovens, this is a lie ... there were no gas chambers either," he said during a TV interview.
SUBSCRIBE TO & FOLLOW UK POLITICS