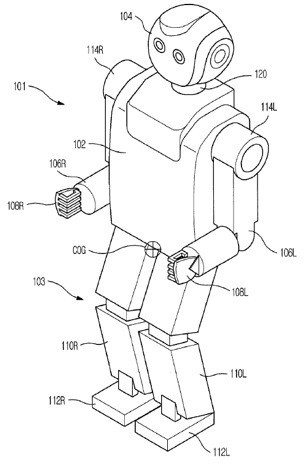 So you've bought a robot dog, but you don't have time to walk it? Then you need a robot human.
Samsung have patented what appears to be an advanced and wholly terrifying design for a humanoid robot.
The company is known for its robotic innovations, and their latest innovation is said to feature a human-like walk and also a series of realistic breathing motions.
The idea appears to be to create a robot without the strange up-down walking motion seen in, for instance, Honda's Asimo model.
A walking robot and a control method thereof. The control method includes storing angle change data according to time corresponding to at least one joint unit of the robot using human walking data, extracting reference knot points from the angle change data according to time, and generating a reference walking trajectory using the extracted reference knot points, calculating a walking change factor to perform change between walking patterns of the robot…
Shudder.
Check below for our favourite, creepiest humanoid-android hybrids:
Loading Slideshow
Creepy Robot Mouths

Creepy Robot Heads

Another Creepy Robot Head

Creepy Robot Woman

Scary Robot Child

Animatronic Baby