The Duchess of Cambridge may consider pre-marriage jibes of 'waitey Katie' or 'doors to manual' (a reference to her mother's former job as an air stewardess) as a relic of singledom, but it seems that some royal protocol dies hard.
The Queen's reported decision to update the Order of Precedence following the marriage of Prince William to Kate Middleton, has sparked fresh debate over the royal family.
In a move that makes it crystal clear that blue blood is born not made, sources have told British press that the rules insist that Kate must curtsy to those who are above her in royal status- and that includes getting on bended knee to Princesses Eugenie and Beatrice.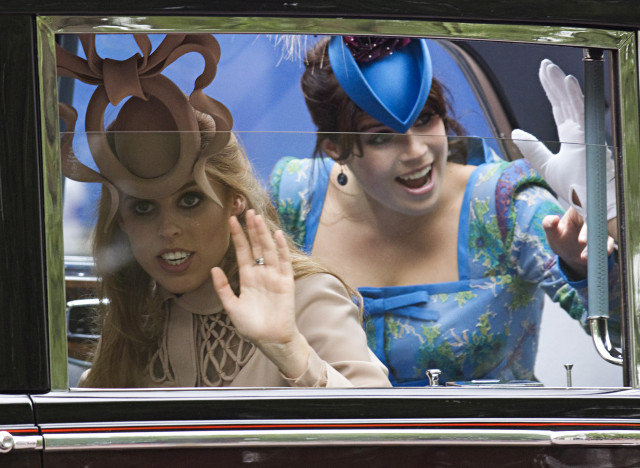 'Blood Princesses': Beatrice and Eugenie are of higher status, according to the Order of Precedence
The rules of court also demand that Kate must show reverence to "blood princesses" unless Prince William is with her, in which case the Duchess of Cambridge assumes the status of her royal husband.
The document clarifying Kate's status has now been passed round the royal household, according to The Telegraph. All a matter of status: the Duchess of Cambridge is considered to be of a higher rank when accompanied by Prince William
"Updating the Order of Precedence has been a simple matter of following the precedent set when the Prince of Wales married Camilla Parker Bowles," a royal source told the Telegraph.
Many may be disgruntled that it is popular Kate has to show reverence to the princesses many consider 'wayward.' However by all accounts it is the Countess of Wessex who is most put out. Kate, Duchess of Cambridge and Sophie, Countess of Wessex, who is married to Prince Edward
The Queen's new rules insist that Sophie will have to curtsy to Kate even when Prince William is not present. According to one royal source she was already peeved that Prince Charles marriage to Camilla Parker Bowles meant she was bumped from being one of the highest ranking women in the royal family.
Her Majesty changed the way the Order of Precedence worked after Charles' remarriage, in order that Princess Anne or Princess Alexandra would be seen on bended knee to Camilla when she wasn't escorted by Prince Charles.
The new Order also dictates who enters first into official events. Camilla and Kate could be left shivering and soggy outside as Princesses Eugenie and Beatrice are given first entrance into celebrations.
However the royal wives are often accompanied by their higher ranking husbands on official outings, meaning that it is a sight unlikely to be seen soon. Buckingham Palace declined to comment.
Earlier on HuffPost:
Loading Slideshow
(L-R) Camilla, Duchess of Cornwall, Prince Charles, Prince of Wales, Queen Elizabeth II, Prince William, Duke of Cambridge, Catherine, Duchess of Cambridge and Price Harry wave to the crowds from Buckingham Palace during the Diamond Jubilee carriage procession after the service of thanksgiving at St.Paul's Cathedral on the Mall on June 5, 2012 in London, England. For only the second time in its history the UK celebrates the Diamond Jubilee of a monarch. Her Majesty Queen Elizabeth II celebrates the 60th anniversary of her ascension to the throne. Thousands of wellwishers from around the world have flocked to London to witness the spectacle of the weekend's celebrations. (Photo credit: Dan Kitwood/Getty Images)

The Royal Air Force Aerobatic Team fly in formation over Buckingham Palace as The Royal family stand on the balcony on June 5, 2012 in London, England. For only the second time in its history the UK celebrates the Diamond Jubilee of a monarch. Her Majesty Queen Elizabeth II celebrates the 60th anniversary of her ascension to the throne. Thousands of wellwishers from around the world have flocked to London to witness the spectacle of the weekend's celebrations. (Photo credit: Peter Macdiarmid - WPA Pool /Getty Images)

Prince William, Duke of Cambridge, Prince Harry and Catherine, Duchess of Cambridge on the balcony of Buckingham Palace after the service of thanksgiving at St.Paul's Cathedral on June 5, 2012 in London, England. For only the second time in its history the UK celebrates the Diamond Jubilee of a monarch. Her Majesty Queen Elizabeth II celebrates the 60th anniversary of her ascension to the throne. Thousands of wellwishers from around the world have flocked to London to witness the spectacle of the weekend's celebrations. (Photo credit: Oli Scarff/Getty Images)

(L-R) Camilla, Duchess of Cornwall, Prince Charles, Prince of Wales, Queen Elizabeth II, Prince William, Duke of Cambridge, Catherine, Duchess of Cambridge and Price Harry wave to the crowds from Buckingham Palace during the Diamond Jubilee carriage procession after the service of thanksgiving at St.Paul's Cathedral on the Mall on June 5, 2012 in London, England. For only the second time in its history the UK celebrates the Diamond Jubilee of a monarch. Her Majesty Queen Elizabeth II celebrates the 60th anniversary of her ascension to the throne. Thousands of wellwishers from around the world have flocked to London to witness the spectacle of the weekend's celebrations. (Photo credit: Dan Kitwood/Getty Images)

British police lead flag waving crowds lining the monarch's route from the Houses of Parliament to Buckingham Palace to celebrate the Queen's Diamond Jubilee in London on June 5, 2012. Britain's Queen Elizabeth II wraps up four days of diamond jubilee celebrations with a thanksgiving service and ceremonial carriage procession in London, a formal contrast to the spectacular pop tribute staged outside Buckingham Palace the day before. (Photo credit: AFP PHOTO / JOHN MACDOUGALLJOHN MACDOUGALL/AFP/GettyImages)

Royal Air force Red Arrow display team fly pass Buckingham Palace in London where Britain Queen Elizabeth II watches from the palace balcony as part of a four-day Diamond Jubilee celebration to mark the 60th anniversary of Queen Elizabeth II accession to the throne, Tuesday, June 5, 2012. (Photo credit: AP Photo/Sang Tan)

Queen Elizabeth II travels by carriage to Buckingham Palace with Camilla, Duchess of Cornwall and Prince Charles, Prince of Wales after a lunch at Westminster Hall as part of the Diamond Jubilee celebrations.

Queen Elizabeth II travels through Trafalgar Square, London with the Prince of Wales and Duchess of Cornwall on route to Buckingham Palace during the Diamond Jubilee celebrations.

Queen Elizabeth II travels by carriage to Buckingham Palace with Camilla, Duchess of Cornwall and Prince Charles, Prince of Wales after a lunch at Westminster Hall as part of the Diamond Jubilee celebrations.

Queen Elizabeth II travels by carriage to Buckingham Palace with Camilla, Duchess of Cornwall and Prince Charles, Prince of Wales after a lunch at Westminster Hall as part of the Diamond Jubilee celebrations.

Queen Elizabeth II travels by carriage to Buckingham Palace with Camilla, the Duchess of Cornwall and the Prince Charles, the Prince of Wales after a lunch at Westminster Hall in London.

Queen Elizabeth II travels by carriage to Buckingham Palace with Camilla, Duchess of Cornwall and Prince Charles, Prince of Wales after a lunch at Westminster Hall as part of the Diamond Jubilee celebrations.

Queen Elizabeth II travels by carriage to Buckingham Palace with Camilla, Duchess of Cornwall and Prince Charles, Prince of Wales after a lunch at Westminster Hall as part of the Diamond Jubilee celebrations.

The Duchess of Cambridge arrives for a lunch at Westminster Hall in London with 700 guests on the final day of Queen Elizabeth II's Diamond Jubilee celebrations.

The Duke and Duchess of Cambridge travel in a carriage to Buckingham Palace along The Mall, London.

Catherine, Duchess of Cambridge attends a reception at Guildhall in central London for Queen Elizabeth II's Diamond Jubilee.

The Duke and Duchess of Cambridge travel in a carriage to Buckingham Palace along The Mall, London.

The Duchess of Cambridge arrives for a lunch at Westminster Hall in London with 700 guests on the final day of Queen Elizabeth II's Diamond Jubilee celebrations.

Prince Harry and the Duke and Duchess of Cambridge attend a service of thanksgiving to celebrate the Diamond Jubilee of Queen Elizabeth II at St Paul's Cathedral, London.

The Duke and Duchess of Cambridge leave Westminster Hall after a Diamond Jubilee Luncheon given for The Queen by The Livery Companies of The City of London.

Members of the public gather along Whitehall to try and get a glimpse of the Queen on her way back to Buckingham Palace, London as part of the Diamond Jubilee celebrations.

Prince Charles, Prince of Wales and Archbishop of York, Dr John Sentamu attend a reception at Guildhall in central London for Queen Elizabeth II's Diamond Jubilee.

Princess Beatrice attends a reception at Guildhall in central London for Queen Elizabeth II's Diamond Jubilee.

Britain's Queen Elizabeth II waves next to the Dean of St. Paul's David Ison as she leaves St Paul's Cathedral after the National Service of Thanksgiving in London on June 5, 2012. Britain's Queen Elizabeth II wraps up four days of diamond jubilee celebrations and festivities will conclude with a ceremonial carriage procession in London, a formal contrast to the spectacular pop tribute staged outside Buckingham Palace the day before. (Photo credit: IAN KINGTON/AFP/GettyImages)

Britain's Queen Elizabeth II waves as she leaves St Paul's Cathedral after the National Service of Thanksgiving in London on June 5, 2012. Britain's Queen Elizabeth II wraps up four days of diamond jubilee celebrations and festivities will conclude with a ceremonial carriage procession in London, a formal contrast to the spectacular pop tribute staged outside Buckingham Palace the day before. (Photo credit: IAN KINGTON/AFP/GettyImages)

Britain's Queen Elizabeth II walks down the staris next to the Dean of St. Paul's David Ison as she leaves St Paul's Cathedral after the National Service of Thanksgiving in London on June 5, 2012. Britain's Queen Elizabeth II wraps up four days of diamond jubilee celebrations and festivities will conclude with a ceremonial carriage procession in London, a formal contrast to the spectacular pop tribute staged outside Buckingham Palace the day before. (Photo credit: IAN KINGTON/AFP/GettyImages)

Britain's Queen Elizabeth II (Top C) and members of the Royal Family leave St Paul's Cathedral in London, following a service of thanksgiving on June 5, 2012, during the Queen's diamond jubilee. Queen Elizabeth II attended the final day of celebrations for her diamond jubilee Tuesday, but the pomp and splendour were marred by the absence of her husband Prince Philip after he was hospitalised. (Photo credit: JEFF J MITCHELL/AFP/GettyImages)

Overall inside view taken as Britain's Queen Elizabeth II (bottom) arrives at St Paul's Cathedral for National Service of Thanksgiving to celebrate the Queen's Diamond Jubilee in London on June 5, 2012. Britain's Queen Elizabeth II wraps up four days of diamond jubilee celebrations and festivities will conclude with a ceremonial carriage procession in London, a formal contrast to the spectacular pop tribute staged outside Buckingham Palace the day before. (Photo credit: JEFF J MITCHELL/AFP/GettyImages)

Britain's Prime Minister David Cameron (front R) and his wife Samantha Cameron (front L) and Deputy Prime Minister Nick Clegg (R) and his wife Miriam Gonzales leave St Paul's Cathedral after a National Service of Thanksgiving to celebrate the Queen's Diamond Jubilee in London on June 5, 2012. Britain's Queen Elizabeth II wraps up four days of diamond jubilee celebrations and festivities will conclude with a ceremonial carriage procession in London, a formal contrast to the spectacular pop tribute staged outside Buckingham Palace the day before. (Photo credit: STEFAN ROUSSEAU/AFP/GettyImages)

Diamond Jubilee celebrations

Queen Elizabeth II holds a bouquet of flowers as she returns to Buckingham Palace after attending a National Service of Thanksgiving and a Lunch in honour of her Diamond Jubilee.

Diamond Jubilee celebrations

Queen Elizabeth II, followed by the Prince of Wales, the Duchess of Cornwall, the Duchess of Cambridge and the Duke of Cambridge and Prince Harry, leave Westminster Hall at the Palace of Westminster, London, following the Diamond Jubilee Lunch.

Diamond Jubilee celebrations

Queen Elizabeth II, followed by the Prince of Wales, the Duchess of Cornwall, the Duchess of Cambridge and the Duke of Cambridge and Prince Harry, leave Westminster Hall at the Palace of Westminster, London, following the Diamond Jubilee Lunch.

Camilla, Duchess of Cornwall attends a reception at Guildhall in central London for Queen Elizabeth II's Diamond Jubilee. (Photo credit: Chris Jackson/PA Wire)

Princess Beatrice (left) and Princess Eugenie leave following a service of thanksgiving, at Saint Paul's Cathedral, in central London. (Photo credit: Dominic Lipinski/PA Wire)

Zara Phillips leaves following a service of thanksgiving, at Saint Paul's Cathedral, in central London. (Photo credit: Dominic Lipinski/PA )

Prime Minister David Cameron reads during the service of thanksgiving for the Diamond Jubilee of Queen Elizabeth II, at St Paul's Cathedral, London. (Photo credit should read: Tim Ireland/PA Wire)

Crowds watch as the royal motorcade passes along Parliament Street, in London. (Photo credit should read: Matthew Lloyd/PA Wire)

A service of thanksgiving to celebrate the Diamond Jubilee of Queen Elizabeth II takes place at St Paul's Cathedral, London. (Photo credit: Murray Sanders/Daily Mail/PA Wire)

Prime Minister David Cameron and wife Samantha Cameron attend a service of thanksgiving to celebrate the Diamond Jubilee of Queen Elizabeth II at St Paul's Cathedral, London. (Photo credit: Murray Sanders/Daily Mail/PA Wire)

(left - right) Prime Minister David Cameron, chats with his wife Samantha Cameron, alongside Nick Clegg and his wife Miriam Gonzalez Durantez and Foreign Secretary, William Hague and his wife Ffion Hague, as they attend a National Service of Thanksgiving at St Paul's Cathedral in central London, as part of four days of celebrations to mark the Diamond Jubilee. (Photo credit: Joel Ryan/PA Wire)

Labour leader Ed Miliband attends a service of thanksgiving to celebrate the Diamond Jubilee of Queen Elizabeth II at St Paul's Cathedral, London. (Photo credit should read: Suzanne Plunkett/PA Wire)

Princess Eugenie attends a reception at Guildhall in central London for Queen Elizabeth II's Diamond Jubilee. (Photo credit: Chris Jackson/PA Wire)

Sophie, Countess of Wessex attends a reception at Guildhall in central London for Queen Elizabeth II's Diamond Jubilee. (Photo credit: Chris Jackson/PA Wire)

The Duchess of Cornwall and the Prince Harry, arrive at Westminster Hall at the Palace of Westminster, London, for the Queen's Diamond Jubilee Lunch. (Photo credit: Nick Ansell/PA Wire)

Queen Elizabeth II, followed by the Prince of Wales, the Duchess of Cornwall, the Duchess of Cambridge and the Duke of Cambridge, arrives at Westminster Hall at the Palace of Westminster, London, for the Diamond Jubilee Lunch. (Photo credit: Nick Ansell/PA Wire)

Queen Elizabeth II, at Westminster Hall at the Palace of Westminster, London, during her Diamond Jubilee Lunch. (Photo credit: Nick Ansell/PA Wire)

Prime Minister David Cameron, Samantha Cameron and Deputy Prime Minister Nick Clegg attend a service of thanksgiving to celebrate the Diamond Jubilee of Queen Elizabeth II takes place at St Paul's Cathedral, London. (Photo credit: Suzanne Plunkett/PA Wire)

British Chancellor of the Exchequer George Osborne (R) and his wife Frances (L) arrive for a national service of thanksgiving for the Queen's Diamond Jubilee at Saint Paul's Cathedral in London on June 5, 2012. Britain's Queen Elizabeth II wraps up four days of diamond jubilee celebrations with a thanksgiving service and ceremonial carriage procession in London, a formal contrast to the spectacular pop tribute staged outside Buckingham Palace the day before. (Photo credit: STEFAN ROUSSEAU/AFP/GettyImages)

British Foreign Secretary William Hague (L) and his wife Ffion (R) arrive for a national service of thanksgiving for the Queen's Diamond Jubilee at Saint Paul's Cathedral in London on June 5, 2012. Britain's Queen Elizabeth II wraps up four days of diamond jubilee celebrations with a thanksgiving service and ceremonial carriage procession in London, a formal contrast to the spectacular pop tribute staged outside Buckingham Palace the day before. (Photo credit: STEFAN ROUSSEAU/AFP/GettyImages)

Britain's Prince William (L) and Catherine, Duchess of Cambridge (R) leave Saint Paul's Cathedral after a national service of thanksgiving for the Queen's Diamond Jubilee in London on June 5, 2012. Britain's Queen Elizabeth II wraps up four days of diamond jubilee celebrations with a thanksgiving service and ceremonial carriage procession in London, a formal contrast to the spectacular pop tribute staged outside Buckingham Palace the day before. (Photo credit: IAN KINGTON/AFP/GettyImages)

Britain's Queen Elizabeth II (R) follows the Sword of State carried into St Paul's Cathedral for a national service of thanksgiving for the Queen's Diamond Jubilee in London on June 5, 2012. Britain's Queen Elizabeth II wraps up four days of diamond jubilee celebrations with a thanksgiving service and ceremonial carriage procession in London, a formal contrast to the spectacular pop tribute staged outside Buckingham Palace the day before. (Photo credit: JEFF J MITCHELL/AFP/GettyImages)