Britain is blocking reconciliation on the island of Ireland by refusing to face up to its role in the violence of the Troubles, Martin McGuinness said at Westminster on Thursday.
The senior Sinn Fein figure addressed an audience in Portcullis House at the Houses of Parliament in London after his historic handshake with the Queen in Belfast yesterday.
But while he hailed that moment as a vital step in healing relations between Protestants and Catholics, he said efforts to broaden the process of reconciliation were being hampered by the British government.
Mr McGuinness, a former IRA commander and now deputy First Minister in Northern Ireland, said David Cameron had failed to involve himself fully in the efforts to build on the peace process, and accused his government of making "a series of stupid and unhelpful decisions".
The leading republican said: "I genuinely regret every single life that was lost during that conflict and today I want every family who lost a loved one to know that your pain is not being ignored and I am willing to work with others to finding a way to deal with our past so that we can complete our journey to true reconciliation."
He added: "National reconciliation will be built on the firm foundation of mutual respect and decisive actions. That is the context within which I met Queen Elizabeth this week.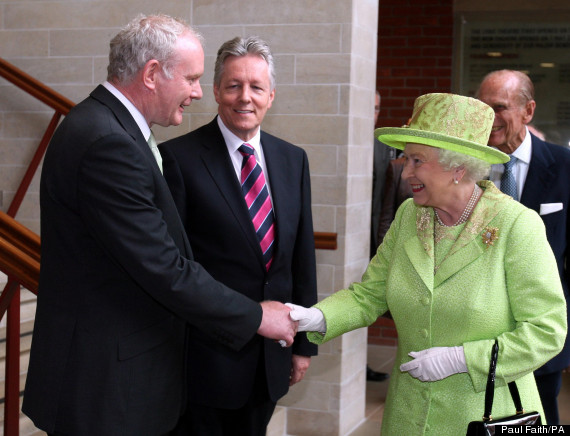 Historic: The handshake took place within Belfast's Lyric theatre Hands of history: The Queen's gloved hand held Mr McGuinness's for four seconds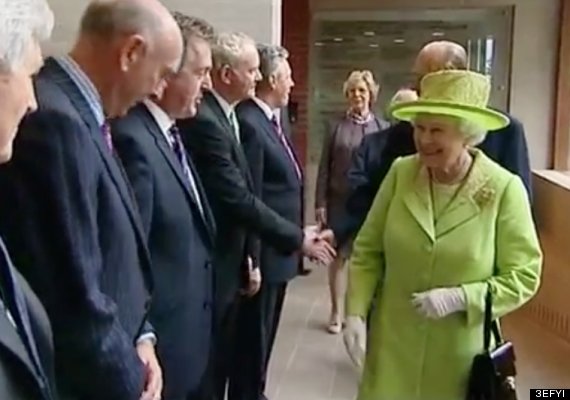 Prince Philip can been seen behind the Queen shaking hands with McGuinness
"It was in a very pointed, deliberate and symbolic way of offering the hand of friendship to unionists through the person of Queen Elizabeth for which many unionists have a deep affinity. It is an offer I hope many will accept in the same spirit it was offered.
"Unfortunately, to date, the British State has refused to even acknowledge its role as a combatant in the conflict.
"That position is no longer tenable as we move forward. It is insulting to victims of events like Bloody Sunday in my own city when 14 people were killed and it is insulting to people's intelligence.
"It is also excluding the British state from assisting a genuine process of national reconciliation in Ireland. A process which, though embryonic, is nevertheless under way.
"There are issues that have not been brought to a conclusion, specifically the issue of the legacy of the conflict. The British government has a big role to play in that."
Mr McGuinness said that he and his unionist partner in the Stormont power-sharing administration, First Minister Peter Robinson, had met the US President Barack Obama more times than they have met Mr Cameron.
The Sinn Fein figure accused the government of "stupid and unhelpful decisions" including the imprisoning of high-profile republicans who had been released on licence, and the failure to fulfil a commitment to hold a public inquiry into the state role in the murder of Belfast solicitor Pat Finucane.
He also condemned the refusal to grant an independent probe into the deaths of 11 civilians in Belfast - including a mother of eight and a Catholic priest - who were shot dead by members of the Parachute Regiment in what has become known as the Ballymurphy Massacre in 1971.
Mr McGuinness said: "This lack of engagement by David Cameron is a serious mistake (and) may provide a rationale for some of the damaging decisions made by (Secretary of State) Owen Paterson during his tenure at the NIO (Northern Ireland Office)."
The Queen's handshake with Mr McGuinness came against the background of her own family's loss at the hands of the IRA, in the 1979 bombing that killed Lord Mountbatten. The coffin of Lord Mountbatten at his funeral in 1979
But when the Queen paid her first state visit to the Republic of Ireland last year, she was praised for expressing the wish that history had been different for both Britain and Ireland, and expressed concerns for all the victims of violence.
Mr McGuinness said he was impressed by the remarks and his party said that during his private meeting with the Queen he "emphasised the need to acknowledge the pain of all victims of the conflict and their families".
The Deputy First Minister told his audience in Westminster that his party had already started a process to reach-out to unionists and to discuss how to reconcile Catholic and Protestant communities with the legacy of the Troubles.
He said Britain's policies in Ireland were a history of "colonialism, plantation, division and partition" which he said had been bad for both islands and sowed the seeds of conflict.
He said Sinn Fein's abstentionist MPs would be playing a new role lobbying opinion in Britain in favour of fostering reconciliation in Ireland and for the reunification of the island's two jurisdictions.
Referring to the era when Ireland was divided into two states, he added: "I also realise that the Ireland of 1922 is not the Ireland of 2012. But that does not mean that the current British government does not have an obligation to deal with the legacy of previous governments' failures with regard to Ireland. If you continue to ignore an inherited problem you become part of the problem itself."
Loading Slideshow
Would you shake hands with this man?

A shake of the hand is worth one with the Bush.

I DID shake hands with that man. Bill Clinton offers the hand of peace.

No U-turn here. David Cameron extends his charm in the direction of Mr McGuinness.

Gordon Brown manages to avoid looking too happy as he exchanges a shake with McGuinness.

Denied?

Of course not. A smiling Blair seems happy to shake on it.

You can take my shake, but you can't take my freedom. Alex Salmond shakes it out.

McGuinness (left) and the Democratic Unionist Party's Ian Paisley (right) with European Comission president Jose Manuel Barroso at Stormont, Belfast.

The Fourway: A complicated mess of arms, palms and charms as McGuinness, Gordon Brown, Ian Paisley and Bertie Ahern get it on.

A classic Threeway: Conor Murphy MLA, Minister for Regional Development along with Minister for Foreign Affairs Dermot Ahern TD and Deputy First Minister Martin McGuinness after officially opening the new A1N1 Newry Dundalk Link Road

McGuinness meets Senan Walsh from Co Killkenny, during a visit to the National Ploughing Championships

Irish Presidential candidates Martin McGuinness (right) and David Norris (left) shake hands after their News at One debate.

Irish Presidential candidates Sean Gallagher (left) and Sinn Fein's Martin McGuinness bump into each other during a visit the National Ploughing Championships in Athy Co Kildare.

McGuinness and Gerry Adams (right) arrive for a press conference at the Irish Writers Museum in Dublin

McGuinness (right) shakes hands with Northern Ireland's Education Minister John O'Dowd

McGuinness greets Kerry fans on their way to the All Ireland football final

The Reverend David Latimer (left), a Londonderry Presbyterian Minister with Deputy First Minister Martin McGuinness (right) shake hands at the Waterfront Hall in Belfast.

McGuinness speaks to Lady Sylvia Hermon as Taoiseach Enda Kenny talks to mourners at the funeral of PSNI Constable Ronan Kerr in Beragh in Co Tyrone.

Mrs Sally Brady with deputy First Minister Martin McGuinness (left) and her son, Sinn Fein Assembly member Mickey Brady in Stormont.

Rhodri Morgan, (left) greets Northern Ireland Deputy First Minister Martin McGuinness at the British-Irish council meeting in Swalec Stadium, Cardiff, Wales.

McGuinness (left) and First minister Ian Paisley (centre) welcome US Ambassador to Ireland Tom Foley to the USNI Investment Conference at Stormont Parliment in Belfast.

McGuinness hands with newly appointed Victims Commissioner, Bertha McDougal. She was introduced along with 3 other commissioners at Stormont.

McGuinness arrives at Government Buildings in Dublin for talks with Taoiseach Bertie Ahern.

Ian Paisley (centre) and Deputy First Minister Martin McGuinness (left), welcome Taoiseach Bertie Ahern to the North-South ministerial conference at the City Hotel, Armagh.

Ian Paisley (left), and new Deputy First Minister Martin McGuinness (right), welcome to Stormont Consul General of the Chinese Embassy in London, Yuansong Jiang (second right) and second Secretary Consul Chinese Embassy Hongmei Liu (second left).

McGuinness and Gerry Adams arrive at Stormont Assembly in Belfast.

Dermot Ahern with Martin McGuinness (right) of Sinn Fein at the Rathmore shopping centre.

McGuiness (C) meets Colin Parry (R) and Wilf Bal at The Tim Parry Johnathan Ball Peace Centre in Warrington. The Parry's 12 year old son Tim was killed by an IRA bomb in Warrington. * town centre in 1993 along with three year old Johnathan Ball.

Gerry Adams, left, with Martin McGuinness leaving Castle Buildings, Belfast, after their meeting with Peter Mandelson.

Gerry Adams (C) and Martin McGuinness (R) welcome Roelf Meyer, a key figure in the South African peace process, to Castle Buildings in Belfast, for talks on the on the Mitchell review of the implementation of the Good Friday Agreement.