Italian papers have seized on Italy's win over Germany in the Euro 2012 semi-final to launch a stinging attack on Angela Merkel, as the German leader gave into demands from Rome over bailing out Spanish banks.
The German chancellor is not overly popular in Rome, having previously dismissed Italian and Spanish pleas that the eurozone deliver urgent financial aid.
But in the early hours of Friday Merkel relented to Italian and Spanish requests for a less stringent bailout deal for Madrid's banks following a series of tense talks in Brussels.
According to the Daily Telegraph, Italy's prime minister Mario Monti celebrated the agreement as a "very important deal for the future of the EU and the eurozone".
Coupled with Italian footballer Mario Balotelli's double strike against the Germans in Warsaw last night, it appears the Italian press could not resist making highly personal attacks on Merkel.
The il Giornale newspaper led with a picture of the Italian team celebrating with the headline 'Ciao Ciao Culona' which roughly translates as 'Bye Bye Lardarse'.
While the equally polite Libero ran with 'VaffanMerkel', or, 'F**k Off Merkel'.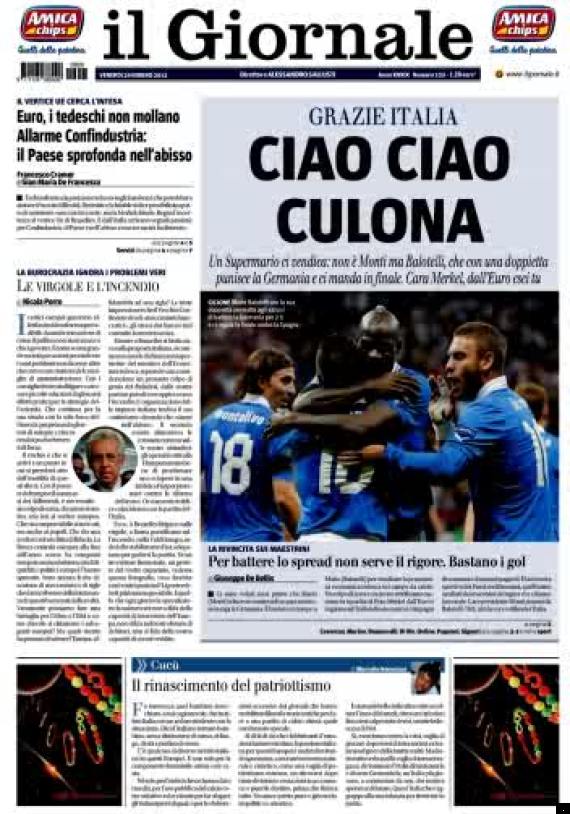 German newspaper Der Spiegal reported that Monti emerged from the late-night negotiations as a "clear victor" having "broken Chancellor Angela Merkel's resistance just as Italian striker Mario Balotelli cracked the German defense on the pitch".
The latest eurozone deal saw EU leaders agree that Spain's tottering banks should have direct access to EU bail out funds without adding to its government's debts.
The agreement in Brussels by the leaders of the 17 eurozone nations came in the early hours of the morning after Merkel appeared finally to relent in the face of concerted pressure.
She had come to Brussels insisting that there would be no short term fixes on the table.
However Spanish prime minister Mariano Rajoy and Italy's Monti made clear that they would block further progress at the unless they received assistance to curb their soaring borrowing costs.
Crucially, they appeared to have been backed by French president Francois Hollande, attending his first EU summit, who has said tough austerity measures to cut deficits must be backed by support for growth.
The "breakthrough" was announced by European Council President Herman van Rompuy after David Cameron and the leaders of the other nine non-eurozone members had left the summit, leaving the single currency bloc to thrash out a deal.
Markets rose following the news, with the FTSE 100 Index climbing 78 points - a 1.4% increase.
It is not the first time Merkel has been on the receiving end of an abusive European front page. In the run up to the Euro 2012 quarter-final between Germany and Greece, the Greek newspaper Dimokratia ran a picture depicting Merkel as Hitler.
For their part the German papers were a bit more restrained in their taunts, with Bild running the headline 'Bye, Greece. Today we cannot save you!'.