French president Francois Hollande has performed an apparent U-turn and announced there will be no new taxes on second homes in France.
The announcement following a summit at Downing Street on Tuesday afternoon appeared to come as a significant relief for David Cameron, who was standing beside him at a news conference.
Hollande pointed out to reporters that the top rate of tax is lower in France than in the United Kingdom - 41% compared with 45%, but said "The tax dimension, whatever people may say, is not the main difference between us."
Hollande was not clear what the main difference actually was, but insisted: "We aren't going to tax holiday homes."
David Cameron looked at the reporters, perhaps expecting them to start scribbling furiously, but it was immediately clear that Hollande had been misunderstood through the translator, everyone thought he was confirming there would be a tax.
The PM appeared to sense that clarity was needed. "I have a press officer who's French and a chief of staff who has a French wife, and an ambassador who has a home in Normandy" said Cameron, "So they'll be enormously relieved to hear this."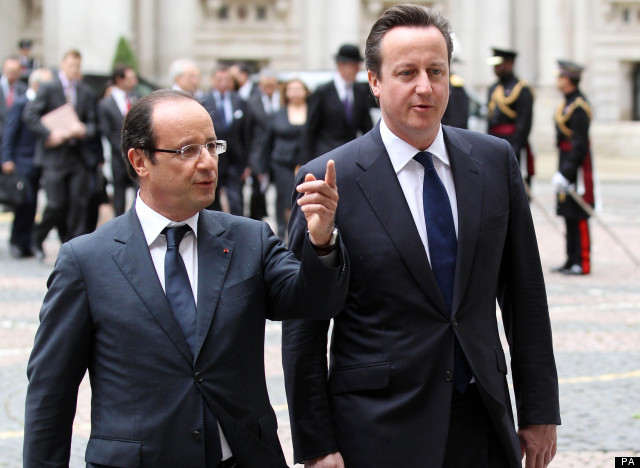 The British PM and French President are meeting for the first time
More than 200,000 British-owned properties in France were thought to be at risk of a form of mansion tax after Francois Hollande included it in a raft of French tax-raising measures last week.
This is not the first time a French president has U-turned on a tax on overseas homes in France. Nicolas Sarkozy performed a similar U-turn last year after both British homeowners and French ex-pats complained.
Hollande is facing his own budget deficit problems, although the black hole in France's finances is smaller than Britain's. Newly-elected Hollande has opted to tackle the French deficit with a mixture of tax-hikes on the rich and public spending cuts.
Hollande's decision to point out that rich French people pay lower income tax than their UK counterparts seemed designed to make a point in the French media.
He also dismissed speculation that he was angry with Cameron, who recently said he would "roll out the red carpet" to French taxpayers who might want to emigrate to Britain after the French tax hikes.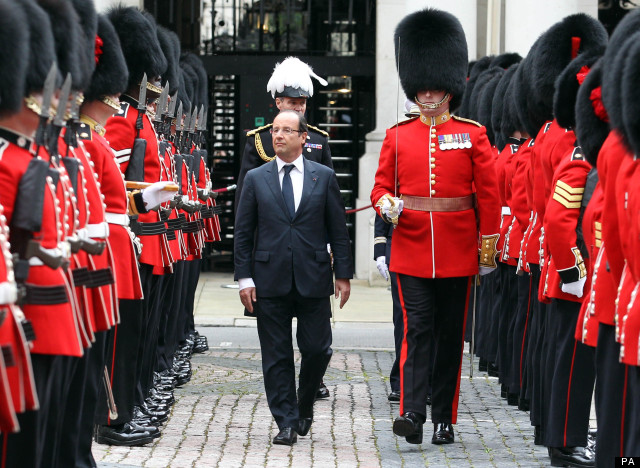 Hollande inspects the attending guard of honour, formed by the Coldstream Guards
"I didn't feel I was offended but I thought it was a joke," said Hollande. "I like humour, particularly British humour."
Of the two men Francois Hollande gave away far more details on their discussions earlier in the day than Cameron, who merely said there had been a "packed agenda".
Hollande was much more forthcoming on details, saying that the UK and France were co-operating with the research and development of unmanned military drones and were sharing intelligence on Iran and general counter-terrorism operations.
Hollande also indicated that he wanted David Cameron to send an official representative to France to consult on the preparation of a French white paper on defence, particularly to look at how the two countries' military businesses could work together further.
Reporters were left with a sense that if the two men were at odds on anything, it was over the future of Europe. Hollande appeared to wince slightly when Cameron said: "We had a lot of conversations, there is a good understanding that Europe is changing very fast."
"We're not going to agree on every detail," Cameron acknowledged.
Hollande said in reply: "We may have sometimes different views but we attended the European Council together and saw eye to eye on the growth compact.
"We are well aware that improving our public accounts should come together with a growth policy," Hollande said.
The French president will continue his brief trip to Britain later on Tuesday with "a cup of tea with the Queen" at Winsor Castle. He will next be in the UK for the Olympics from the 30 July.
Loading Slideshow