There are many ways of making YouTube gold, but director Ben Conrad opted for the following method – he took one professional rally driver – Ken Block – plonked him in a rally-spec Ford Fiesta, sealed off large parts of San Francisco – and told him to take his driving skills to the limit.
The result is pure alchemy. Well, for petrol-heads, at least.
Nearly four million of them, so far, have watched Conrad's Gymkhana Five film, which showcases Block's skills in spectacular fashion.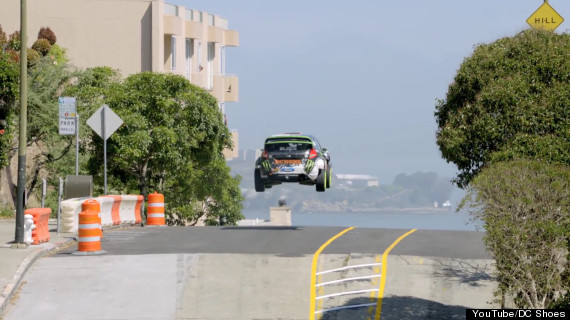 We have take-off: Ken Block gets some air
The car he's driving is an absolute beast – it has 650 horses under the bonnet and can hit 60mph in 1.8 seconds, but Block, founder of DC Shoes and the Monster World Rally Team, has it completely tamed.
He hurtles along the city streets at breathtaking speeds, pulls off massive drifts and uses those famously steep suburban streets as take-off ramps.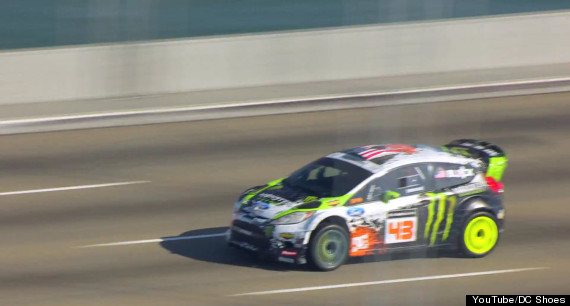 The Ford Fiesta can hit 60mph in 1.8 seconds
At one point he even manages to send the car airborne – sideways.
And in the city centre he performs a kind of rally-car ballet, spinning the Fiesta around two moving buses in a figure-of-eight pattern.
The precision of his driving is just amazing.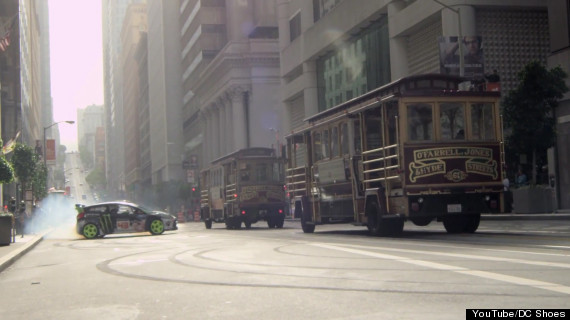 Catch his drift? Block spins around the local traffic
And Conrad, who shot the video over four days, makes sure that every angle is covered.
Viewers see the jumps in Gone-In-60-Seconds-style slow motion, the drivers point of view and even shots of the shock absorbers as the car bounces down residential streets.
See the action for yourself below and click here to see other videos in the series.