Pasta, how do I love thee? Let me count the ways. It's a staple of every student's kitchen, a raw material in children's art. It enjoys an illicit romance with my waistline and is responsible for engineering the Lady and the Tramp's first smooch.
It's also an astonishing design feat of elegant contours and mathematical complexity.
Scroll down for a mesmerising gallery of pasta designs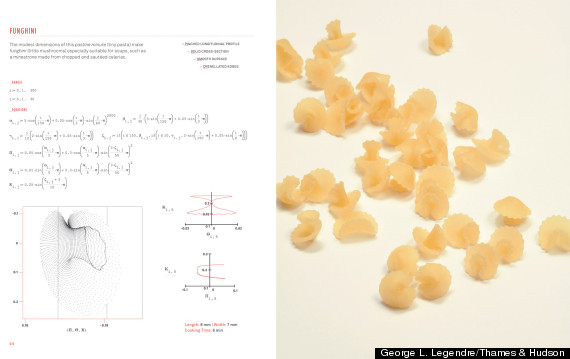 Not just a pretty pasta: The mathematical and geometric properties of funghini are revealed
The etymology, geographical origin and process of manufacture is set out for each shape in both equation and diagram form, as well photographic.
First published in 2011, this unique book and its mesmerising illustrations humanises mathematics and might even encourage you to use your own noodle.
Also featuring a "family tree" grouping the 92 types according to their mathematical and geometric properties, this may not be a cookbook but it will leave your mouth watering.
Pasta Design By George L. Legendre
SUBSCRIBE TO & FOLLOW UK DAILY BRIEF