Dramatic pictures have emerged showing Thursday's desperate rescue mission in the Alps following the avalanche near the French resort of Chamonix that killed nine people.
The avalanche hit at around 5am after 28 climbers attempted to summit Mount Maudit, near Mount Blanc.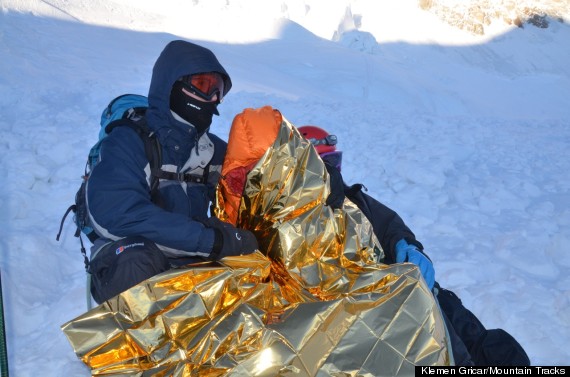 The rescuers reacted quickly after the huge avalanche hit the climbers
The pictures were taken 20 minutes after the accident by Klemen Gricar, a UIAGM
Mountain Guide, and show rescue workers holding shocked survivors in the wake of the huge snowfall.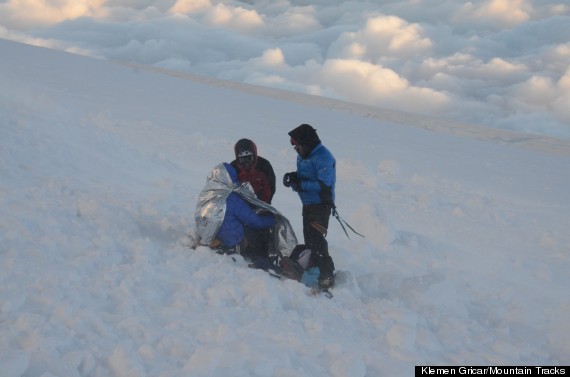 The dramatic rescue mission in the French Alps
Mont Maudit is the third highest peak in the Mont Blanc massif range.
Three Britons, two Germans, two Swiss and two Spaniards are believed to be among the dead. It is understood 28 climbers from several countries were taking part in the expedition.
Christian Trommsdorff, vice president of the French Guides Association, said: "Unfortunately this morning there's been a big slab avalanche."
"We don't know exactly how it was triggered. It is at fairly high altitude there, so it is a snow avalanche."
The injured and dead are thought to be climbers who had been roped together in several groups when the avalanche struck.
French Interior Minister Manuel Valls visited the area and flew over the avalanche site. Speaking at a press conference afterwards, he said: "We are still searching for those who have disappeared.
"My thoughts are with those victims, with the British and Spanish and German victims, Swiss victims, and my thoughts are with their families who have discovered this painful tragedy... is a personal one.
"We have seen many accidents on the Mont Blanc mountain but we should note that the number of victims and those who have disappeared and the injured is very high. This accident is catastrophic."
A spokeswoman for the prefecture said 28 people left a climbing hut to attempt the route. Some had crossed the path of the avalanche before it hit and others were able to turn back.
The search for those missing has now been called off due to poor weather but it is expected to resume on Friday.
Pictures of the dramatic rescue attempt:
Loading Slideshow
Photos from the accident on Mont Maudit on Thursday, taken 20 minutes after the accident by Klemen Gricar, UIAGM Mountain Guide Credit: Klemen Gricar/Mountain Tracks

Photos from the accident on Mont Maudit on Thursday, taken 20 minutes after the accident by Klemen Gricar, UIAGM Mountain Guide Credit: Klemen Gricar/Mountain Tracks

Photos from the accident on Mont Maudit on Thursday, taken 20 minutes after the accident by Klemen Gricar, UIAGM Mountain Guide Credit: Klemen Gricar/Mountain Tracks

Photos from the accident on Mont Maudit on Thursday, taken 20 minutes after the accident by Klemen Gricar, UIAGM Mountain Guide Credit: Klemen Gricar/Mountain Tracks

Photos from the accident on Mont Maudit on Thursday, taken 20 minutes after the accident by Klemen Gricar, UIAGM Mountain Guide Credit: Klemen Gricar/Mountain Tracks

Photos from the accident on Mont Maudit on Thursday, taken 20 minutes after the accident by Klemen Gricar, UIAGM Mountain Guide Credit: Klemen Gricar/Mountain Tracks

Photos from the accident on Mont Maudit on Thursday, taken 20 minutes after the accident by Klemen Gricar, UIAGM Mountain Guide Credit: Klemen Gricar/Mountain Tracks

Photos from the accident on Mont Maudit on Thursday, taken 20 minutes after the accident by Klemen Gricar, UIAGM Mountain Guide Credit: Klemen Gricar/Mountain Tracks

The avalanche occurred near the French ski resort of Chamonix

Emergency crews airlift a victim of the avalanche to hospital

Medics rush a gurney containing a body through doors

A helicopter surveys the scene of the avalanche

Rescuers at the scene

Rescuers at the scene

Rescuers at the scene

Rescuers at the scene