A bomb blast in the Syrian capital Damascus has killed the brother-in-law of President Bashar al-Assad and the country's intelligence chief, state TV has reported.
Assef Shawkat, the president's brother-in-law and the Syrian intelligence chief, was reportedly killed alongside defence minister Daoud Rajiha after a blast struck the National Security Bureau on Wednesday morning.
There are also reports that former defence minister Hasan Turkmani was also killed in this morning's blast. The country's interior minister was said to have been wounded in the explosion.
State-run TV said the "terrorist explosion", which it described as a "suicide bomb" targeted the national security building in Damascus during a meeting of ministers and a number of heads of agencies.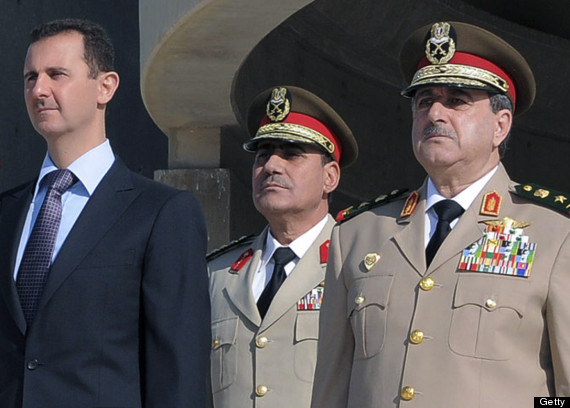 Syrian President Bashar Assad, left, stands next to Daoud Rajha, right
Two groups - Liwa al-Islam (The Brigade of Islam), and the Free Syrian Army - have claimed responsibility for the blast, according to Al Jazeera.
A statement on the Facebook page of Liwa al-Islam said it "targeted the cell called the crisis control room in the capital of Damascus," while a spokesperson for the Free Syrian Army said: "This is the volcano we talked about, we have just started."
A member of the Free Syria Army told CNN that the bomb was not a suicide attack, but an explosive device that was activated inside the meeting room via a remote control.
Hours after the attacks, more explosions were heard in the Syrian capital, close to the base of Assad's army's 4th battalion, Reuters reported.
Army chief of staff Fahed al-Jasem al-Freij has already been named as the new defence minister, Syrian state TV reports. The speedy appointment of a new minister has fuelled rumours that the regime was orchestrated the attack to take out potential defectors.
However Nadim Shehadi, associate fellow at Chatham House, told The Huffington Post UK the incident could have serious political implications.
"Assef Shawkat is one of the real pillars of the regime, head of one of the branches of intelligence. This is getting very close to the core of the regime," he said.
"This whole battle of Damascus, the defections, the bomb this morning has an effect on the legitimacy of the regime and will affect everybody's calculations. At this stage I think it's the calculations of the Russians that matter the most.
"The regime will always have the upper hand militarily. So it's the political impact - whether this could lead to more defections. Every incident affects people's perceptions of the regime."
Meanwhile Channel 4 correspondant Alex Thompson tweeted: "Today's Damascus attack is by far the most significant penetration of Syrian government security of the war."
The blast comes days after the Red Cross has declared the situation in Syria a civil war, meaning both sides of the conflict can be prosecuted for war crimes.
Syria's capital has seen a sharp escalation in clashes between rebels and government troops over the last few weeks, as the 16-month conflict between Assad's forces and activists attempting to overthrow the regime intensify.
Foreign Secretary William Hague condemned Wednesday's attack, saying: "The situation in Syria is clearly deteriorating. All the members of the UN Security Council have a responsibility to put their weight behind the enforcement of Joint Special Envoy Kofi Annan's plan to end the violence."
US defence chief Leon Panetta said he was "very concerned" by increasing violence in Syria, and emphasised the need to increase international pressure on Assad, reported Reuters.
The attack comes one day after Syria's most high-profile defector, Nawaf Fares, the Syrian regime's former ambassador to Iraq, said President Assad would not hesitate to use chemical weapons "if cornered".
Defence Secretary Philip Hammond in Washington told a Pentagon press conference he was worried that chemical weapons could be used in the conflict.
On Tuesday Fares told the BBC: "There is information, unconfirmed information of course, that chemical weapons have been used partially in the city of Homs."
09/09/2012 12:25 PM EDT
Syria Blasts Aleppo By Air
09/05/2012 7:50 AM EDT
Syrian City In Flames
08/25/2012 1:45 PM EDT
Lebanese Pilgrim Freed Hussein Ali Omar, 60, one of 11 Lebanese Shiite pilgrims that Syrian rebels have been holding for three months in Syria, hugs his mother, right, upon arrival at his house in the southern suburb of Beirut, Lebanon, 2012. Syrian rebels freed Omar on Saturday in a move aimed at easing cross-border tensions after a wave of abductions of Syrian citizens in Lebanon. The Shiite pilgrims were abducted May 22 after crossing into Syria from Turkey on their way to Lebanon. (AP Photo/Hussein Malla)
08/24/2012 12:22 PM EDT
Daraya, Syria This image made from video and released by Shaam News Network and accessed Thursday, Aug. 23, 2012, purports to show the funeral of children in Daraya, near Damascus, Syria. Syrian troops backed by tanks and helicopters broke into a Damascus suburb on Thursday following two days of shelling and intense clashes as part of a widening offensive by President Bashar Assad's forces to seize control of parts of the capital and surrounding areas from rebel fighters, activists said. At least 15 people were killed in the offensive on Daraya, only a few miles (kilometers) southwest of Damascus. (AP Photo/Shaam News Network SNN via AP video)
08/24/2012 11:05 AM EDT
Lebanon Sees Heaviest Clashes In Months
Clashes between Assad supporters and opponents of the Syrian regime killed two people in Lebanon on Friday, the Associated Press reports. 17 people were injured.
The AP gives more context:
Syria was in virtual control of its smaller neighbor for many years, posting tens of thousands of troops in Lebanon, before withdrawing under pressure in 2005. Even without soldiers on the ground, Syria remains influential, and its civil war has stirred longstanding tensions that have lain under Lebanon's surface.
Read more on HuffPost World.
08/24/2012 11:02 AM EDT
Tripoli, Lebanon A Sunni gunman fires a gun during clashes that erupted between pro and anti-Syrian regime gunmen in the northern port city of Tripoli, Lebanon, Friday, Aug. 24, 2012. The latest round of fighting first erupted on Monday in northern Lebanon and at least 15 have been killed in Tripoli this week and more than 100 have been wounded in fighting that is a spillover from Syria's civil war. (AP Photo/Hussein Malla)
08/24/2012 11:00 AM EDT
Refugee Numbers Soar
@ KenRoth :

UN reports 200,000 #Syria refugees, 30,000 in past week alone. Many more internally displaced not counted. http://t.co/BaM6u59j
08/23/2012 2:00 PM EDT
Azaz, Syria Syrian boy Musataf Alhafiz, 11, who fled his home with his family due to fighting between the Syrian army and the rebels, carries his brother Saif, 9 months, while he and others take refuge at the Bab Al-Salameh border crossing, in hopes of entering one of the refugee camps in Turkey, near the Syrian town of Azaz, Thursday, Aug. 23, 2012. Thousands of Syrians who have been displaced by the country's civil war are struggling to find safe shelter while shelling and airstrikes by government forces continue. (AP Photo/Muhammed Muheisen)
08/23/2012 12:09 PM EDT
Heaviest Bombardment This Month
Helicopter gunships shelled Damascus on Wednesday as Syrian security forces intensified their assault on the capital. Activists report that at least 47 people were killed.
"The whole of Damascus is shaking with the sound of shelling," a woman in the neighborhood of Kfar Souseh told Reuters.
Read more on HuffPost World.
08/23/2012 10:56 AM EDT
Al Aan-Reporter Jenan Moussa Tweets:
SUBSCRIBE TO & FOLLOW UK DAILY BRIEF