An anti-abortion charity that advises the government on sexual health has stirred controversy after pulling a statement on its website that said the cervical cancer jab "gives young people another green light to be promiscuous".
It said: "[young people] do have choices about how they live their lives and the HPV vaccine suggests they won't be able to control themselves. We should have higher expectations for them and show them more respect, not vaccinate them en masse against STIs."
However the charity, which had used the message to back faith schools denying students the jab, said it still stood by its statement despite removing it.
Mark Bhagwandin told The Huffington Post UK: "We still hold fast the comments that we made in that statement it's just because we are looking at what we do as the media team in terms of what issues we speak on."
Last week GP magazine had found 24 schools in 83 of England's 152 primary care trust (PCT) areas were opting out of the vaccination programme, many of them on religious grounds.
Labour's shadow public health minister Diane Abbott is now calling for Andrew Lansley to remove the group from the Department of Health's Sexual Health Forum, say their views were "staggering".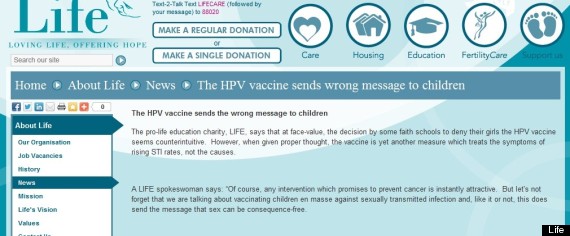 Giving young people the 'green light' to be promiscuous: The statement as it appeared on LIFE's website
"It's not good enough to just remove this statement from their website and pretend everything is OK again, because this group is closely advising Andrew Lansley on sexual health policy, and driving this government's public health agenda," she said.
"LIFE has an array of policy positions that I find staggering, and it is not suitable for this group to be advising the government like this," she said.
In a later statement, LIFE said: "We wish to emphasise that LIFE was not directed to pull the press release on the HPV vaccine from our website. We decided to withdraw the release because we were concerned that it could be misconstrued or read out of context.
"All those involved in relationships and sex education should think very carefully about the messages being sent about sexual behaviour. For instance, we should be very aware of the danger of giving a false sense of security with measures like the HPV vaccine, which protects only against one particular STI and provides no protection against pregnancy."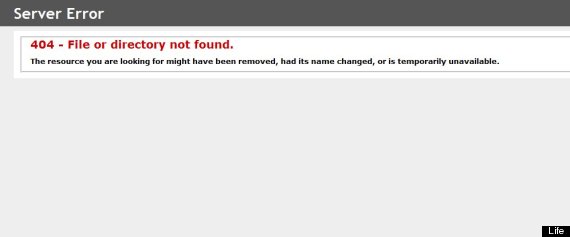 Censored: The statement has been removed - but LIFE still say the HPV vaccine risks creating a 'false sense of security'
A Department of Health spokesperson told The Huffington Post UK: "LIFE is one of the 11 groups that sit on the Sexual Health Forum. It is important to ensure that a wide range of views and interests are represented.
"The Sexual Health Forum does not advise on immunisation - this is provided by the independent Joint Committee on Vaccination and Immunisation."
The row comes in the wake of continuing controversy over the role of anti-abortion groups in advising government.
LIFE, alongside Lovewise, are members of the Sex and Relationships Education (SRE) council, which was launched in parliament in May 2011. Education Secretary Michael Gove sent a message of support at the body's launch, saying: "I look forward to working with you all in ensuring that the interests of families are put at the heart of our policies."
"It does not recognise that HPV can be passed on through non penetrative sexual acts such as intimate touching and petting."
Brook's Chief Executive Simon Blake said: "It is important that the Sexual Health Forum strives to sustain the progress made in reducing teenage conceptions and not go back to a time when the young had really poor sexual and relationships education and see a rise in teenage pregnancy rates and sexually transmitted infections as a result.
"Brook will continue to work within our pro-choice values and respond to the evidence base in our role on the Forum"
The other members of the sexual health forum advising the government are the Family Planning Association, the British Association for Sexual Health and HIV, the Faculty of Sexual and Reproductive Health at the Royal College of Obstetricians and Gynaecologists, the Association of Directors of Public Health; the British HIV Association, the Terrence Higgins Trust; Brook, the the Sex Education Forum and National Children's Bureau and Marie Stopes International.
Compare and contrast: Life's original statement

The pro-life education charity, LIFE, says that at face-value, the decision by some faith schools to deny their girls the HPV vaccine seems counterintuitive. However, when given proper thought, the vaccine is yet another measure which treats the symptoms of rising STI rates, not the causes.

"Of course, any intervention which promises to prevent cancer is instantly attractive. But let's not forget that we are talking about vaccinating children en masse against sexually transmitted infection and, like it or not, this does send the message that sex can be consequence-free.

"The vaccine has to be considered in the wider context of other messages given to young people from a very young age - sex with multiple partners is ok as long as you use a condom; unwanted pregnancy can be dealt with by taking the morning-after pill; saving sex for a long-term relationship is unrealistic these days and abortion is a woman's right. These are very powerful messages indeed.

"While the vaccine alone may not fuel promiscuity, combined with today's value-free sex education and media messages, it gives young people another 'green light' to be promiscuous. And apart from the risk of other STIs and teen pregnancy, there is as yet no vaccine against the emotional damage to young people which accompanies casual sex.

"LIFE is non-religious charity which runs an education programme around the UK, encouraging young people to think for themselves about sex and relationships. We ask them what will make them truly happy for the long-term, and many are relieved to discuss more life-affirming ways of living than is offered to them in today's culture.

"Young people want to be respected and loved, not used and cast aside. They do have choices about how they live their lives and the HPV vaccine suggests they won't be able to control themselves. We should have higher expectations for them and show them more respect, not vaccinate them en masse against STIs."

LIFE Spokesman Mark Bhagwandin said "To be absolutely clear: we are not opposed to the HPV vaccine, but we do think that there are legitimate concerns about how well the HPV vaccine integrates with the broader aims and purpose of relationships and sex education, i.e. there is a risk of mixed messages about whether we regard teenage sexual activity as sensible or healthy. Use of this vaccine must be part of a broad, responsible programme of relationships and sex education. It is a wise and sensible measure insofar as many – though far from all – teenagers are going to be sexually active.

"All those involved in relationships and sex education should think very carefully about the messages being sent about sexual behaviour. For instance, we should be very aware of the danger of giving a false sense of security with measures like the HPV vaccine, which protects only against one particular STI and provides no protection against pregnancy.

"Ms Abbott claims that she finds many of our "policy positions" to be "staggering", but fails to be specific about particulars. If she were more constructive, we might be able to open up a fruitful dialogue about achieving the best outcomes for teenage sexual health."
SUBSCRIBE TO & FOLLOW UK DAILY BRIEF