Sports coaches of tomorrow have shown off their training skills for the Duke and Duchess of Cambridge and Prince Harry.
The royals visited an academy school in south-east London to attend the launch of a new project that is being supported by their charitable Foundation.
In recognition of London hosting the Olympics, which the Queen opens tomorrow, the Foundation has created a sports programme - Coach Core - with the organisation Greenhouse, one of the charities that benefited from the Cambridges' wedding fund.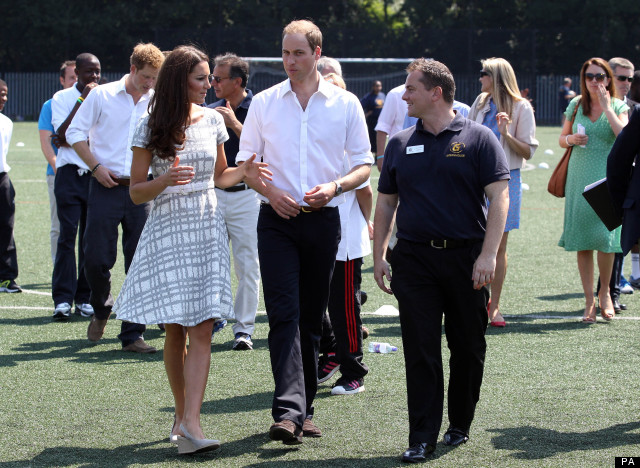 The Duke, Duchess and Prince Harry in Greenwich
William, Kate and Harry, Team GB and ParalympicsGB Ambassadors, arrived in a chauffeur-driven limousine all casually dressed for the occasion.
Youngsters playing judo, basketball, five-a-side football and table tennis were put through their paces by the coaches as the royals watched.
William walked on to the five-a-side football pitch where dozens of schoolchildren were practising shooting, dribbling and passing skills.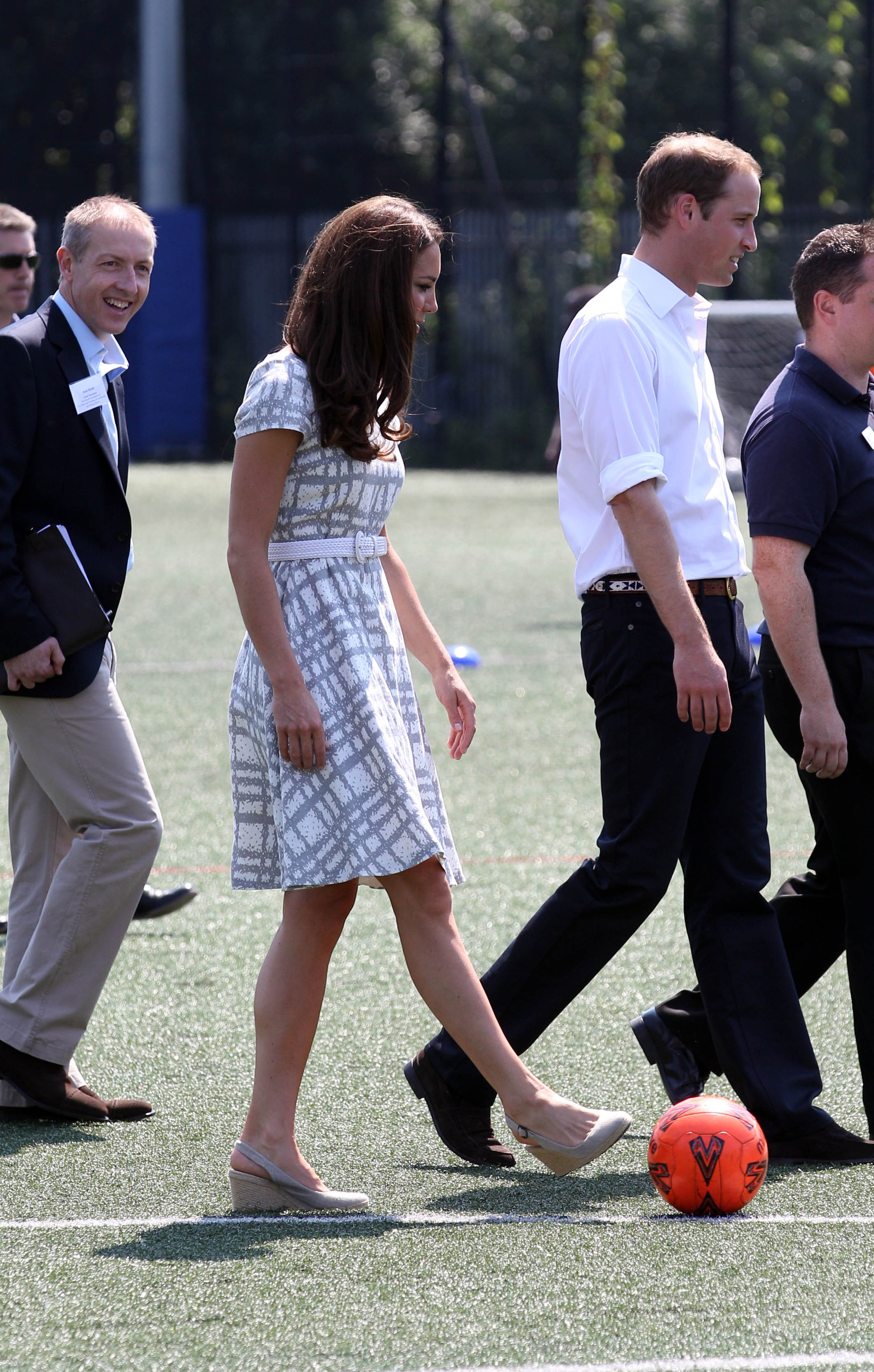 Kate Middleton showed off her exceptional technique in heels
The Duke was joined by Michael de Giorgio, chief executive of Greenhouse, and chatted to some of the coaches who were taking the lessons.
But William could not resist joining in and lined up with a group of youngsters for shooting practice.
The royal shimmied through some cones then passed the ball to a trainer who returned it for the shot, but William hit it just wide of an empty goal.
William blamed his lack of prowess in front of goal on the loafers he was wearing, telling one of the youngsters it was "obviously" the shoes.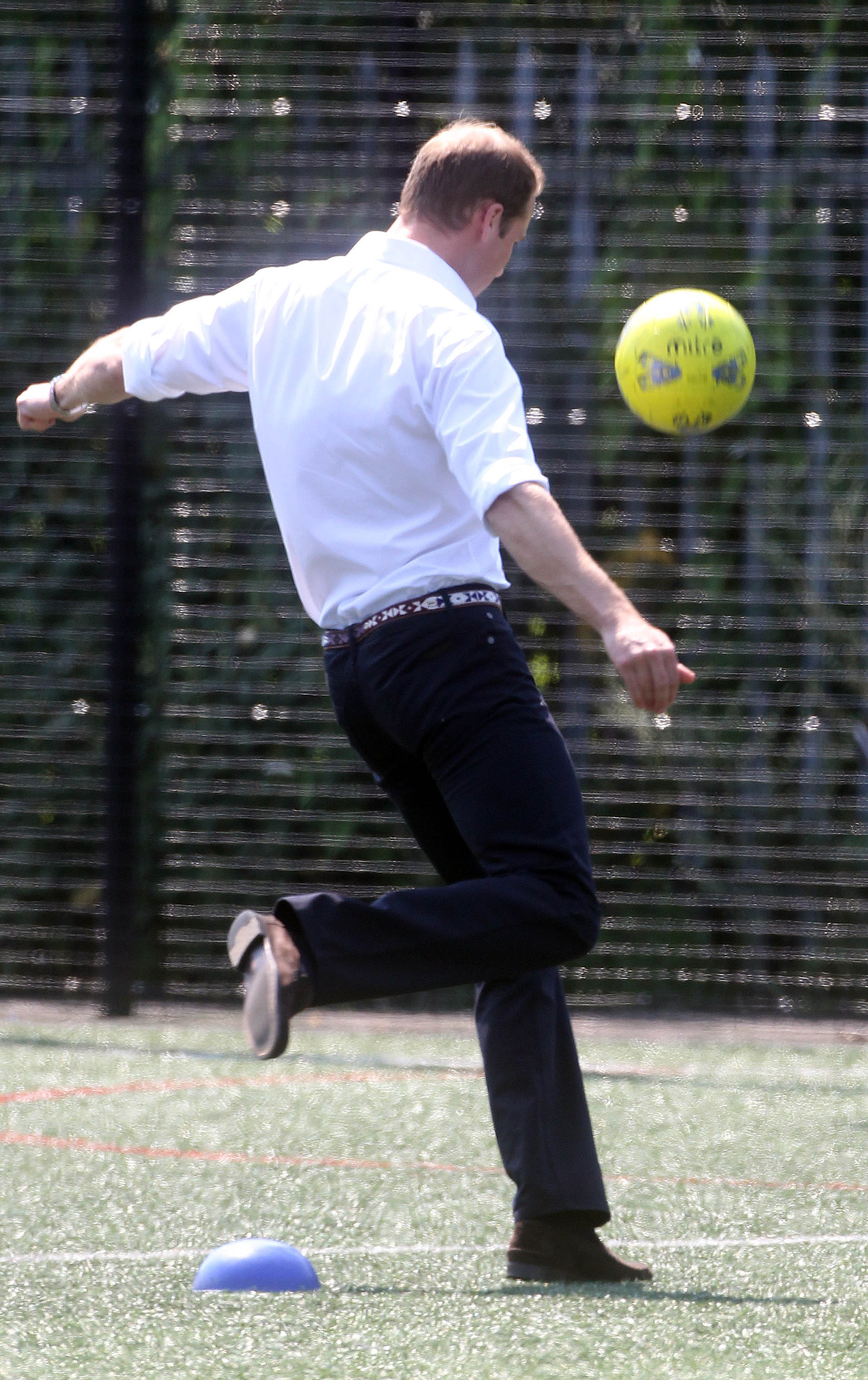 Flawless technique from the future King
He later gave a speech in which he highlighted the importance of sport: "Over the next month, the eyes of the world will be on Great Britain. For us to hold the Olympic and the Paralympic Games here in London is a great moment for our nation, which itself is steeped in sporting history.
"Therefore, for Catherine, Harry and me there could be no better way of starting this epic time than being with you here in Rotherhithe, so close to the heart of London 2012, to launch Coach Core.
"Watching me on the football field is never a pretty sight - the expression giraffe on ice springs to mind. However, it is marginally less embarrassing than seeing my brother cheat his way to becoming the fastest man on the planet.
"Catherine, on the other hand, with a tennis racket or a hockey stick is something to behold and be aware of.
Loading Slideshow