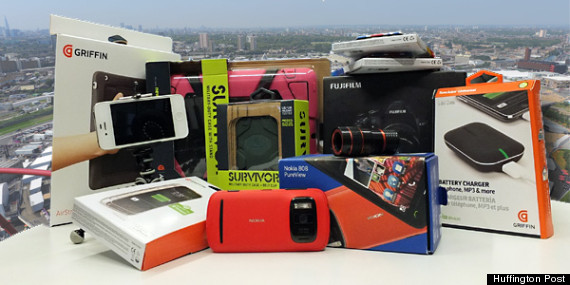 We're really excited about the London Games - and also the fact that, as journalists, we're able to sneak into some of the best events without tickets.
We know, we know - we're sorry. It's a hard job but someone has to do it... Still, in order to tell the big stories and find the small nuggets everyone else has missed - and tell you about it - we need a lot of tech. Most of it useful.
We've picked 10 gadgets to help us report on the Games.
From the Nokia 808 PureView's 41-megapixel camera to iPhone battery packs, cases and lenses, we've got everything we need (we hope) to do our jobs. And try out tech in the process.
Take a look at our selections in the slideshow - and check back after the games for our reviews.
The Nokia 808 PureView is a frankly astonishing, if flawed, camera in disguise as a phone. It has a 41-megapixel sensor - that's not a typo - which instead of just making massive images instead overlays each smaller shot several times. The result is absolutely amazingly clear images. Unfortunately, it also runs an outdated operating system and is terrible at everything except photos. So we'll be sticking to an iPhone for calls...

This is a simple, well-made battery case for the iPhone 4 and 4S (£40) which adds up to 9.5 hours to a single charge. Which we're going to find useful when hanging around the Olympic Park for days at a time, desperately searching for a signal.

The Fugifilm X-S1 is a beautiful, solid and high-spec camera for a relatively low price. It offers 12 megapixels, a 26x optical zoom (great for stadium shots) and is just about small enough to get through the 'no pro cameras' restriction at official venues. It also has a tiltable three-inch LCD, which is great for those 'arty' shots people usually try to pull off in East London.

This battery charger is simple genius. It runs of 3 AA batteries, and can charge any USB device - from your camera to your phone, and everything in between.

While the EyeScope comes with a tripod of its own, we stick to Gorilla Pods. They're the most flexible and useful tripods we've ever used - and they're virtually indestructible.

OK look, we get that this isn't the coolest case in the world. But for two, glorious and patriotic weeks, it is.

It's just a fact that these days it's often easier to report on an event with an iPad than a laptop. The battery lasts longer, and it's quicker to take notes while holding a camera or voice recorder. Unfortunately they're also difficult to hold - unless you have a case with a strap. Which this does. Handy. (Literally)

This heavy (and heavy-duty) sand-proof, water-resistant brand of cases is designed for the military. We reviewed them here in detail - and we liked them. But this time around ours comes in hot pink. Which goes nicely with the Official Volunteer uniforms, we suppose.

The EyeScope is a mobile zoom lens for an iPhone, which offers 8X magnification without any perceptible loss in quality. Admittedly it does look a bit silly, but in a pinch it does a job (and only costs £16).