Lizzie Armitstead has won Britain's first medal in the London 2012 Olympics, winning silver in the women's road race for team GB.
Marianne Vos secured a gold medal for The Netherlands, while Bronze was awarded to Russia's Olga Zabelinskaya.
As Armitstead came off the course, she tearfully told the BBC's Jill Douglas: "It's really strange, I'm a bit shocked. "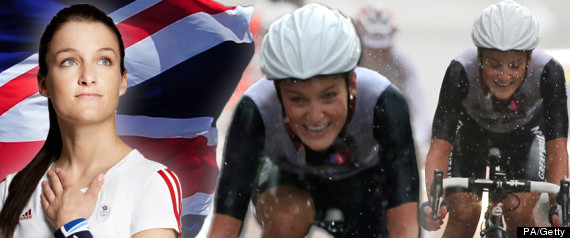 It was 23-year-old Lizzie Armitstead's first Olympic Games.

Thinking back over the road race, Armitstead paid tribute to her teammate Emma Pooley, who led the quad on the Box Hill in Surrey part of the course.
Pooley has been praised for her aggressive style on the track, with one commentator saying Pooley really "attacked the race."
Armitstead told the BBC: "Emma Pooley did exactly what was asked on Box Hill, I am so glad I committed to that race.
"Marianne Vos was the one to watch and I knew that before the race, I played my tactics and thankfully it came off."
Union Jack flag-waving fans lined the home straight, with many chanting "Lizzie Lizzie!"
Describing the support from spectators and family she told the BBC: "It's the most special thing I ever experienced in my life. It was absolutely amazing. I didn't even feel my legs, it was just so special." Proud: Lizzie shows off her medal
Lizzie Armitstead's mother Carol today said she was "so proud" of her daughter's silver medal in the women's cycling road race, adding: "It is more than we can have hoped for."
Her tearful grandfather Ray Dunn added: "I was disappointed and delighted - I knew she wanted the gold. I am tearful, I am delighted."
Her grandmother, Marjorie Dunn, sporting a t shirt with "I'm Lizzie's Grandma" emblazoned across the front, added: "A granddaughter who is an Olympian is something very, very special."
Armitstead rode alongside Nicole Cooke, Emma Pooley and Lucy Martin on the 140km course. It was Armitstead's first Olympics.
Cooke won gold in the road race at the Beijing Olympics and praised Armitstead today for her "fantastic ride."
She told the BBC: "It feels great, we came in here with a serious chance and we did it. Lizzie did a fantastic ride, we were there backing her up but she didn't need it because she was superb."
With the peloton cast adrift, 23-year-old Armitstead, from Otley near Leeds, was always in line for Britain's first medal of the home Games, but the question remained which colour.
Paula Radcliffe who will not be competing in the marathon event in the Olympics due to an injury said the win was the first time she had smiled today. She tweeted:
"First time I smiled today was watching @L_Armitstead claim silver in the womens road race - well done!"
@paulajradcliffe

Paula Radcliffe
First time I smiled today was watching
@L_Armitstead
claim silver in the womens road race - well done!
Armitstead positioned herself behind the Dutchwoman entering the finishing straight but Vos was strong enough to hold off the Briton, who had to settle for second.
Vos was elated to win gold. She told reporters: "I am just so happy to win. After Beijing this is what I wanted for four years and now it has happened it's incredible."
Britain's women have a chance to add to their medal tally tonight as Olympic champion Rebecca Adlington competes in the final of the 400 metres freestyle.
The 23-year-old swimmer, who is defending the two titles she won in Beijing four years ago, dominated her race from start to finish but then had to look on as two extremely fast heats threatened to edge her out.
Loading Slideshow
Netherland's Marianne Vos (left) celebrates winning ahead of second placed Great Britain's Lizzie Armitstead during the Women's Road Race along the Mall on day Two of the Olympic Games in London. Picture date: Sunday July 29, 2012. See PA story OLYMPICS Cycling Road. Photo credit should read: Dave Thompson/PA Wire. EDITORIAL USE ONLY

Netherland's Marianne Vos (left) celebrates winning ahead of second placed Great Britain's Lizzie Armitstead during the Women's Road Race along the Mall on day Two of the Olympic Games in London. Picture date: Sunday July 29, 2012. See PA story OLYMPICS Cycling Road. Photo credit should read: Dave Thompson/PA Wire. EDITORIAL USE ONLY

Cycling fans from London, chalk the name of Lizzie Armitstead on the road in Mickleham village, Surrey, prior to the Women's Road Race on the second day of the London 2012 Olympic Games. Picture date: Sunday July 29, 2012. Photo credit should read: Nick Ansell/PA Wire

Great Britain's Lizzie Armitstead during the training session at Box Hill in Surrey. Picture date: Thursday July 26, 2012. Photo credit should read: Tim Ireland/PA Wire.

Netherland's Marianne Vos (left) celebrates winning ahead of second placed Great Britain's Lizzie Armitstead during the Women's Road Race along the Mall on day Two of the Olympic Games in London. Picture date: Sunday July 29, 2012. See PA story OLYMPICS Cycling Road. Photo credit should read: Dave Thompson/PA Wire.

Great Britain's Lizzie Armitstead during the London 2012 kitting out session at Loughborough University, Loughborough. Picture date: Monday June 25, 2012. Photo credit should read: David Davies/PA Wire.

Great Britain's Lizzie Armitstead puts her head down as she crosses the line in second place during the Women's Road Race along the Mall on day Two of the Olympic Games in London. Picture date: Sunday July 29, 2012. See PA story OLYMPICS Cycling Road. Photo credit should read: Dave Thompson/PA Wire

Netherland's Marianne Vos (left) celebrates winning ahead of second placed Great Britain's Lizzie Armitstead during the Women's Road Race along the Mall on day Two of the Olympic Games in London. Picture date: Sunday July 29, 2012. See PA story OLYMPICS Cycling Road. Photo credit should read: Dave Thompson/PA Wire.

Netherland's Marianne Vos (left) goes on to win ahead of second placed Great Britain's Lizzie Armitstead (right) during the Women's Road Race along the Mall on day Two of the Olympic Games in London. Picture date: Sunday July 29, 2012. See PA story OLYMPICS Cycling Road. Photo credit should read: Mike Egerton/PA Wire

Netherland's Marianne Vos (left) goes on to win ahead of second placed Great Britain's Lizzie Armitstead (right) during the Women's Road Race along the Mall on day Two of the Olympic Games in London. Picture date: Sunday July 29, 2012. See PA story OLYMPICS Cycling Road. Photo credit should read: Mike Egerton/PA Wire

Netherland's Marianne Vos (left) goes on to win ahead of second placed Great Britain's Lizzie Armitstead (right) during the Women's Road Race along the Mall on day Two of the Olympic Games in London. Picture date: Sunday July 29, 2012. See PA story OLYMPICS Cycling Road. Photo credit should read: Mike Egerton/PA Wire

Netherland's Marianne Vos (left) celebrates winning ahead of second placed Great Britain's Lizzie Armitstead during the Women's Road Race along the Mall on day Two of the Olympic Games in London. Picture date: Sunday July 29, 2012. See PA story OLYMPICS Cycling Road. Photo credit should read: Dave Thompson/PA Wire. EDITORIAL USE ONLY

Netherland's Marianne Vos (left) celebrates winning ahead of second placed Great Britain's Lizzie Armitstead during the Women's Road Race along the Mall on day Two of the Olympic Games in London. Picture date: Sunday July 29, 2012. See PA story OLYMPICS Cycling Road. Photo credit should read: Dave Thompson/PA Wire.

Silver medallist Elizabeth Armitstead of Great Britain looks on during the Victory Ceremony after the Women's Road Race Road Cycling on day two of the London 2012 Olympic Games on July 29, 2012 in London, England (Photo by Bryn Lennon/Getty Images)

Silver medallist Elizabeth Armitstead of Great Britain, gold medallist Marianne Vos of Netherlands, and bronze medallist Olga Zabelinskaya of Russia celebrate during the Victory Ceremony after the Women's Road Race Road Cycling on day two of the London 2012 Olympic Games on July 29, 2012 in London, England (Photo by Bryn Lennon/Getty Images)

Silver medallist Elizabeth Armitstead of Great Britain celebrates during the Victory Ceremony after the Women's Road Race Road Cycling on day two of the London 2012 Olympic Games on July 29, 2012 in London, England (Photo by Bryn Lennon/Getty Images)

London Olympic Games - Day 2

Great Britain's Lizzie Armitstead celebrates finishing second during the Women's Road Race along the Mall on day Two of the Olympic Games in London.

London Olympic Games - Day 2

Great Britain's Lizzie Armitstead with her Silver medal following the Women's Road Race at The Mall, London, on the second day of the London 2012 Olympics.

London Olympic Games - Day 2

Great Britain's Lizzie Armitstead with her Silver medal following the Women's Road Race at The Mall, London, on the second day of the London 2012 Olympics.

London Olympic Games - Day 2

Great Britain's Lizzie Armitstead with her Silver medal following the Women's Road Race at The Mall, London, on the second day of the London 2012 Olympics.

London Olympic Games - Day 2

Great Britain's Lizzie Armitstead with her Silver medal following the Women's Road Race along the Mall on day Two of the Olympic Games in London.

London Olympic Games - Day 2

Great Britain's Lizzie Armitstead with her Silver medal following the Women's Road Race along the Mall on day Two of the Olympic Games in London.

Olympics Day 2 - Cycling - Road

LONDON, ENGLAND - JULY 29: Silver medallist Elizabeth Armitstead of Great Britain celebrates during the Victory Ceremony after the Women's Road Race Road Cycling on day two of the London 2012 Olympic Games on July 29, 2012 in London, England (Photo by Bryn Lennon/Getty Images)

Olympics Day 2 - Cycling - Road

LONDON, ENGLAND - JULY 29: Silver medallist Elizabeth Armitstead of Great Britain celebrates during the Victory Ceremony after the Women's Road Race Road Cycling on day two of the London 2012 Olympic Games on July 29, 2012 in London, England (Photo by Bryn Lennon/Getty Images)

Olympics Day 2 - Cycling - Road

LONDON, ENGLAND - JULY 29: Silver medallist Elizabeth Armitstead of Great Britain is applauded as she leaves the Victory Ceremony after the Women's Road Race Road Cycling on day two of the London 2012 Olympic Games on July 29, 2012 in London, England (Photo by Bryn Lennon/Getty Images)

Olympics Day 2 - Cycling - Road

LONDON, ENGLAND - JULY 29: Silver medallist Elizabeth Armitstead of Great Britain, gold medallist Marianne Vos of Netherlands, and bronze medallist Olga Zabelinskaya of Russia celebrate during the Victory Ceremony after the Women's Road Race Road Cycling on day two of the London 2012 Olympic Games on July 29, 2012 in London, England (Photo by Mike Hewitt/Getty Images)

Olympics Day 2 - Cycling - Road

LONDON, ENGLAND - JULY 29: Silver medallist Elizabeth Armitstead of Great Britain celebrates during the Victory Ceremony after the Women's Road Race Road Cycling on day two of the London 2012 Olympic Games on July 29, 2012 in London, England (Photo by Mike Hewitt/Getty Images)

Olympics Day 2 - Cycling - Road

LONDON, ENGLAND - JULY 29: Silver medallist Elizabeth Armitstead of Great Britain looks on during the Victory Ceremony after the Women's Road Race Road Cycling on day two of the London 2012 Olympic Games on July 29, 2012 in London, England (Photo by Bryn Lennon/Getty Images)

Olympics Day 2 - Cycling - Road

LONDON, ENGLAND - JULY 29: Elizabeth Armitstead of Great Britain looks down ahead of the Women's Road Race Road Cycling on day two of the London 2012 Olympic Games on July 29, 2012 in London, England (Photo by Bryn Lennon/Getty Images)

Elizabeth Armitstead of Great Britain looks on ahead of the Women's Road Race Road Cycling on day two of the London 2012 Olympic Games on July 29, 2012 in London, England (Photo by Bryn Lennon/Getty Images)

Elizabeth Armitstead of Great Britain signs on ahead of the Women's Road Race Road Cycling on day two of the London 2012 Olympic Games on July 29, 2012 in London, England (Photo by Bryn Lennon/Getty Images)

Elizabeth Armitstead, Lucy Martin and Emma Pooley of Great Britain talk to the crowd ahead of the Women's Road Race Road Cycling on day two of the London 2012 Olympic Games on July 29, 2012 in London, England (Photo by Bryn Lennon/Getty Images)

Nicole Cooke, Elizabeth Armitstead, Lucy Martin and Emma Pooley of Great Britain pose ahead of the Women's Road Race Road Cycling on day two of the London 2012 Olympic Games on July 29, 2012 in London, England (Photo by Bryn Lennon/Getty Images)

Nicole Cooke, Elizabeth Armitstead, Lucy Martin and Emma Pooley of Great Britain pose ahead of the Women's Road Race Road Cycling on day two of the London 2012 Olympic Games on July 29, 2012 in London, England (Photo by Bryn Lennon/Getty Images)

Nicole Cooke (L) and Elizabeth Armitstead of Great Britain share a joke ahead of the Women's Road Race Road Cycling on day two of the London 2012 Olympic Games on July 29, 2012 in London, England (Photo by Bryn Lennon/Getty Images)
SEE ALSO:
Loading Slideshow
London Olympic Games - Day 2

Great Britain's Zara Phillips competes on High Kingdom in the Dressage stage of the Eventing at Greenwich Park, London on the second day of the London 2012 Olympics.

United States' Missy Franklin starts in the women's 100-meter backstroke swimming heat at the Aquatics Centre in the Olympic Park during the 2012 Summer Olympics in London, Sunday, July 29, 2012. (AP Photo/Michael Sohn)

Boats from, bottom to top, Zimbabwe, Lithuania, Taiwan, Niger, and Iran wait to start in a men's rowing single sculls repechage in Eton Dorney, near Windsor, England, at the 2012 Summer Olympics, Sunday, July 29, 2012. (AP Photo/Natacha Pisarenko)

Australia's Emily Seebohm reacts after competing in a women's 100-meter backstroke swimming heat at the Aquatics Centre in the Olympic Park during the 2012 Summer Olympics in London, Sunday, July 29, 2012. (AP Photo/Mark J. Terrill)

Italy's Mirco Scarantino lifts during the men's 56-kg, group B, weightlifting competition at the 2012 Summer Olympics, Sunday, July 29, 2012, in London. (AP Photo/Hassan Ammar)

Kristin Silbereisen of Germany competes against Joanna Parker of Great Britain during their second round table tennis match at the 2012 Summer Olympics, Sunday, July 29, 2012, in London. (AP Photo/Sergei Grits)

Francesco Faraldo of Italy reacts after losing to Sugoi Uriarte of Spain during the men's -66kg judo competition at the 2012 Summer Olympics, Sunday, July 29, 2012, in London. (AP Photo/Paul Sancya)

Australia's Scott Brennan, right, and David Crawshay stroke during a men's rowing double sculls repechage in Eton Dorney, near Windsor, England, at the 2012 Summer Olympics, Sunday, July 29, 2012. (AP Photo/Natacha Pisarenko)

Anna Kravchenko of Ukraine's women's double scull team, carries her boat in Eton Dorney, near Windsor, England, at the 2012 Summer Olympics, Sunday, July 29, 2012. (AP Photo/Chris Carlson)

Olympics Day 2 - Equestrian

LONDON, ENGLAND - JULY 29: (L-R) Princess Anne, Princess Royal and Prince Philip, Duke of Edinburgh smile whilst watching the Dressage Equestrian event on Day 2 of the London 2012 Olympic Games at Greenwich Park on July 29, 2012 in London, England. (Photo by Alex Livesey/Getty Images)

Olympics Day 2 - Equestrian

LONDON, ENGLAND - JULY 29: (L-R) Peter Phillips and Princess Anne, Princess Royal look on during Day 2 of the London 2012 Olympic Games at Greenwich Park on July 29, 2012 in London, England. (Photo by Alex Livesey/Getty Images)

Olympics Day 2 - Equestrian

LONDON, ENGLAND - JULY 29: (L-R) Princess Anne, Princess Royal and Prince Philip, Duke of Edinburgh smile whilst watching the Dressage Equestrian event on Day 2 of the London 2012 Olympic Games at Greenwich Park on July 29, 2012 in London, England. (Photo by Alex Livesey/Getty Images)

London Olympic Games - Day 2

Great Britain's Zara Phillips competes on High Kingdom in the Dressage stage of the Eventing at Greenwich Park, London on the second day of the London 2012 Olympics.

London Olympic Games - Day 2

Great Britain's Zara Phillips waves on High Kingdom after the Dressage stage of the Eventing at Greenwich Park, London on the second day of the London 2012 Olympics.

London Olympic Games - Day 2

Great Britain's Ieuan Lloyd during his Men's 200m Freestyle Heat at the Aquatics Centre, London, on the second day of the London 2012 Olympics.

London Olympic Games - Day 2

USA's Ryan Lochte after his Men's 200m Freestyle Heat at the Aquatics Centre, London, on the second day of the London 2012 Olympics.

London Olympic Games - Day 2

Great Britain's Gemma Spofforth after her Women's 100m Backstroke Heat at the Aquatics Centre, London, on the second day of the London 2012 Olympics.

London Olympic Games - Day 2

Great Britain's Rebecca Adlington on her way to winning her Women's 400m Freestyle Heat at the Aquatics Centre, London, on the second day of the London 2012 Olympics.

London Olympic Games - Day 2

Great Britain's Rebecca Adlington before her Women's 400m Freestyle Heat at the Aquatics Centre, London, on the second day of the London 2012 Olympics.

London Olympic Games - Day 2

Great Britain's Rebecca Adlington waves after winning her Women's 400m Freestyle Heat at the Aquatics Centre, London, on the second day of the London 2012 Olympics.

London Olympic Games - Day 2

Great Britain's Mark Hunter (right) and Zac Purchase in action in their heat in the men's lightweight double sculls at Eton Dorney during the second day of the London 2012 Olympics.

London Olympic Games - Day 2

Great Britain's Georgia Davies during her Women's 100m Backstroke Heat at the Aquatics Centre, London, on the second day of the London 2012 Olympics.

Olympics Day 2 - Basketball

LONDON, ENGLAND - JULY 29: Tiago Splitter #15 of Brazil shoots the ball against Matt Nielsen #14 of Australia during their Men's Basketball game on Day 2 of the London 2012 Olympic Games at the Basketball Arena on July 29, 2012 in London, England. (Photo by Christian Petersen/Getty Images)

Olympics Day 2 - Archery

LONDON, ENGLAND - JULY 29: Natalia Valeeva of Italy in action during the Women's Team Archery Eliminations match between China and Italy on Day 2 of the London 2012 Olympic Games at Lord's Cricket Ground on July 29, 2012 in London, England. (Photo by Paul Gilham/Getty Images)

Olympics Day 2 - Fencing

LONDON, ENGLAND - JULY 29: Man Zhong of China celebrates after winning the Men's Sabre Individual Fencing round of 32 match against Junghwan Kim of Korea on Day 2 of the London 2012 Olympic Games at ExCeL on July 29, 2012 in London, England. (Photo by Hannah Johnston/Getty Images)

An Italy supporter arrives in the rain for the Artistic Gymnastics team qualification at the North Greenwich Arena, London, on the second day of the London 2012 Olympics. Picture date: Sunday July 29, 2012. Photo credit should read: Anthony Devlin/PA Wire

Great Britain's Zara Phillips waves on High Kingdom after the Dressage stage of the Eventing at Greenwich Park, London on the second day of the London 2012 Olympics. Picture date: Sunday July 29, 2012. Photo credit should read: Steve Parsons/PA Wire

Ireland's Sycerika McMahon after her heat of the Women's 100m Breaststroke at the Aquatics Centre, London, on the second day of the London 2012 Olympics. Picture date: Sunday July 29, 2012. Photo credit should read: Martin Rickett/PA Wire

Great Britain's Rebecca Adlington consoles compatriot Joanne Jackson (top) after the Women's 400m Freestyle Heats at the Aquatics Centre, London, on the second day of the London 2012 Olympics. Picture date: Sunday July 29, 2012. Photo credit should read: Martin Rickett/PA Wire

Great Britain's Naomi Folkard shoots during the Women's Team 1/8 Elimanations against Russia at Lord's Cricket Ground, London, on the second day of the London 2012 Olympics. Picture date: Sunday July 29, 2012. Photo credit should read: Julien Behal/PA Wire

Great Britain's women's eight crew Great Britain's women's eight of (left to right) Cox Caroline O'Connor, Victoria Thornley, Katie Greves, Annabel Vernon, Natasha Page, Lindsey Maguire, Jessica Eddie, Louisa Reeve and Olivia Whitlam prepare at the start of their heat at Eton Dorney during the second day of the London 2012 Olympics. Picture date: Sunday Sanni July 29, 2012. Photo credit should read: Stephen Pond/PA Wire

Great Britain's Kate Haywood after her heat of the Women's 100m Breaststroke at the Aquatics Centre, London, on the second day of the London 2012 Olympics. Picture date: Sunday July 29, 2012. Photo credit should read: Martin Rickett/PA Wire.

A fan wears an Olympic themed hat before the Women's Road Race along the Mall on day Two of the Olympic Games in London. Picture date: Sunday July 29, 2012. See PA story OLYMPICS Cycling Road. Photo credit should read: John Giles/PA Wire

The Duke of Edinburgh watches the Dressage stage of the Eventing at Greenwich Park, London on the second day of the London 2012 Olympics. Picture date: Sunday July 29, 2012. Photo credit should read: Andrew Milligan/PA Wire

Princess Anne watches the Dressage stage of the Eventing at Greenwich Park, London on the second day of the London 2012 Olympics. PRESS ASSOCIATION Photo. Picture date: Sunday July 29, 2012. Photo credit should read: Andrew Milligan/PA Wire

Germany's Max Hartung (R) celebrates next to South Korea's Gu Bongil during their round of 16 competition at the Men's Individual Sabre event in ExCeL at the London 2012 Olympic Games, London, Great Britain, 29. July 2012. Photo: Marius Becker

USA's Timothy Morehouse and Belarus' Dmitri Lapkes react during the men's individual sabre round of 16 fencing at the 2012 Summer Olympics, Sunday, July 29, 2012, in London. (AP Photo/Dmitry Lovetsky)

Alexey Panfili of Kazakhstan shoots against Spain in a preliminary water polo match at the 2012 Summer Olympics, Sunday, July 29, 2012, in London. (AP Photo/Julio Cortez)

Rosalba Forciniti of Italy celebrates her win over Kyung-Ok Kim of South Korea during the women's -52kg judo competition at the 2012 Summer Olympics, Sunday, July 29, 2012, in London. (AP Photo/Paul Sancya)

Rosalba Forciniti of Italy (in blue) competes against Kyung-Ok Kim of South Korea during the women's -52kg judo competition at the 2012 Summer Olympics, Sunday, July 29, 2012, in London. (AP Photo/Paul Sancya)

Italian gymnast Vanessa Ferrari performs on the balance beam during the artistic gymnastics women's qualification at the 2012 Summer Olympics, Sunday, July 29, 2012, in London. (AP Photo/Gregory Bull)

Tarlan Karimov of Azerbaijan (in blue) competes against Musa Mogushkov of Russia during the men's -66kg judo competition at the 2012 Summer Olympics, Sunday, July 29, 2012, in London. (AP Photo/Paul Sancya)

China's Guo Wenjun reacts after realizing she has won gold following the final round of shooting in the women's 10-meter air pistol event at the 2012 Summer Olympics, Sunday, July 29, 2012, in London. (AP Photo/Rebecca Blackwell)

Russia's Dmitriy Muserskiy (13, left) celebrates with Alexey Obmochaev (20) after a point against Germany during a men's volleyball preliminary match at the 2012 Summer Olympics Sunday, July 29, 2012, in London. (AP Photo/Chris O'Meara)

France's Coralie Balmy reacts after competing in a women's 400-meter freestyle swimming heat at the 2012 Summer Olympics, Sunday, July 29, 2012, in London. (AP Photo/Daniel Ochoa De Olza)

Australia's Patrick Mills celebrates after hitting a 3-point shot and being fouled by Brazil during a men's basketball game at the 2012 Summer Olympics, Sunday, July 29, 2012, in London. (AP Photo/Charles Krupa)

Brazilian gymnast Harumy Mariko de Freitas cries after a performance during the artistic gymnastics women's qualification at the 2012 Summer Olympics, Sunday, July 29, 2012, in London. (AP Photo/Gregory Bull)

Prince Albert II of Monaco and Princess Charlene of Monaco attend the swimming competitions in Aquatics Centre at the London 2012 Olympic Games, London, Great Britain, 29 July 2012. Photo: Michael Kappeler

Mexican gymnast Elsa Garcia Rodriguez Blancas performs on the balance beam during the Artistic Gymnastics women's qualification at the 2012 Summer Olympics, Sunday, July 29, 2012, in London. (AP Photo/Gregory Bull)

Romania's Florin Zalomir and Iran's Mojtaba Abedini compete during the Men's Sabre round of 64 fencing at the 2012 Summer Olympics, Sunday, July 29, 2012, in London. (AP Photo/Andrew Medichini)

Konstantinos Mourikis of Greece walks with ice on his shoulder after his team lost 8-6 to Croatia in a preliminary water polo match at the 2012 Summer Olympics, Sunday, July 29, 2012, in London. (AP Photo/Julio Cortez)