A Bollywood actress is set to be the first Indian woman to appear nude in Playboy.
Sherlyn Chopra, who has appeared in a handful of films, plans to up her profile after visiting the magazine's founder Hugh Hefner and his bunnies at the famous Playboy Mansion.
Hefner confirmed the 28-year-old is set to grace the pages of the top shelf magazine in November on Twitter– after Chopra personally approached the magazine herself.
Scroll down for more pictures of Sherlyn Chopra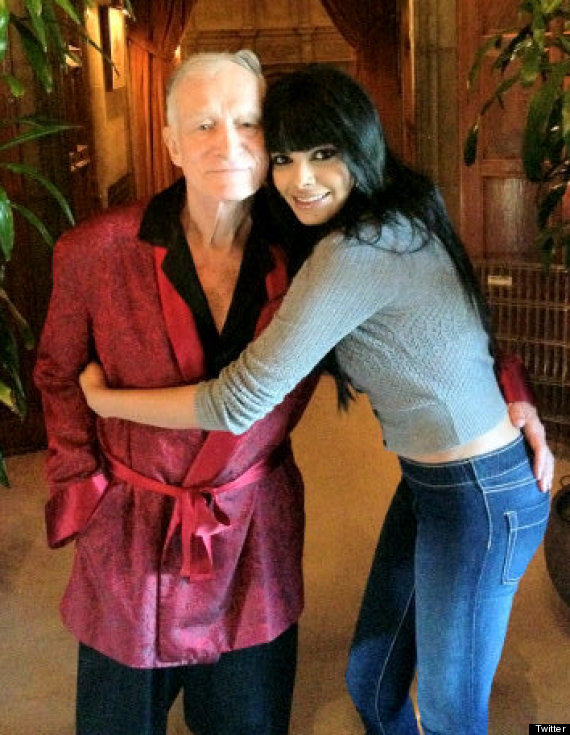 Cuddling up: Sherlyn Chopra and Hugh Hefner at the Playboy mansion
@hughhefner

Hugh Hefner
Bollywood starlet Sherlyn Chopra will be the first Indian to appear nude in Playboy, in the November issue.
She told BBC Hindi she could not "miss the opportunity of posing nude for the world's most established adult magazine."
She added: "It is not an easy task to be nude in front of the camera and look good at the same time."
SEE ALSO:
@SherlynChopra

Sherlyn Chopra
Thanks 2 all those who have applauded my choice 2 b free-spirited n 2 do with my life what I please 2 do.I'm answerable 2 no one but myself.
@SherlynChopra

Sherlyn Chopra
Why is the goodness of one's character perceived to be inversely proportional to the amount of display of one's skin show???
The spread is likely to cause a stir in India where Playboy is illegal, but can be viewed online.
Media commentator Gayatri Sankar was cited by the New York Daily News: "At a time when innocent women across the nation from Gujarat to Guwahati have been subjected to sexual abuse and humiliation, one wonders if Sherlyn Chopra's pictures wound a woman's integrity?"
Chopra added she has the full support of her younger sister, but has not yet told her mother of her upcoming shoot.
She said: "I think I will visit her and tell her that she has to accept me the way I am." Taking to Twitter she paid tribute to her late father and her conviction he would be proud of her decision. However, she later conceded he may "not approve" but asserted: "I'm just being myself."
Chopra's Twitter account borders on the risque at times, with the starlet ruminating on whether masturbation is a successful way to beat jetlag, wondering if she's bisexual and whether Marilyn Monroe ever had an orgasm with a man.
@SherlynChopra

Sherlyn Chopra
@PlayboyDotCom
1000 wet kisses n 10,000 super tight hugs 2 the entire Playboy team!!!Wish my dad were alive,he'd hv been so proud of this!!
@SherlynChopra

Sherlyn Chopra
Dear daddy,rest assured that I am n shall always be ur girl.U may not approve of everything dat I do...I'm just being myself.Rest in peace.
In dining area of Playboy mansion.

Indian Bollywood actress Sherlyn Chopra attends the 'Asia�s Sexiest Vegetarian Awards' at the 10th Anniversary Gala of the India branch of People for the Ethical Treatment of Animals (PETA) in Mumbai on December 18, 2009. PHOTO/STR. (Photo credit should read STR/AFP/Getty Images)

Indian Bollywood film actress Sherlyn Chopra arrives for the press meeting for the first Indian woman to pose nude for 'Playboy' magazine in Mumbai on July 23, 2012. AFP PHOTO