London has narrowly avoided being flooded with fake Olympic-branded condoms.
The counterfeit rubbers were seized by Westminster City Council Trading Standards teams, which have so far confiscated over £10,000 of fake goods since the start of the Games.
The prophylactics, which appear to be branded with a poor approximation of the London 2012 logo, were apparently due to go on sale in the capital's Soho district and were presumably to be marketed to lovers who like to cheer while they're winning.
Sue Jones, Head of Westminster Trading Standards ominously warns: "Buying bogus Olympic goods is a false economy – they don't look right, they break easily and tourists will go away from London with a poor experience of the Games.
Scroll down for nine funny condom adverts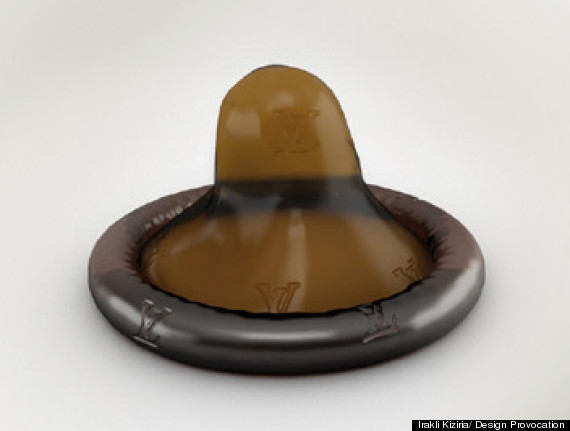 Irakli Kiziria's Louis Vuitton condom. Sadly it's also a fake
Slightly cooler, but just as fake, was artist Irakli Kiziria's Louis Vuitton condom.
SEE ALSO: Louis Vuitton Waffle Maker: Artist Andrew Lewicki Gives Breakfast A Designer Makeover (PICTURES)
Enveloped in the label's notorious brown packaging and adorned with what looks like raised lettering (for enhanced pleasure, we can only assume), the designer birth control caused a stir, with much disappointment when it was revealed it was not affiliated with the fashion house, and had been created in collaboration with Design Provocation as an art project.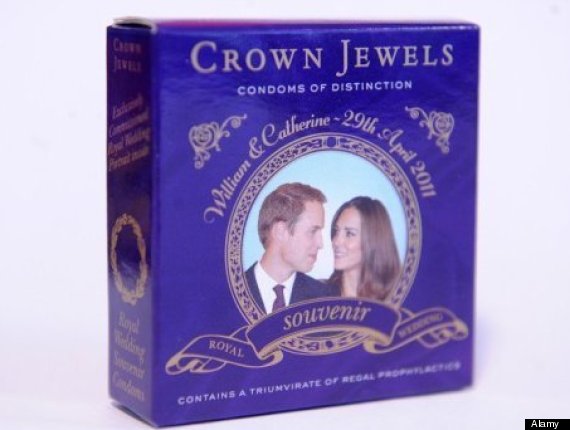 Less chance of an heir: Not fake but pretty silly Royal wedding themed condoms
But in the spirit of patriotism, our favourite daft condoms remain the commemorative packs issued upon the nuptials and William and Kate.
Created by Crown Jewel Condoms, the rubbers combined "the strength of a Prince with the yielding sensitivity of a Princess-to-be", while promising the "royal union of pleasure."
The Royal-wedding themed condoms came packaged in a delightful souvenir heirloom collector's box, with the company modestly assuming the mantle of "Purveyors of the finest Heritage Prophylactics."
Loading Slideshow
Good Motivation

Probably the most effective advertisement for contraception.

Crunching The Numbers

That's a pretty penny.

That's One Way To Use It

Always carry a condom for your umbrella.

Good Reenactment

That's a pretty good way to show what a condom does.

Long Speech

Well, that's one way of putting it.

Evolution

Use a condom so you can morph from a pig into a human.

Getting Away With Anything

Good parenting.

Condom Mime

Most uncomfortable mime show ever.

Shut It Up

Muffle that loudmouth down there.
Related on HuffPost: