Golden boy Luke Campbell left his mother shaking like a leaf after boxing his way to Olympic glory.
Jill Campbell, 53, who told her little boy to "find a safer sport" after he first picked up the gloves as a 12-year-old, was at ringside to see him strike gold for Team GB last night.
The Hull boxer, 24, brought the house down after out-pointing Irish traveller John Joe Nevin in the bantamweight competition.
Campbell raised his hands in victory - then promptly burst into tears as 10,000 ecstatic fans chanted his name.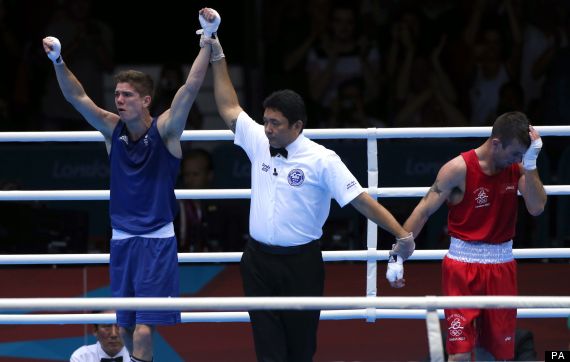 Campbell beat John Joe Nevin
"I was shaking from head to foot and I still am," Mrs Campbell said. "At the moment it just feels amazing. To see him up there on the podium, it just felt so unreal, like it was happening to somebody else."
Mrs Campbell said her husband Barney, 54, was unwell with a serious back problem so could not travel to watch his son win gold - but got a call from his wife as soon as their son triumphed.
"He said, 'I told you. I told you all, his day would come'," Mrs Campbell added. "He has always believed in him, straight from the start he always said, 'Luke, one day, will be stood there with a gold medal'."
Mrs Campbell, who has two other sons, Kane, 23 and Christopher, 32, and daughter Kirsty, added: "He's got such a talent. His whole presence, he's calm, collected and he thinks about things. He doesn't rush into anything."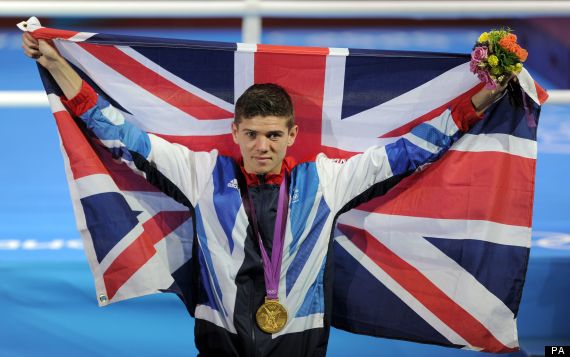 Luke Campbell wins an emotional gold
After saluting the cheering home fans Campbell left the ring to embrace girlfriend Lynsey Kraanen, the mother of his 18-month-old son Leo. The couple are expecting another child as she is almost six months pregnant.
Ms Kraanen, 24, said: "I was really emotional and scared about him getting in the ring, then all of a sudden we all got this amazing confidence. We all feel on top of the world. We are going to have a really big party for him next Friday."
Campbell held his left hand over his heart as he stood on the podium to receive his gold medal. He struggled to contain his emotions again as a lusty rendition of God Save The Queen raised the rafters at the ExCeL.
He then jogged round the outside of the ring with a Union Jack held over his head to yet more cheering, clapping and chants of his name. There were more tears outside the ring from friends and family.
The fighter's best friend Kenny Marsden, 27, from Hull, with tears in his eyes, said: "This is like a dream come true, it's unbelievable. What people don't realise is he's worked so hard for it - all his life. It's not just training, it's 24/7 with him. He is totally dedicated and deserves this so much."
Former world heavyweight champion Lennox Lewis, who witnessed the fight from ringside, said: "I thought he deserved the win. I thought he threw the better punches and really wanted it more and matched his opponent punch for punch."
The taller Yorkshireman used his jab to out-point the Irishman who held the centre of the ring but was unable to get in the cleaner shots. Campbell had his Irish rival down with a right hook in the third round, forcing Nevin to take the referee's count.
Mike Bromby, the coach at St Paul's ABC in Hull where Campbell is based, said: "I've had him since the age of 12 at St Paul's since a little kid and people didn't think he was going to do it. Well he has done. He's worked so hard he deserves his day. He had a fantastic three rounds and came in with a great shot. He kept calm, kept his nerve, that's what its all about. And there was a lot of pressure on him, all the English and the Irish here."
Mr Bromby said it was not known if Campbell will go professional after this win, but said the boxer will have some time off after his Olympic exploits.
Speaking about his victory this morning, Campbell said his gold medal was a dream come true.
"I'm so overwhelmed at the moment and it all seems a bit of a blur," he told BBC Breakfast. "It's everything I have ever worked for and I have achieved my ultimate goal. It is a moment I have dreamed about all my life."
He also paid tribute to the GB boxing team and his Olympic roommate and friend Anthony Agogo who secured a bronze medal at the Games. "Anthony is a great boxer and really motivates me," he said.
Agogo, who lost his semi-final bout last night, said he was disappointed about his loss but "overjoyed" that his "best boxing mate" Campbell had managed to secure the gold medal.
Loading Slideshow
US diver Nicholas McCrory competes in t

US diver Nicholas McCrory competes in the men's 10m platform semi-finals during the diving event at the London 2012 Olympic Games on August 11, 2012 in London. AFP PHOTO / FABRICE COFFRINI (Photo credit should read FABRICE COFFRINI/AFP/GettyImages)

Olympics Day 15 - Canoe Sprint

WINDSOR, ENGLAND - AUGUST 11: Lisa Carrington of New Zealand celebrates winning gold in the Women's Kayak Single (K1) 200m Sprint on Day 15 of the London 2012 Olympic Games at Eton Dorney on August 11, 2012 in Windsor, England. (Photo by Harry How/Getty Images)

Olympics Day 15 - Taekwondo

LONDON, ENGLAND - AUGUST 11: Maryna Konieva of Ukraine (red) competes against Nadin Dawani of Jordan during the Women's +67kg Taekwondo Preliminary Round on Day 15 of the London 2012 Olympic Games at ExCeL on August 11, 2012 in London, England. (Photo by Lars Baron/Getty Images)

Cuba's Jeinkler Aguirre competes in th

Cuba's Jeinkler Aguirre competes in the men's 10m platform semi-finals during the diving event at the London 2012 Olympic Games on August 11, 2012 in London. AFP PHOTO / FABRICE COFFRINI (Photo credit should read FABRICE COFFRINI/AFP/GettyImages)

Olympics Day 15 - Canoe Sprint

WINDSOR, ENGLAND - AUGUST 11: Gold medal winner Ed Mckeever of Great Britain stands on the podium during the medal ceremony for the Men's Kayak Single (K1) 200m Canoe Sprint on Day 15 of the London 2012 Olympic Games at Eton Dorney on August 11, 2012 in Windsor, England. (Photo by Alexander Hassenstein/Getty Images)

Olympics Day 15 - Canoe Sprint

WINDSOR, ENGLAND - AUGUST 11: Silver medallist Saul Craviotto Rivero (L) of Spain, gold medallist Ed Mckeever of Great Britain and bronze medallist Mark de Jonge of Canada (R) celebrate during the medal ceremony for the Men's Kayak Single (K1) 200m Canoe Sprint on Day 15 of the London 2012 Olympic Games at Eton Dorney on August 11, 2012 in Windsor, England. (Photo by Alexander Hassenstein/Getty Images)

Olympics Day 15 - Canoe Sprint

WINDSOR, ENGLAND - AUGUST 11: Bronze medallist Mark de Jonge of Canada celebrates during the medal ceremony for the Men's Kayak Single (K1) 200m Canoe Sprint on Day 15 of the London 2012 Olympic Games at Eton Dorney on August 11, 2012 in Windsor, England. (Photo by Alexander Hassenstein/Getty Images)

Olympics Day 15 - Canoe Sprint

WINDSOR, ENGLAND - AUGUST 11: Alfonso Benavidez Lopes de Ayala of Spain in action during the Men's Canoe Single (C1) 200m Sprint on Day 15 of the London 2012 Olympic Games at Eton Dorney on August 11, 2012 in Windsor, England. (Photo by Harry How/Getty Images)

Olympics Day 15 - Canoe Sprint

WINDSOR, ENGLAND - AUGUST 11: Silver medallist Saul Craviotto Rivero of Spain, gold medallist Ed Mckeever of Great Britain and bronze medallist Mark de Jonge of Canada celebrate during the medal ceremony for the medal ceremony for the Men's Kayak Single (K1) 200m Canoe Sprint on Day 15 of the London 2012 Olympic Games at Eton Dorney on August 11, 2012 in Windsor, England. (Photo by Harry How/Getty Images)

Olympics Day 15 - Diving

LONDON, ENGLAND - AUGUST 11: Tom Daley of Great Britain competes in the Men's 10m Platform Diving Semifinal on Day 15 of the London 2012 Olympic Games at the Aquatics Centre on August 11, 2012 in London, England. (Photo by Adam Pretty/Getty Images)

Britain's Thomas Daley competes in the

Britain's Thomas Daley competes in the men's 10m platform semi-finals during the diving event at the London 2012 Olympic Games on August 11, 2012 in London. AFP PHOTO / FABRICE COFFRINI (Photo credit should read FABRICE COFFRINI/AFP/GettyImages)

London Olympic Games - Day 14

Great Britain's Lutalo Muhammad with his Bronze medal in the Men's -80kg at the ExCel Arena, London.

Olympics Day 15 - Canoe Sprint

WINDSOR, ENGLAND - AUGUST 11: Gold medallist Ed Mckeever of Great Britain celebrates during the medal ceremony for the Men's Kayak Single (K1) 200m Canoe Sprint on Day 15 of the London 2012 Olympic Games at Eton Dorney on August 11, 2012 in Windsor, England. (Photo by Harry How/Getty Images)

Olympics Day 15 - Modern Pentathlon

LONDON, ENGLAND - AUGUST 11: (EDITORS NOTE: A special effects camera filter was used for this image.) A general view is seen during the Fencing event in the Men's Modern Pentathlon on Day 15 of the London 2012 Olympic Games on August 11, 2012 in London, England. (Photo by Alex Livesey/Getty Images)

Olympics Day 15 - Canoe Sprint

WINDSOR, ENGLAND - AUGUST 11: Jevgenij Shuklin of Lithuania celebrates on the podium after winning the Silver medal in the Men's Canoe Single (C1) 200m Sprint Final on Day 15 of the London 2012 Olympic Games at Eton Dorney on August 11, 2012 in Windsor, England. (Photo by Alexander Hassenstein/Getty Images)

Belarus' Liubou Charkashyna performs her

Belarus' Liubou Charkashyna performs her hoop program during the individual all-around final of the rythmic gymnastics event of the London Olympic Games on August 11, 2012 at Wembley arena in London. AFP PHOTO / THOMAS COEX (Photo credit should read THOMAS COEX/AFP/GettyImages)

Brazil's defender Rafael (up) vies for t

Brazil's defender Rafael (up) vies for the ball with Mexico's defender Darvin Chavez during the men's football final match between Brazil and Mexico at Wembley stadium during the London 2012 Olympic Games on August 11, 2012 in London. AFP PHOTO / DANIEL GARCIA (Photo credit should read DANIEL GARCIA/AFP/GettyImages)

Gold medalist Russia's Evgeniya Kanaeva

Gold medalist Russia's Evgeniya Kanaeva poses on the podium of the rythmic gymnastics individual all-around event of the London Olympic Games on August 11, 2012 at Wembley arena in London. Russia's Evgeniya Kanaeva won gold while her compatriot Daria Dmitrieva took silver and Belarus' Liubou Charkashyna got bronze. AFP PHOTO / THOMAS COEX (Photo credit should read THOMAS COEX/AFP/GettyImages)

London Olympic Games - Day 15

Mexico's Giovani Dos Santos celebrates victory in the Football Men's Gold Medal Match between Mexico and Brazil at Wembley Stadium, on day 15 of the London 2012 Olympics.

London Olympic Games - Day 15

Great Britain's Iain Lewers after losing in the Hockey Men's Bronze Medal Match at the Hockey Centre in the Olympic Park, on day 15 of the London 2012 Olympics.

London Olympic Games - Day 15

Great Britain's Ashley Jackson is consoled by Dan Fox (right) after losing in the Hockey Men's Bronze Medal Match at the Hockey Centre in the Olympic Park, on day 15 of the London 2012 Olympics.

London Olympic Games - Day 15

Spain's Women Match team of Tamara Echegoyen Dominguez (right), Sofia Toro Prieto Puga and Angela Pumariega Menendez (left) celebrate defeating Australia and winning the gold medal at the sailing venue in Weymouth and Portland.

London Olympic Games - Day 15

Ireland's Olive Loughnane in action during the Women's 20km Race Walk at the Mall, London.

London Olympic Games - Day 15

Great Britain stand dejected after losing to Australia during the Men's Bronze Medal match on day fifteen of the Olympic Games at the Hockey Stadium, London.

Olympics Day 15 - Wrestling

LONDON, ENGLAND - AUGUST 11: Ibrahim Bolukbasi of Turkey (red) and Jake Herbert of the United States compete in the Men's Freestyle 84 kg Wrestling on Day 15 of the London 2012 Olympic Games at ExCeL on August 11, 2012 in London, England. (Photo by Paul Gilham/Getty Images)

London Olympic Games - Day 15

Greaet Britain's Christine Ohuruogu (right) starts her leg after collecting the baton from team-mate Perri Shakes-Drayton (left) during the Women's 4 x 400m Relay Final during Day 15 of the London 2012 Olympics at the Olympic Stadium, London.

London Olympic Games - Day 15

Greaet Britain's Perri Shakes-Drayton (left) during her leg of the Women's 4 x 400m Relay Final during Day 15 of the London 2012 Olympics at the Olympic Stadium, London.

London Olympic Games - Day 15

Great Britain's Mo Farah kisses his Great Britain badge as he celebrates winning the Men's 5,000m Final on day fifteen of the London Olympic Games in the Olympic Stadium, London.

London Olympic Games - Day 15

South Africa's Caster Semenya celebrates after finishing second in the Women's 800m Final during Day 15 of the London 2012 Olympics

London Olympic Games - Day 15

South Africa's Caster Semenya celebrates after finishing second in the Women's 800m Final during Day 15 of the London 2012 Olympics

London Olympic Games - Day 15

Russia's Mariya Savinova crosses the finish line to win the Women's 800m Final during Day 15 of the London 2012 Olympics

London Olympic Games - Day 15

Russia's Mariya Savinova (left) is congratulated by South Africa's Caster Semenya after winning the Women's 800m Final during Day 15 of the London 2012 Olympics at the Olympic Stadium, London.

London Olympic Games - Day 15

Great Britain's Mo Farah wins the Men's 5,000m Final on day fifteen of the London Olympic Games in the Olympic Stadium, London.

London Olympic Games - Day 15

Great Britain's Nicholas Woodbridge (right) and Sam Weale (left) after the Combined stage of the Men's Modern Pentathlon at Greenwich Park, on day 15 of the London 2012 Olympics.

London Olympic Games - Day 15

Ireland's Katie Taylor (centre) in the crowds as Great Britain's Luke Campbell competes against Ireland's John Joe Nevin during the Men's Boxing Bantam 56kg Final at the ExCel centre, London, on day 15 of the London 2012 Olympics.

London Olympic Games - Day 15

Great Britain's Mo Farah celebrates winning the 5,000m at the Olympics Stadium, London.

London Olympic Games - Day 15

Jamaica's Usain Bolt celebrates winning the Men's 4x100m Relay on day fifteen of the London Olympic Games in the Olympic Stadium, London.

Olympics Day 15 - Athletics

LONDON, ENGLAND - AUGUST 11: Usain Bolt of Jamaica celebrates winning gold and setting a new world record of 36.84 during the Men's 4 x 100m Relay Final on Day 15 of the London 2012 Olympic Games at Olympic Stadium on August 11, 2012 in London, England. (Photo by Ronald Martinez/Getty Images)

Olympics Day 15 - Athletics

LONDON, ENGLAND - AUGUST 11: Usain Bolt and Yohan Blake of Jamaica celebrate winning gold and setting a new world record of 36.84 during the Men's 4 x 100m Relay Final on Day 15 of the London 2012 Olympic Games at Olympic Stadium on August 11, 2012 in London, England. (Photo by Alexander Hassenstein/Getty Images)

Olympics Day 15 - Athletics

LONDON, ENGLAND - AUGUST 11: Usain Bolt of Jamaica poses on the podium during the medal ceremony for the Men's 4 x 100m Relay on Day 15 of the London 2012 Olympic Games at Olympic Stadium on August 11, 2012 in London, England. (Photo by Alexander Hassenstein/Getty Images)

London Olympic Games - Day 15

Great Britain Mo Farah and his daughter Rihanna celebrates with Usain Bolton medal after victory in the Men's 5000m final on day fifteen of the London Olympic Games in the Olympic Stadium, London.

London Olympic Games - Day 15

Great Britain's Luke Campbell with his Men's Boxing Bantam 56kg gold medal at the ExCeL Centre, London, on day 15 of the London 2012 Olympics.

London Olympic Games - Day 15

Gold medalist Great Britain's Luke Campbell (left) and silver medalist Ireland's John Joe Nevin after the Men's Boxing Bantam 56kg Final at the ExCeL Centre, London, on day 15 of the London 2012 Olympics.

London Olympic Games - Day 15

Gold medalist Great Britain's Luke Campbell (left) and silver medalist Ireland's John Joe Nevin after the Men's Boxing Bantam 56kg Final at the ExCeL Centre, London, on day 15 of the London 2012 Olympics.

London Olympic Games - Day 15

Great Britain's Luke Campbell with his Men's Boxing Bantam 56kg gold medal at the ExCeL Centre, London, on day 15 of the London 2012 Olympics.

London Olympic Games - Day 15

Jamaica's 4x100m relay team celebrate their gold medal in the Olympic Stadium, London, on day 15 of the London 2012 Olympics.

London Olympic Games - Day 15

Czech Republic's David Svobada on the podium after winning the Gold medal in the Modern Pentahlon at Greenwich Park during day 15 of the London 2012 Olympics

Olympics Day 15 - Canoe Sprint

WINDSOR, ENGLAND - AUGUST 11: Gold medallist Ed Mckeever of Great Britain celebrates during the medal ceremony for the Men's Kayak Single (K1) 200m Canoe Sprint on Day 15 of the London 2012 Olympic Games at Eton Dorney on August 11, 2012 in Windsor, England. (Photo by Harry How/Getty Images)

Olympics Day 15 - Canoe Sprint

WINDSOR, ENGLAND - AUGUST 11: Ed Mckeever of Great Britain celebrates winning gold in the Men's Kayak Single (K1) 200m Canoe Sprint on Day 15 of the London 2012 Olympic Games at Eton Dorney on August 11, 2012 in Windsor, England. (Photo by Francisco Leong - IOPP Pool /Getty Images)

US diver David Boudia (L) poses with the

US diver David Boudia (L) poses with the gold medal flanked by bronze medalist (R) Britain's Thomas Daley after winning the men's 10m platform final during the diving event at the London 2012 Olympic Games on August 11, 2012 in London. AFP PHOTO / THOMAS COEX (Photo credit should read THOMAS COEX/AFP/GettyImages)

Olympics Day 15 - Diving

LONDON, ENGLAND - AUGUST 11: Tom Daley competes in the Men's 10m Platform Diving Final on Day 15 of the London 2012 Olympic Games at the Aquatics Centre on August 11, 2012 in London, England. (Photo by Clive Rose/Getty Images)
Also on HuffPost: