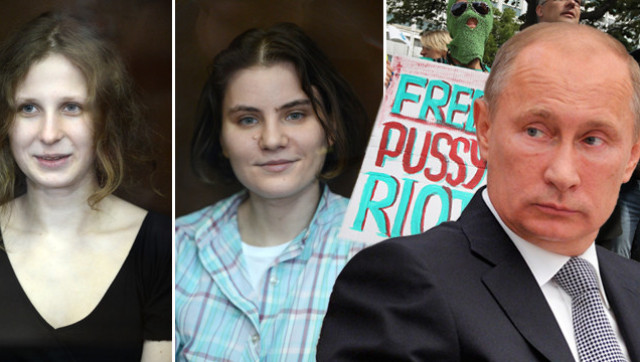 The members of Russian punk trio Pussy Riot have been sentenced to two years in jail each after being found guilty of "hooliganism motivated by religious hatred" for singing an anti-Vladimir Putin song in a cathedral.
Nadezhda Tolokonnikova, 22, Yekaterina Samutsevich, 30, and Maria Alyokhina, 24, donned balaclavas to sing their "punk prayer" protest song which criticises the Russian president in Moscow's cathedral.
According to reports the women laughed in court when they received their sentences as members of the public cried "shame". Supporters of feminist punk group Pussy Riot stand behind barricades surrounding a court in Moscow
State prosecutor Alexei Nikiforov, who had asked for the group to get three years in prison, called the trio "abusers of God" while judge Marina Syrova said the trio's actions were "blasphemous."
The judge indicated the defendants' feminism could be linked to "religious hatred": "The court does find a religious hatred motive in the actions of the defendants by way of them being feminists who consider men and women to be equal."
Pussy Riot have received support from musicians from Madonna to Paul McCartney, as well as politicians with British MP, Kerry McCarthy, attending the trio's trial.
In London, crowds of banner-waving supporters protested outside the Russian embassy in Kensington Palace Gardens and masked demonstrators also protested in O'Connell Street, Dublin's main thoroughfare.
Amnesty International said the verdict was a "bitter blow to freedom of expression in Russia", condemning the band's "two in years prison for a 30 second protest song," adding they believed the trial was politically motivated.
"It sends a dangerous message throughout the world," they added.
Speaking about the sentence, McCarthy told The Huffington Post UK: "It's out of all proportion to what they did.
"I think whichever way it [the sentence] went I think it would have had a galvanising effect on the protest movement in Russia," she added.
Speaking following the verdict, British Labour MP and former Europe minister Chris Bryant said the bands' sentences "show the twin dead hands of the Russian Orthodox church and Vladimir Putin are taking Russia back a century."
Tanya Lokshina, Researcher for Russia at Human Rights Watch, based in Moscow told The Huffington Post UK the case had galvanised activists in Russia.
"The case seems to have crystallised for many Russians how problematic the situation with freedom of expression and independence of judiciary has been in Russia.
"Because of the reaction to the case, the intense public campaign, the fact that this individual case, is going to really change things in Russia."
"It puts a serious question mark over Russia's respect for international obligations of fair, transparent, and independent legal process. It also runs counter to Russia's international obligations as regards respect for freedom of expression. This case adds to the recent upsurge in politically motivated intimidation and prosecution of opposition activists in the Russian Federation, a trend that is of growing concern to the European Union"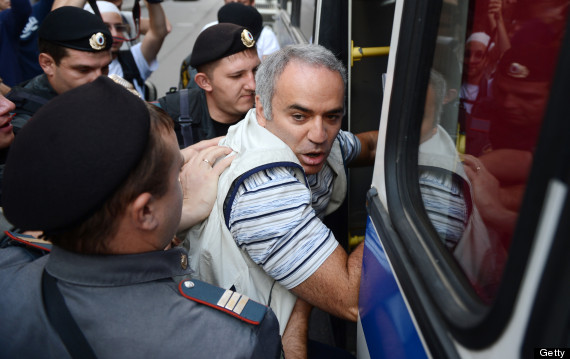 But in skirmishes outside court, Russian leftest leader Sergei Udaltsov and former world chess champion Garry Kasparov were among those arrested.
Udaltsov shouted "shame on Putin" as he was detained.
In a letter released by her lawyer the evening before the verdict, Pussy Riot's Samutsevich said the trial had highlighted what she saw as the oppressive nature of the Putin administration irrespective of the outcome.
"The system cannot conceal the repressive nature of this trial," she said. "Once again, the world sees Russia differently than the way Putin tries to present it at his daily international meetings.
"Clearly, none of the steps Putin promised to take toward instituting the rule of law has been taken."
On Thursday, the former president of the USSR, Mikhail Gorbachev told the BBC the case was "a completely pointless undertaking" that should not be taking place.
In the closing statement in court, Nadezhda Tolokonnikova said: "Listen to our words and not to what [pro-Putin television journalist] Arkady Mamontov says about us. Do not distort and falsify what we say. "
Foreign Office Minister Alistair Burt said the British government was "deeply concerned" by the "disproportionate" sentencing.
"The Government is committed to a relationship with Russia in which we can discuss differences frankly and constructively.
"We have repeatedly called on the Russian authorities to protect human rights, including the right to freedom of expression, and apply the rule of law in a non-discriminatory and proportionate way.
"Today's verdict calls into question Russia's commitment to protect these fundamental rights and freedoms."
The Lyrics of the song that Pussy Riot were jailed for performing.

Punk-Prayer "Virgin Mary, Put Putin Away"

(choir)

Virgin Mary, Mother of God, put Putin away
Рut Putin away, put Putin away

(end chorus)

...
Black robe, golden epaulettes
All parishioners crawl to bow
The phantom of liberty is in heaven
Gay-pride sent to Siberia in chains

The head of the KGB, their chief saint,
Leads protesters to prison under escort
In order not to offend His Holiness
Women must give birth and love

Shit, shit, the Lord's shit!
Shit, shit, the Lord's shit!

(Chorus)

Virgin Mary, Mother of God, become a feminist
Become a feminist, become a feminist

(end chorus)

The Church's praise of rotten dictators
The cross-bearer procession of black limousines
A teacher-preacher will meet you at school
Go to class - bring him money!

Patriarch Gundyaev believes in Putin
Bitch, better believe in God instead
The belt of the Virgin can't replace mass-meetings
Mary, Mother of God, is with us in protest!

(Chorus)

Virgin Mary, Mother of God, put Putin away
Рut Putin away, put Putin away

(end chorus)

SUBSCRIBE AND FOLLOW
Get top stories and blog posts emailed to me each day. Newsletters may offer personalized content or advertisements.
Learn more