The Foster's So You Think You're Funny? Award is the UK's most coveted award for new stand-up comedians, with previous winners including Dylan Moran, Peter Kay and Lee Mack. And on Thursday night at the Edinburgh Fringe, Aisling Bea became the second woman to win it in its 25 year history.
A fizzing, funny and brilliantly confident comedian and actress from Ireland (you may recognise her as Sharon Horgan's sister in Dead Boss), Bea was a deserved winner of this year's award. Although to compare her routine and style to Jonathan Pelham - who came what would appear to be a close second, as the judges' deliberation took longer than expected - is to compare chalk and cheese. While Bea's assured, hilarious set popped and crackled with energy, Pelham is an understated stand-up whose delivery stays just the right side of nervous, luring you in to what actually turns out to be a wonderfully written routine with an extremely dark, utterly brilliant pay-off. Pelham also came second in Chortle's Student Comedy Award last week, and both he and Bea are clearly stars of the future.
The all-female judging panel - which was headed by Ruby Wax and the award's founder, Karen Koren - also decided to give a joint-third award this year, with the softly spoken Wayne Mazadza and the charming Murdo Haggs sharing the prize.
Collecting her award and £2,000 prize, Bea said: "The only thing I've won before was dairy hamper raffle – and then I forgot to thank my mum. So: thanks, mum."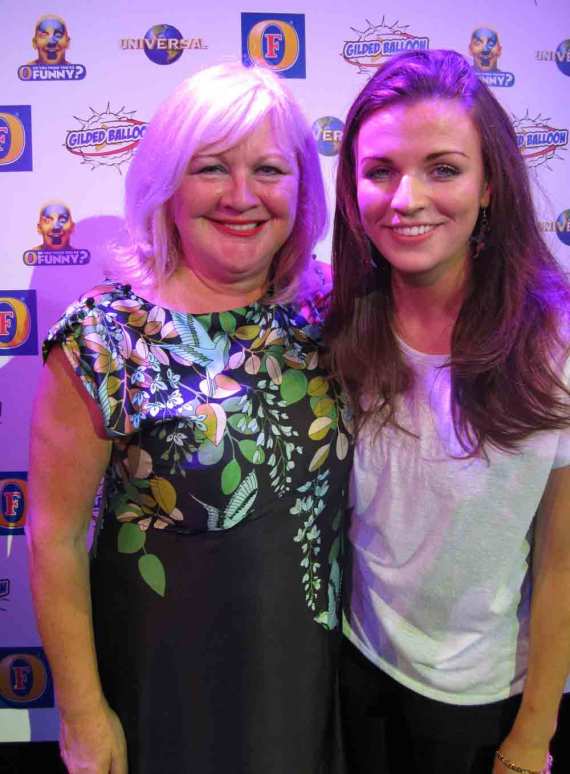 SYTYF winner Aisling Bea (right) with the Gilded Balloon's artistic director, Karen Koren
And in other Edinburgh Fringe news...
Mies Julie, an acclaimed South African production of Miss Julie, won the Best Of Edinburgh Fringe Award; The Scotsman has helpfully rounded up a list of the worst shows on the Fringe; a blogger for Wales Online stayed up 'til 8.30am drinking whiskey with Rhod Gilbert; David Hasselhoff was spotted at the Edinburgh Tattoo (presumably, this time he didn't get a parking ticket); and the packed So You Think You're Funny party was disrupted at around 12.30am by a fire alarm - meaning that everyone had to evacuate the building and stand around outside in the rain. Well, this is Edinburgh...

Loading Slideshow
The Fringe starts here - official!

This sort of thing is perfectly normal on the Royal Mile right now.

...as is this...

...and this.

Thought Julian Assange was safely holed up in the Ecuadorian Embassy? Think again...

And the award for Best Lighting In A Fringe Venue Bar goes to... The Underbelly Cowgate!

They also win the Most Imaginative Form Of Signage award, too.

Unfortunately, we haven't got round to asking him yet.

Only in Edinburgh. On a former church.

Some lampposts (and posters) have seen better days. Well, it is the last week of the Fringe.

No, readers, we didn't.

Again, perfectly normal Royal Mile behaviour.

It's 'Wind In The Willows', in case you were wondering.

Well, it beats 'Golf Sale'.

And THAT'S how you hand out flyers with style.

Imaginative marketing for The Boy With Tape On His Face, aimed at giants.

What is it? We're afraid we can't tell you. Because it's hidden. Sort of.

And no, that 'hidden gem' isn't the castle.

The main BBC venue at the Edinburgh Fringe. It is very large, and very blue.

Although there is also a pink tent, if you prefer...

...and a table tennis table!

Inside the blue venue you saw earlier. We told you it was big.

Waiting to see a show at the Voodoo Lounge - possibly the coolest venue entrance. Especially at 3 o'clock in the afternoon.

Even MacDonald's has got into the Fringe spirit!

The best beer mat ever - and a nice Fringe show marketing ploy.

Where to find a show at The Pleasance.

Show posters - now with added stars.

Not the Battersea Power Station, but the Underbelly venue.

The Gilded Balloon - pretty in pink (and purple).

The Assembly - lit up like a Christmas tree. (Includes mini Christmas trees)

Audiences are down - but there are still queues. Very long queues.

Need a ride?

Every space is covered.

No, really.

Proof that it doesn't always rain in Edinburgh: sunshine on The Meadows...

...where performers like to chill out.

The reviews board at the Underbelly.

Has Richard Herring's cock ever been so big?

The Pleasance Courtyard - still a festival focal-point...

...and still one of the prettiest venues.

Although if you prefer Magners to Foster's, head to the Underbelly.

Avalon Comedy's 'street team' of flyers are now, wisely, equipped with umbrellas.

Star ratings - more important than show titles...

...and sometimes more important than the entire poster.

The giant inflatable cow that IS the Underbelly.

We told you it was giant.

You saw the Underbelly show - now buy the sweatshirt!

Lights! No cameras! Action!

Yeah - what ABOUT a Fat Stag Burger?

The Pimms man is happy, despite rain affecting sales.

The Pleasance courtyard by night.