Firearms officers and police helicopters have joined the hunt for a lion that is thought to be roaming loose near Clacton, Essex.
Essex Police have enlisted the help of experts from Colchester Zoo who believe the sighting to be genuine after viewing a photograph of the animal taken by a local, Sue Wright.
Rich Baker, 39, was walking with his two boys, aged nine and 11, when he believes he saw a lion in the darkness.
He told the Daily Mail: "A man started running towards us yelling 'It's a f*cking lion!'
"He looked so panicked you knew it was not a joke. The lion you could see it from the side.
"I grabbed my children's hands and we ran towards our caravan. My children started to scream, "daddy, is the lion going to get us?"

"It was one million per cent a lion. It was a tan colour with a big mane, it was fully grown, it was definitely a lion. It was just standing there, it seemed to be enjoying itself.
"There were a dozen or so people who saw it. We are staying on the caravan park down the road. It's very busy – it's a seaside resort and a bank holiday."
By Monday afternoon, police said they had not found any proof, such as prints or droppings, to confirm the sighting.
A spokesman said between two and six people claimed to have seen the big cat but there had been no further sightings since Sunday.
The police hunt is likely to be scaled down tonight if no evidence emerges, the spokesman added.
The story has caused a stir on Twitter - with many jokes being made about the lion and the cast of The Only Way Is Essex.
@Majistrate

Majistrate
Just a thought.. It would be good if the Essex lion found the cast of towie before it gets caught :-)
A Twitter account for the Essex lion has, predictably, been set up.
@EssexLion

Essex Lion
ROZZERS GONE. I'M JUMPING GARDENS. SORRY WOMAN AT NO.23. BET YOU WISH YOU SMOKED INDOORS NOW.
Two police helicopters using heat-seeking equipment have been involved in the hunt for the animal, while zoo workers said to be armed with tranquilliser guns have also joined armed officers.
The big cat was seen in fields off Earls Hall Drive in St Osyth, near Clacton, Essex, just before 7pm on Sunday.
Police immediately issued a warning to residents to stay inside their homes as officers began a search near where the animal was spotted.
Che Kevlin said he heard what he believed to be a roar whilst out walking his dog last night.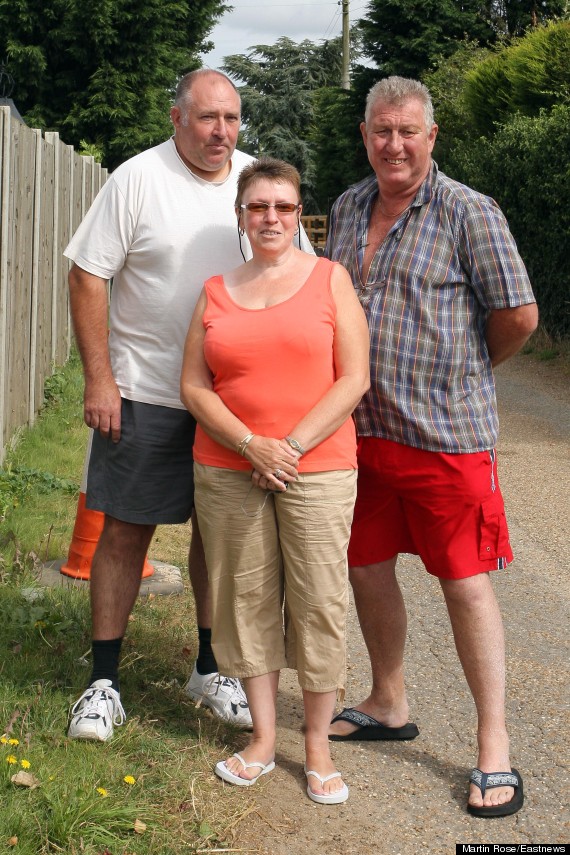 Bob Martin, Sue Wright and her husband David Wright. It was Sue who took the picture of the lion that sparked the police operation
"I heard a loud roar at 10pm. It sounded like a lion," he told the BBC.
"It was worrying as we had just been for a walk with the dog. We saw the police helicopter but thought it was just searching for a person.
"It sounded like the roar of a lion. We have a field and wood just behind our fence, so you never know."
Police are trying to establish where the lion may have come from and have urged anyone who sees it to call 999.
A force spokeswoman confirmed the animal had not escaped from Colchester Zoo, as all its animals had been accounted for.
The Great British Circus was based at Clacton Airfield but its run in the area ended around a fortnight ago, according to a local events website. The circus has said the lion is not theirs and it could be the property of a private collector.
The police spokeswoman added: "We are investigating where the lion may have came from but it is fairly safe to say that it did not escape from Colchester Zoo." Police have been searching the area since the lion was apparently sighted on Sunday night
Pub landlord Dave Sparks, who runs the Red Lion pub in St Osyth, described the police hunt as "surreal".
He told ITV News: "You don't really expect to be told there's a lion wandering around the area.
"No one really felt there was any immediate danger in the village - a couple of families with young children were a bit worried but after a while they were ok."
A Essex Police spokeswoman said that officers would be returning to areas where the animal had been spotted during daylight hours to look for signs it had been there, such as pawprints.
Roger Lord, of Earls Hall Farm, St Osyth, said a picture of the suspected lion had been taken by residents in caravans on the farm land and passed to police.
"The first thing we knew about it was a phone call from the police last night," he said.
"I am sceptical - I think it might just well be a large domestic cat but they certainly saw something that they were were concerned about and they went down the right route to the police.
"They have taken it very seriously and have put two helicopters up in the air and I don't know how many armed police that we still have on site now."
He added he believed most of the residents of the caravans were on site at the time of the sighting.
"I think most of them were on site at the time, so more than one person saw it," he said.
SEE ALSO

Denise Martin, 52, a warehouse operative, was the first to spot the suspected lion on Sunday evening from the windows of her caravan on the site at Earls Hall Farm.
"I was looking out of the window and we saw smoke - it looked like there had been a bit of a bonfire. When you are in a caravan you panic about smoke.
"When the smoke cleared I could see this shape in the field, so I got the binoculars out. We had a look and it looked like a lion.
"I said to my husband 'What do you make of that?' He said 'That's a lion.' We walked out of the caravan nearer to the field to get a better look.
She said the lion was tan coloured with a white chest.
"We weren't scared at all - it was excitement. You don't often see something like that in the wild. One time it sat up and looked at us and we could see its ears twitching. It knew we were there and it sat down and started cleaning itself."
Loading Slideshow
Essex Lion

Suzie McGuire

Tony Cowards

Frankie Boyle

David Schneider

ben goldacre

Elizabeth Windsor

David Aaronovitch

paul bassett davies

Piers Morgan

Matt Rudge

Dan Wootton