The Paralympic Games will change attitudes towards disability around the world, Culture Secretary Jeremy Hunt said today.
Speaking as torchbearers prepared to take the flame on a 24-hour relay to the Olympic Park, he said the Games were a "historic moment for the country that founded the Paralympic movement".
The Games are on course to be the first Paralympics to sell out, with more than 2.4 million tickets sold already - half a million of those to overseas visitors. Ten thousand tickets will be available each day during the event.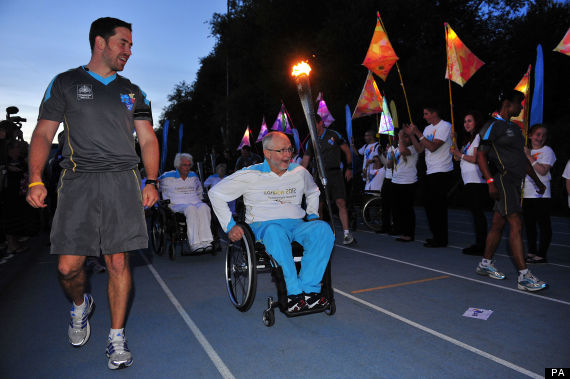 Torchbearing team 001 carries the Flame on the Torch Relay leg through Aylesbury
London 2012 chief executive Paul Deighton said: "We've tried to get as many people in as we reasonably can. This is a wonderful illustration of how the British public have said we love the Paralympics and want to be part of it."
Tomorrow night's evening ceremony has already sold out, with 800 of the tickets given away to troops and police.
More than 3,000 adult volunteers are taking part in the opening ceremony, along with more than 100 children and a professional cast of 100. Some of the performers have completed a circus skills training programme to prepare for the performance, which will feature a high wire act.
Many details of the show have been kept under wraps, but Bradley Hemmings, who has been responsible for its organisation, alongside fellow artistic director Jenny Sealey promised it would be "both spectacular and deeply human".
The ceremony, signalling the start of 11 days of competition by nearly 4,300 athletes from 166 countries, has been given the theme and title Enlightenment and features deaf artists and those with disabilities.
It will begin with a flypast by Aerobility, a charity that trains disabled people to become pilots. The cast also includes past Paralympians and injured soldiers.
Ahead of the start of the ceremony, the Paralympic torch relay will have brought the flame to the Olympic Park in east London from Stoke Mandeville in Buckinghamshire, where the Paralympic movement began in 1948. The relay, featuring 580 torchbearers in teams of five, consists of a 90-mile journey which is being undertaken overnight.
Mr Hunt said: "For many Brits this will be the first time they have seen the Paralympic Games at all. It will be a very big moment to really change perceptions and that will be something to be proud of."
The first Paralympic Games were held in 1960. Stoke Mandeville co-hosted the Games with New York in 1984, when they took over the running of the wheelchair events when Illinois pulled out at the last minute, but 2012 marks the first time the whole Paralympics has been staged in the UK.
Mr Hunt said the fact that all schools participating in competition the School Games, of which Prince Harry is president, will be required to offer Paralympic sports means that attitudes will change.
he said: "A lot of the sports that are being offered can be played with disabled and non-disabled children alongside each other, sports like boccia, goalball, sitting volleyball.
"That means there's a big chance to change attitudes amongst non-disabled children."
Channel 4 plans to broadcast 500 hours of live sport during the Games but American broadcaster NBC has been criticised for its more paltry plans.
Mr Hunt said: "There is still far too much inequality and that extends to sport and the Olympics. The Paralympics can be a great power for changing that. In the Olympics we've seen a huge profile given to women. That's been a change that's been welcome.
"The best way that we get attitudes to change around the world is by hosting a fantastic Paralympics.
"People who don't give it the coverage it deserves will realise they made a mistake."
Paralympic athletes are set to compete for 503 gold medals across 20 sports during the London Games, with competitions starting on Thursday.
SUBSCRIBE AND FOLLOW
Get top stories and blog posts emailed to me each day. Newsletters may offer personalized content or advertisements.
Learn more