At first glance it looks like an old photo of screen legend Marilyn Monroe but on closer inspection something's not quite right.
Well, Marilyn wouldn't have worn such a cheap wig for starters.
Or been seen out with that handbag.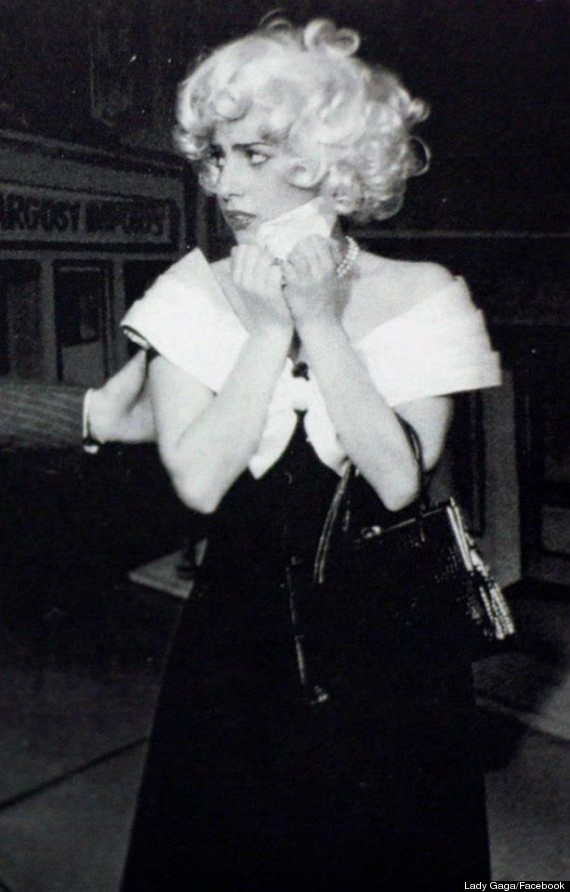 So who is it?
Step forward (and take a bow)... Lady Gaga.
Gaga posted the old snap of her in high school on her official Facebook page with the message: "Some things never change...here's a photo of me in high school in the school play (set that wig + did my own makeup!) ."
Yeah right Gaga - like you still do your own make-up, love.
> IN PICS: CELEBS BEFORE THEY WERE FAMOUS

Loading Slideshow
Before They Were Famous

Helen Flanagan

Before They Were Famous

Emeli Sande

Before They Were Famous

Jason Statham

Before They Were Famous

Rihanna

Before They Were Famous

Nicki Minaj

Before They Were Famous

Alexa Chung

Before They Were Famous

Jack Whitehall

Before They Were Famous

Nathan Sykes (The Wanted)

Before They Were Famous

Sophie Anderton

Before They Were Famous

Catherine Zeta Jones

Before They Were Famous

Hugh Grant

Before They Were Famous

Kate Garraway

Before They Were Famous

David Beckham

Before They Were Famous

Simon Cowell

Before They Were Famous

Dannii Minogue

Before They Were Famous

Cameron Diaz

Before They Were Famous

Jay Kay (Jamiroquai)

Before They Were Famous

Elizabeth Hurley

Before They Were Famous

Julianne Moore

Before They Were Famous

Cindy Crawford

Before They Were Famous

Billie Piper

Before They Were Famous

Ellen DeGeneres

Before They Were Famous

Denise Van Outen

Before They Were Famous

Avril Lavigne

Before They Were Famous

Amy Winehouse

Before They Were Famous

George Clooney

Before They Were Famous

Ashton Kutcher

Before They Were Famous

Gwen Stefani

Before They Were Famous

Gail Porter

Before They Were Famous

Gwyneth Paltrow

Before They Were Famous

Heidi Klum

Before They Were Famous

Matthew McConaughey

Before They Were Famous

Jamie Foxx

Before They Were Famous

Richard Gere

Before They Were Famous

Jennifer Lopez

Before They Were Famous

Robert Downey Jnr

Before They Were Famous

Jennifer Biel

Before They Were Famous

Sigourney Weaver

Before They Were Famous

Joanna Lumley

Before They Were Famous

Tina Turner

Before They Were Famous

Katie Holmes

Before They Were Famous

Before They Were Famous

LeAnn Rimes

Before They Were Famous

Kylie Minogue

Before They Were Famous

Michelle Pfeiffer

Before They Were Famous

Mariah Carey

Before They Were Famous

Nicole Kidman

Before They Were Famous

Paula Abdul

Before They Were Famous

Enrique Iglesias

Before They Were Famous

Shakira

Before They Were Famous

Sinead O'Connor
Also on HuffPost: