Cheryl Gillan gave her first hint that something was amiss on Twitter.
On Monday night, as David Cameron's cabinet reshuffle got underway, she changed her Twitter profile - removing a reference to her being Welsh Secretary.
Gillan finally confirmed she was leaving the cabinet in a Tweet on Tuesday morning, saying it had been a "privilege" to serve in the Cabinet.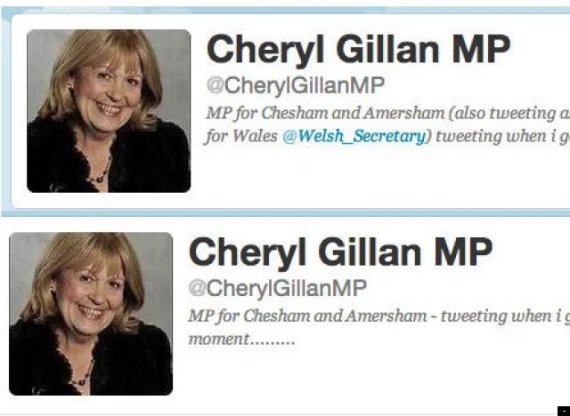 Now you see it: Gillan's Twitter profile gave the first hint she was leaving the Cabinet
SEE ALSO:

The Junior Posts Being Filled - LIVE UPDATES

Analysis: Cameron lurches to the right

Why Cameron's women problem hasn't gone away
It's just one story in what many have pointed it first ever government reshuffle in the Twitter era - with the last being Gordon Brown's in 2009, before the whole of Wesminster hopped on the micro-blogging site.
While former ministers have taken to Twitter to announce their demotions, Twitter has taken to the reshuffle with the topic trending highly on the site on Tuesday morning.
@Welsh_Secretary

Cheryl Gillan
Cheryl Gillan confirmed she is leaving the cabinet in a tweet
@DavidJonesMP

David Jones
Well I'll be darned
Cryptic: Is Welsh minister David Jones hinting at something with this tweet?
Baroness Warsi, who was sacked from her role as minister without portfolio, also confirmed The Huffington Post UK's scoop about her departure online, tweeting that she was no longer the Conservative Party's Chairman.
Number 10 has even got in on the act, tweeting out ministerial appointments on Tuesday morning.
@Number10gov

UK Prime Minister
PM appoints Chris Grayling as Secretary of State for Justice.
#reshuffle
But, as Chris Bryant says, this is not the first time a reshuffled appointment has been announced online. He tweeted on Tuesday: " I inadvertently announced becoming Europe minister on Twitter."
@ChrisBryantMP

Chris Bryant
Those saying grayling is first announcement by twitter wrong. I inadvertently announced becoming Europe minister on twitter
After a stressful year in the DCMS, Jeremy Hunt moves from Culture to Health, replacing Andrew Lansley.

Having stepped down from the Justice Department, Clarke is supposedly staying in Government rather than hanging up his boots. Chris Grayling will replace him as Justice Secretary.

Chris Grayling, formerly in the Department of Work and Pensions, will step up to hold the job vacated by Ken Clarke.

Maria Miller has taken up the DCMS job after Jeremy Hunt moved to the Department of Health. Miller is one of the few new faces in the cabinet.

Greening, who has been subject to plenty of rumours since her fallout over a potential third Heathrow runway. Greening was in No 10 for over an hour on Tuesday, presumably arguing her case and battling to stay in the cabinet. She will now take over Andrew Mitchell's spot at DfID.

McLoughlin, who has spent the past two years handling backbench rebels as Chief Whip, moves to the DfT, taking over from under-pressure Justine Greening. Greening has yet to be moved.

Warsi, one of the earlest victims of the reshuffle, has been ousted as party co-chairman and is to be replaced by Grant Shapps. Warsi instead moves to to the Foreign Office as a junior minister, while also working as faith and communities minister.

Shapps, who was the housing minister, is bumped up to party chairman, taking over from the demoted Sayeeda Warsi.

Spelman leaves her post, to be replaced by the former Northern Ireland secretary Owen Paterson.

Despite recently setting in motion huge overhauls to the NHS, Lansley has been moved to fill Sir George Young's spot as Leader of the House. Jeremy Hunt will succeed him in the Department of Health.

Theresa Villiers, who gave nothing away as she approached Parliament with a wide smile on her face on Tuesday, replaces Owen Paterson. Paterson has moved to Defra.

Cheryl Gillan was one name always likely to be taken off the list, and she is replaced by David Jones, who served beneath her as a Minister for Wales.

Andrew Mitchell has moved moved from the Department for International Development to the role of Chief Whip, replacing Patrick McLoughlin.
For the latest from the reshuffle, see our liveblog: