An unlucky seal pup had to be rescued after it faced being strangled to death by a G-string.

The seal, which had got lassooed around the neck by the saucy red thong in the seas just off a nature point dubbed 'Lover's Leap' on New Zealand's South Island, was spotted by a worried on-looker who called for help.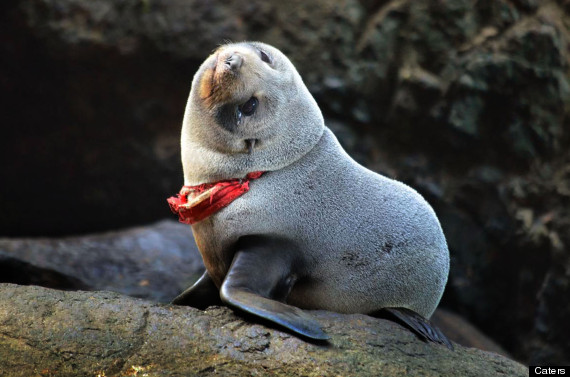 The seal survived his ordeal
The Department of Conservation leapt in to action, sending a rescue team which had to hike for an hour up a tricky 230-metre cliff side to reach the helpless animal before battling in the dark for a further hour until they finally managed to free it from the choking object.
But to the rescuers' surprise they didn't have to wrestle with their usual offending objects like plastic bags or fishing nets, instead they were faced with untangling a pair of red pants from around the pup's neck.
With little chance of ever reuniting the stray pair of pants with their rightful owner, the Department of Conservation decided to frame the skimpy undies and let curious members of the public battle it out for the famed loin cloth on an online auction site called Trade Me.

In the end the hammer fell at $135 NZ, roughly £70, for the tiny cover ups.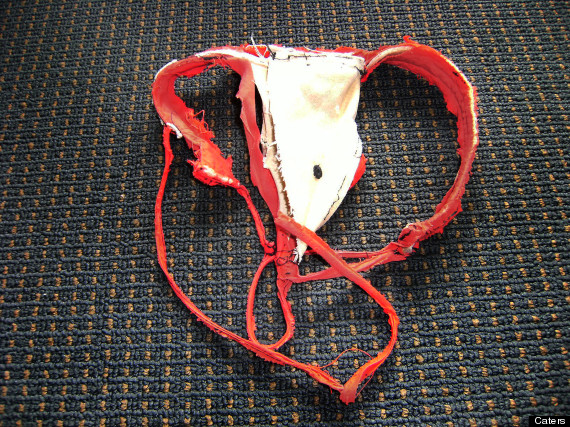 The seal pup got his head caught in the pants
A charity called The Million Dollar Mouse Foundation which focuses on getting rid of problem mice from New Zealand's Antipodes Islands pocketed the charity donation to help with their on-going mission.
They're working hard to raise $1 million to help with a project to rid the mice from the islands because they keep pinching the native bird's eggs and disrupting the natural wildlife cycle.
So far the charity have just tipped over the $600,000 point towards the final target.