A car you can talk to is right up there with floating cities and robot butlers in the pantheon of future dreams which have never quite panned out.
And even now, when voice control is ever more ubiquitous - and voice assistants like Siri and S-Voice in mobile phones are able to help you, tell jokes and resist your romantic advances - we aren't quite there.
Ford Sync with MyFord Touch is the car giant's attempt to redress that balance. It's been available in the US for some time, and now it's coming to the UK in the new, all-electric Focus for 2013.
So how close is it to the talking car of our dreams?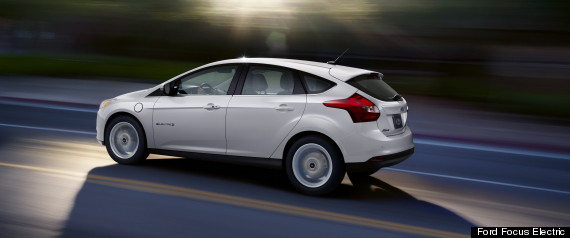 Above: the Ford Focus electric
First, it's important to establish what Ford's system does - and what it doesn't do.
The basic idea is to leverage the phone you already have, by linking up with your phone calls, texts, media and even some Apps - and building those functions into the car.
The system also has a number of other functions, including an in-built traffic and navigation system, local search and recommendations, information about your vehicle and a system which records and tells you how you're driving.
The key - to us, anyway - if that you can access all of those functions through voice control, which is processed in-car and not on a remote server like, for instance, Apple's Siri.
Ford told the HuffPost UK that it's made a big effort to use natural conversation structures with the latest generation of its voice control.
It's almost seamless," said Dr. Pim van der Jag, director of Ford Europe's research.
"In previous cars it was still sometimes not that obvious how to do that. You can access all the stuff on the device - the phone and text messages, voice control, it's impressive."
So while in the old days you'd have to pretty much learn a manual of commands to get it to do anything, it now understands the context of your demands. If you say "play Metallica" it will know what you mean, at any point.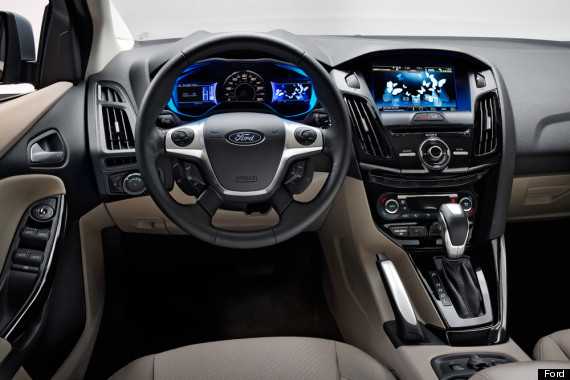 Above: the interior of the Ford Electric Focus with Sync and MyFord Touch.
So... does it work?
In our test, yes, the system came together really well.
The voice recognition was clear and effective - even on a busy IFA conference floor - and it understood everything we said. Searching for restaurants, mapping a new location, placing a call and switching to some music were all easy, and we could see what Ford means when it says the system could help prevent accidents - you really don't have to take your eyes off the road to use it.
The only downside is that being an in-car system, there is a definite limit to what you can do, and what you can't.
Ford knows it has a responsibility - morally, as well as legally - to make sure it doesn't distract its drivers with too much technology, and that means restricting which apps can interact directly with the system and which can't.
App developers are clearly chomping at the bit to get involved, and Ford is making strides in getting new apps on board via its own developer initiative.
But for all Sync can do, it's impossible not to wish it was possible to push it even further.
All that said, if you want a car you can talk to - and which will reliably understand what you mean - the Ford Sync system is a good choice. But be prepared for the fact that it's only when you step into your next next car that you'll really feel like you're living in the future.e future.